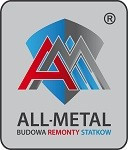 ALL-METAL Budowa i Remonty Statków
Description
ALL-METAL Company offers a comprehensive implementation of the following works in the building, repairs and conversions of ships and steel constructions. All kind of works are performed in our workshop located in Gdynia, Hryniewickiego 10 STR or in the place designated by customer.
We have a fully armed repair quay at 200 meters length and water region at 8 meters depth.
Furthermore, we have own production hall at size 25x10x10 meters located on English quay in Dalmor area.

Range of works offered by ALL-METAL:

•building, conversion and extension of the steel ship's hulls various kinds- fishing boats, yachts, pontoons, barges and other floating objects with the weight up to 300 tons,
•undocking of the vessels on the pier with possibility of performing works under the tent size 25m x 10m x 9m,
•repair of the vessels by the pier in our location or in shipyards and ports,
•repair works in the ports during discharge of the cargo, express deadlines, wide range of works,
•piping works- construction and conversion of the pipelines; black and stainless steel; performing of the piping systems without working documentation (quick modeling), full fitting of the systems,
•welding works using several methods (MMA, MIG/MAG, TIG)- works with steel, stainless steel and aluminum ,
•prefabrication of the pumps, boilers, engines and generators foundations with fastening on the vessels,
•assembly of the watertight doors, windows, louvers and ventilation ducts,
•cover and door's leak tests,
•blacksmith's works.

Maintenance and painting works

•sandblasting to the class SA2.0,SA1.0,
•painting works: hand and spray painting,
•hull space filling- steel and laminates one,
•fuel, ballast, freshwater, grey water and bilge water tank's cleaning,
•pressure washing of the external shell of the hulls.

Assembly of the installations and ship systems:

•ballast system, bilge water system, grey water system, fuel system and ventilation system,
•sanitary and technical water installation,
•compressed air installation.

Assembly of the equipment and reinforcement:

•permanent and removable railings: gangway ladder, gangways, platforms, stairs, ladders and hand-rails,
•anchor and mooring device: hoisting winch, bollards, stoppers,
•all kind of manholes, louvers, doors and other reinforcement,
•insulation works, board of the accommodations and bulkheads of galvanized and black sheet, assembly of the supporting construction,
•insulation of the engines and generator's exhaust systems.

CONTACT WITH US