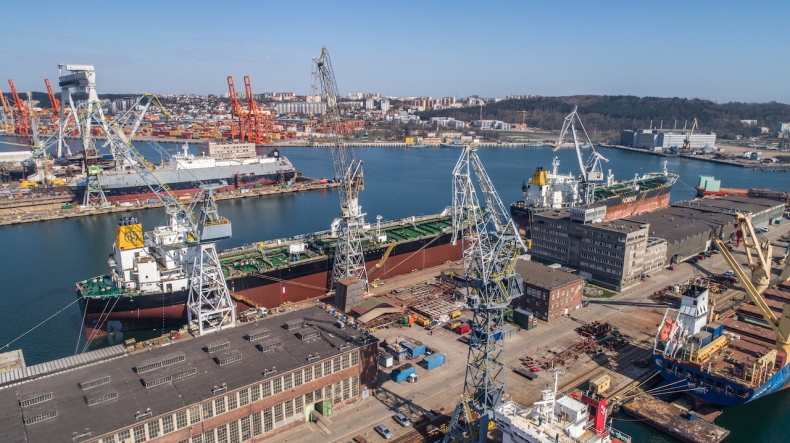 Another month of intensive work at the Nauta Repair Shipyard [video]
Date of publication: 25.04.2021
The interest in renovations and conversions at this Polish shipyard is growing as the global economy is recovering from the stagnation caused by the pandemic. Currently, work is carried out on a dozen or so vessels in the docks and at the quays of Nauta, including a ballast water treatment system on as many as six of them.

The JAEGER ARROW unit of GEARBULK NORWAY AS is undergoing renovation at the Nauta. The ship, docked in the SD1 dry dock, is 171.40 m long and 24.80 m wide and is a combined bulk carrier - it is a type of multipurpose ship used to transport bulk cargo, metal ores and liquid cargo.

At the Nauta quays, you can also see two large sister tankers MT Arctic Bay and MT Arctic Breeze, owned by INTERORIENT. The ships are 182 meters long and over 32 meters wide.

Repairs on two ships are carried out in Nauta by the German shipowner BRIESE SCHIFFAHRTS (the operating company is BBC Chartering). The m / v BBC Nile and m / v BBC Ruby units are multi-purpose ships dedicated to project cargo.

At m / v BBC Ruby, apart from the dock and maintenance renovation related to class renewal, works related to the replacement of the steering gear with a new Rolls Royce company are carried out.

It is worth mentioning that Nauta Shipyard has extensive experience in this type of operation: it successfully performed the same conversion on BBC PEARL and BBC SAPPHIRE.

At the same time, the shipyard is carrying out a current and dock repair of the K-10 hydrographic cutter and a warranty repair of the ORP Drużno minesweeper, part of Polish Navy.