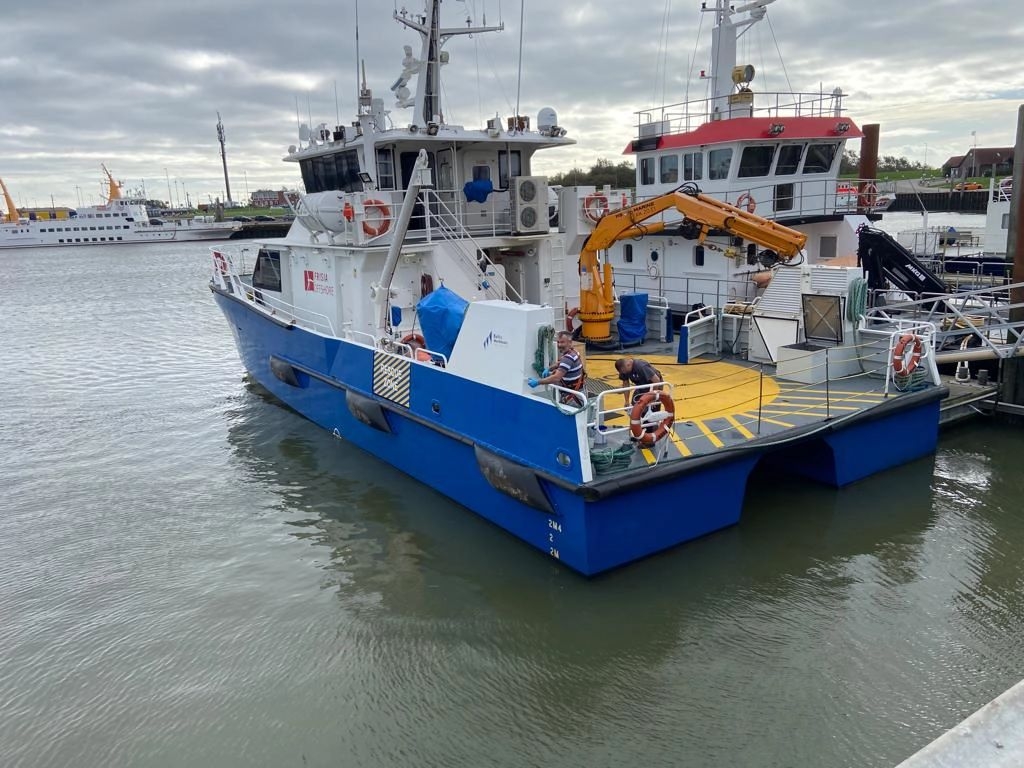 Date of publication: 20.09.2023
The Gdańsk-based company Bota Green Offshore has successfully completed the process of taking over a specialized CTV vessel for operating offshore wind farms. The acquired vessel, previously known as Wind Force III, will now be called Bota Wind II.

Crew Transfer Vessel (CTV) is an advanced vessel dedicated to the transfer of technicians from land to offshore wind farms. It is characterized by the ability to quickly cover the distances between the port and wind farms. The vessel taken over by Bota is a specialized CTV that has been servicing German wind farms in the North Sea since 2016, including Riffgat and Alpha Ventus. It is distinguished by good technical parameters and the ability to transport loads, it also has its own crane, thanks to which it can perform many specialized tasks. In addition to transporting technicians, Bota Wind II can provide support during installation works, cable laying and other service works.

The new owner will engage experienced crew that worked on the ship, which will ensure further safe operation. Bota Green Offshore is preparing to conduct a campaign in the Polish part of the Baltic Sea, which will soon become a construction site for offshore wind farms. Thanks to its shallow draft, the vessel can successfully use small service ports such as Łeba, Ustka, or Władysławowo, where developers of Polish wind farms will build their service bases.

In October this year, Bota Green Offshore plans to take over its sister ship: Bota Wind I, which is currently completing its campaign to operate an offshore wind farm in the German part of the North Sea.

– We are convinced that Bota Wind I and Bota Wind II can provide significant support for the development of offshore wind energy in Poland. These vessels have already proven their worth in the difficult conditions of the North Sea. We take over ships with experienced crews, so we are ready to immediately take on new challenges in the offshore wind sector – comments Ernest Czermański, president of the management board of Bota Green Offshore.

The Gdańsk-based company is in contact with Polish developers of offshore wind farms, who are already at the stage of launching tenders enabling the planned commencement of works at sea. According to developers' declarations, an important aspect of building a supply chain is ensuring the significant participation of Polish companies in order to build local competences in the offshore sector. Bota Green Offshore has competences and resources that will enable the Polish company to provide services at the highest level of quality and safety. The company does not stop at acquiring two vessels and plans further development in the offshore wind sector by acquiring existing and ordering new CTV units in the future.

Bota Wind II has already passed all necessary inspections in the port of Norddeich in Germany and will soon depart for the port of Szczecin, where it will be prepared for further work at sea.

Bota Green Offshore is a company that is part of the Gdańsk Bota group, in which Bota Technik plays a dominant role. The Bota group also includes Bota Shipping, Bota Wind Energy and Bota Technik Benelux. The group has many years of experience in the specialized operation of vessels and the provision of services in the field of design and servicing of propulsion systems of vessels. He has experience in the offshore sector, including oil & gas, for which he provides services in the field of drives, hydraulics, automation, design and construction services.
Most recent