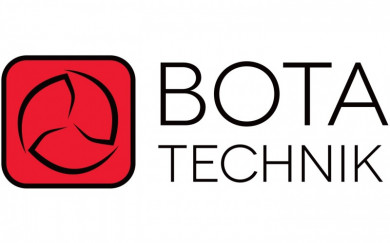 Bota Technik
BOTA TECHNIK provides expertise and accuracy to meet customer needs. This means
Description
BOTA TECHNIK provides expertise and accuracy to meet customer needs. This means strong commitment to fulfill and go over the customer requirements.

BOTA Technik is result of the huge effort and determination, supported by experience gained over the years. We decided to combine strong theoretical background with practice. Our employees are graduates of prestigious universities of engineering and technology and acquired experinece with working in international marine industry.

In our daily work we are focused and determinated to:
timely deliver high quality solutions,
use international marine procedures,
individually approach each topic as we believe that every case is different,
treat the customer as a partner in the business.
These values are our motto.

Offer
MARINE PROPULSION SYSTEMS SERVICES
SHAFT LINES, CPP, FPP

Shafting services
SKF type couplings, dismounting, seals renewal, adjustment, fixing on the line,
disassembly and assembly of shaft lines with jumping calculation ,
propeller shaft seals changing,
KEMEL seals rubber bonding insitu,
tail shaft bearing removal from stern tube,
remetalling of damaged bearings,
intermediate shaft bearings overhauling and refurbishment,
VULKAN rubber couplings inspection,
shafting alignment calculation,
technical advise and suport.
CPP, FPP
disassembly and assembly of propellers,
CPP hub maintenance,
hub elements regeneration,
seals renewal,
overhaul of OD-box,
static balancing.

THRUSTERS

Major overhaul
5 and 10 years overhauling,
bearing and seals renewal, calibration, adjustment,,
jumping clearance,
assembly and adjustment,
testing and performance check
Seal renewal
propeller shaft seals,
pinion seals,
blade and hub seals.
Gearwheel wear and clearance,
Propeller blade repair (welding, balancing),
Lubricating oil diagnostic.

GEAR BOXES

Gear Boxes
general or partial overhaul,
shaft dismantling, inspection, remetalling and refurbishment
bearings replacement,
alignment of casing,
vibration diagnostics and analysis,
lubricating and hydraulic oils diagnostic, analysis and alignment,
technical advice and support.
Gearwheels
condition inspection,
teeth contact inspection,
teeth NDT.
Slide bearings
clearances measurements,
remetalling.
Clutches
inspection and integrity checking of clutches,
waer estimation,
hydraulic system adjustement.

SERVICES FOR OFFSHORE MARKET
Drives renew,
Installation of specialized equipment and devices for offshore market,
Hydraulics.

REMOTE CONTROL SYSTEMS

Remote control systems design and customize,
New systems installation,
Automation and control systems service,
Existing system upgrade with new solution,
Own control system BOTA TRC-1 installation.

AUTHORIZED SALES AND SERVICE PARTNER FOR MARINE PROPULSION MAKERS

Jastram GmbH & Co.,
KEMEL Company
Jastram Engineering,
VULKAN Couplings,
Masson Marine
HamiltonJet

CONTACT WITH US