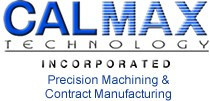 CALMAX TECHNOLOGY.INC
Description
Since 1987, Calmax Technology has been a Silicon Valley leader in precision machined components and electro-mechanical assemblies. Our in-house resources enable us to provide our customers with high quality product, delivered on time and at a
competitive price.

Calmax Technology Inc. has consistently offered manufacturing solutions across various industries:
semi-conductor, aerospace, solar and medical.

We support all phases of our customer's requirements from new design to final assembly. Our expertise includes engineering, precision machined component and clean room assembly.

Calmax Technology Inc. offers a dedicated engineering staff, state-of the-art equipment, and customer service that will assist your company with all your manufacturing needs.

CONTACT WITH US