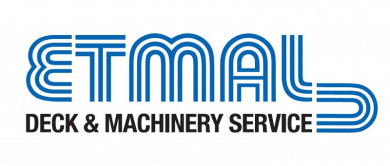 ETMAL Spółka z o.o.
Class repairs, hydraulic installations , stagins for boats engines .
The main subject of Etmal's activity is service of hydraulic and pneumatic power supply systems.


We make complete repairs of following devices:
windlass-mooring, towing winches,
steering gears,
cargo cranes
all types of engines and hydraulic pumps,
servo-motors,
hydraulic accumulators,
bilge-ballast systems and fuel installations,
fishing devices,
valves and distributors.
HYDROTORQUE


Etmal Ltd realizes ship and land object general overhauls within the range of class and dock-maintain repairs.


Wide range of our service includes:
docking works,
welding works,
hull works,
pipe works,
electric works,
painting works,
engine works
building and repairs bilge - ballast systems and fuel installations,
choice and delivery of hydraulic devices and automatic systems.


STAGINGS FOR BOAT'S ENGINES

Etmal company made project and built first stagings for Polish Navy order. This product opened up for us new horizons, new perspectives and new market.
Stagings are useful to boat's engines storage in closed spaces during winter season, to transport boat's engine from quay to hangar and also to use it during repairs, overhauls and overviews.
Stagings made by us provides the same engine position as while it works fastened to boat's transom stern. This location is advisable to storage and overhaul. If it is necessary, because of repair, storage or transport needs, staging construction should be turn on together with the engine to the horizontal position. At this position it is possible to carry the engine with help of handrails on both sides of staging.
In frame construction we adopt 2 wheels which acting function of carriageable unit. This wheels make possible to roll staging with fastened engine on the ground.
Our product is protected by Urząd Patentowy Rzeczpospolitej Polskiej (Patent Department of Poland) - no. 64147.

We are the first and the only one company in the Poland which produce this type of stagings.

CONTACT WITH US