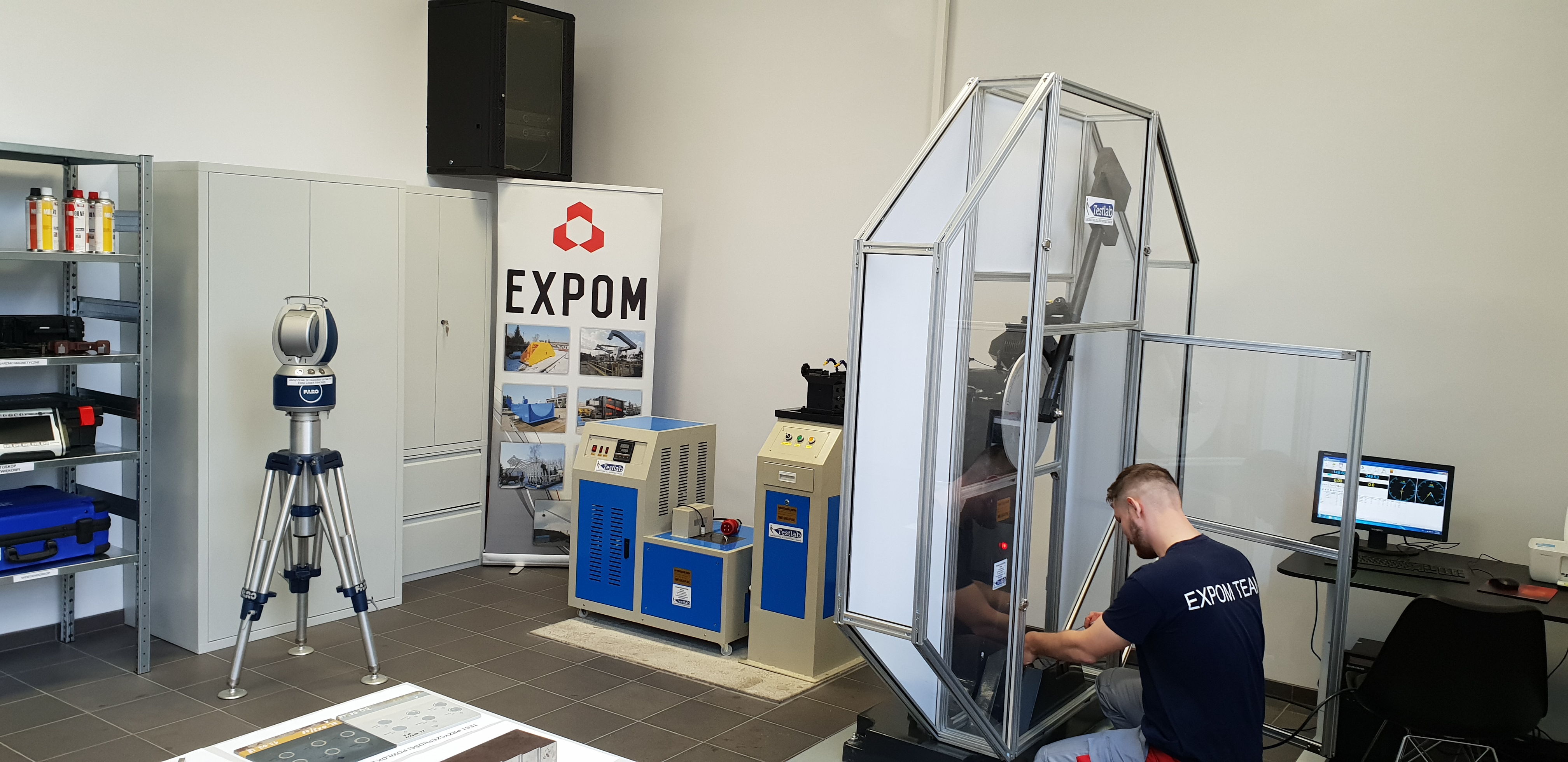 European and international standards applied at EXPOM S.A.
Date of publication: 07.01.2021
The expertise of Expom S.A. based in Kurzętnik, Poland, is in producing large-sized steel structures. The Company has operated both on the domestic and international markets. Its offer encompasses a comprehensive process that includes welding, machining, corrosion protection, installation of electric and hydraulic systems, testing and conducting independent tests of finished products. Structures produced by Expom are delivered to the farthest corners of the Globe, although the Western Europe and Nordic Countries are the main markets for the company. Expom's main customers come from such demanding industries as offshore, power, manufacturing and maritime.

Due to the high requirements of clients, it is necessary to manage the enterprise in an organised manner, which enables to provide the high quality of produced structures. To this purpose, the ISO 9001 standard was implemented already in 1999, which is the basic standard related to quality management systems in enterprises. In the following years, consecutive standards were implemented, creating an integrated management system: ISO 14001 of environmental management and ISO 18001 that concerns health and safety management. At present, the quality management system is certified by a recognised classification society, French Bureau Veritas.

Structures of Expom are presently produced in line not only with European but also international standards, such as ISO, DNVGL, AWS, ASME and NORSOK. As the core business of the enterprise is welding, it has been necessary to implement related standards. The basic standard is EN ISO 3834-2:2005; the compliance with the standard is confirmed with a certificate issued by DVS ZERT Dűsseldorf. Expom also holds a conformity certificate of Factory Production Control for manufacturing load-bearing structures in all types of structures made of steel, up to class EXC3 according to EN 1090-2:2018 issued by TÜV Rheinland. Due to the on-going cooperation within the manufacture of lifeboat cranes and winches, the MED – Module D certificate was obtained, issued by the DNV GL classification society.

In order to confirm the Company's production capacities, both welding technologies and welders have to be qualified by external societies (e.g. Bureau Veritas) in accordance with welding standards. The qualification of welding technologies is carried out both according to EN 15614-1 and ASME Section IX as well as AWS D1.1 (EXPOM is one of the first Polish enterprises that has obtained such a certificate).
High requirements set for structures made at Expom are also related to the necessity to certify conformity by conducting specialist tests. Non-destructive tests (NDT) of welds are carried out with 4 basic methods:

• visual (VT)
• magnetic-particle (MT)
• penetration (PT) and
• ultrasound (UT)

All NDT inspectors hold the necessary qualifications to carry out tests, i.e. level II of qualifications according to PN-EN ISO 9712.

After the in-depth analysis of the market, we carried out first steps to certify Expom in accordance with the EN 15085 standard – 'Railway – Welding rolling stock and its components'.

A very important issue, in particular in the case of structures for the maritime and offshore sectors, is to provide suitable corrosion protection. To provide the adequate supervision over anti-corrosion coatings,
Expom employs a painting inspector holding the FROSIO level 3 certificate honoured all over the world, according to the Norwegian NS476 standard. In addition, Expom holds the certificate of a contractor that confirms meeting strict requirements of the NORSOK M-501 standard that applies to the production of corrosion protection on structures for the maritime and offshore sectors.

In recent years, Expom has implemented major investment projects in R&D within the implementation of new and innovative technologies of producing structures and the establishment of the Research and Development Centre. One of the main elements of the investment plan was to set up a completely new department in 2018, EXPOM LABORATORY, responsible for the general research activity in numerous sectors of industry, which go beyond the scope of tests carried out before.

The Laboratory is active in the following areas:

• destructive tests: testing impact toughness with Charpy's method and hardness tests;
• non-destructive tests of welds;
• tests of corrosion coating: measuring thickness, pull-off tests, salinity tests with the Bresle's method, and surface cleanliness assessment;
• 3D measurements of geometry of structures carried out with a FaroArm measuring arm and Faro Laser Tracker; and
• Electric measurements of systems and equipment.