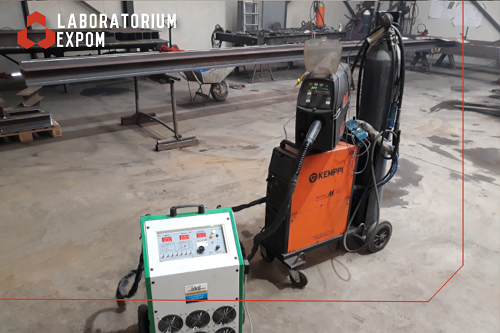 Expom Laboratory
Date of publication: 23.03.2021
Customer satisfaction is one of the key factors determining business success. To increase their attractiveness and competitiveness on the market, businesses must center their attention on both a quality management system and a quality control process. A properly designed, implemented and operating quality management system helps detect potential errors at the preparation stage of technological documentation and select such measures as to ensure correct production processes. On the other hand, an efficient quality control process at individual production stages enables detection of errors at the earliest possible stage.


An integrated management system based on ISO 9001:2015, ISO 14001:2015 and ISO 45001:2008 standards was implemented in EXPOM S.A. many years ago, in addition to over a dozen other standards related to production of steel structures for different sectors, welding and applying anti-corrosion coatings. The system is continuously being improved to minimize the chance of defect occurrence and for better overall quality of structures.


The high requirements imposed on structures manufactured at EXPOM S.A. demand appropriate control and research facilities such as qualified personnel and professional equipment. Therefore, the quality control department has played a key role in the enterprise's development strategy from the very beginning. Over the years, it has expanded the scope of tests performed by acquiring new qualifications and purchasing state-of-the-art measuring devices. Building on its vast experience in internal testing, EXPOM S.A. decided to go a step further and expand its offer with tests provided to external clients. Setting up EXPOM LABORATORY in 2018, as part of the research and development center entailing the implementation of the innovative structure production technologies, was a milestone in the enterprise's development.


Since the EXPOM LABORATORY was established, the scope of tests carried out so far has been expanded. Advanced equipment and measuring instruments were purchased and inspectors acquired new specialist qualifications (e.g. FROSIO certificate or qualifications to perform NDT).


The Laboratory is active in the following areas:
• Destructive tests (DT)
• Non-destructive tests (NDT)
• Electrical measurements and OHS
• Geometry testing
• Tests related to the application of anti-corrosion coating
• Tests of handling equipment under the supervision of the Office of Technical Inspection (UDT)