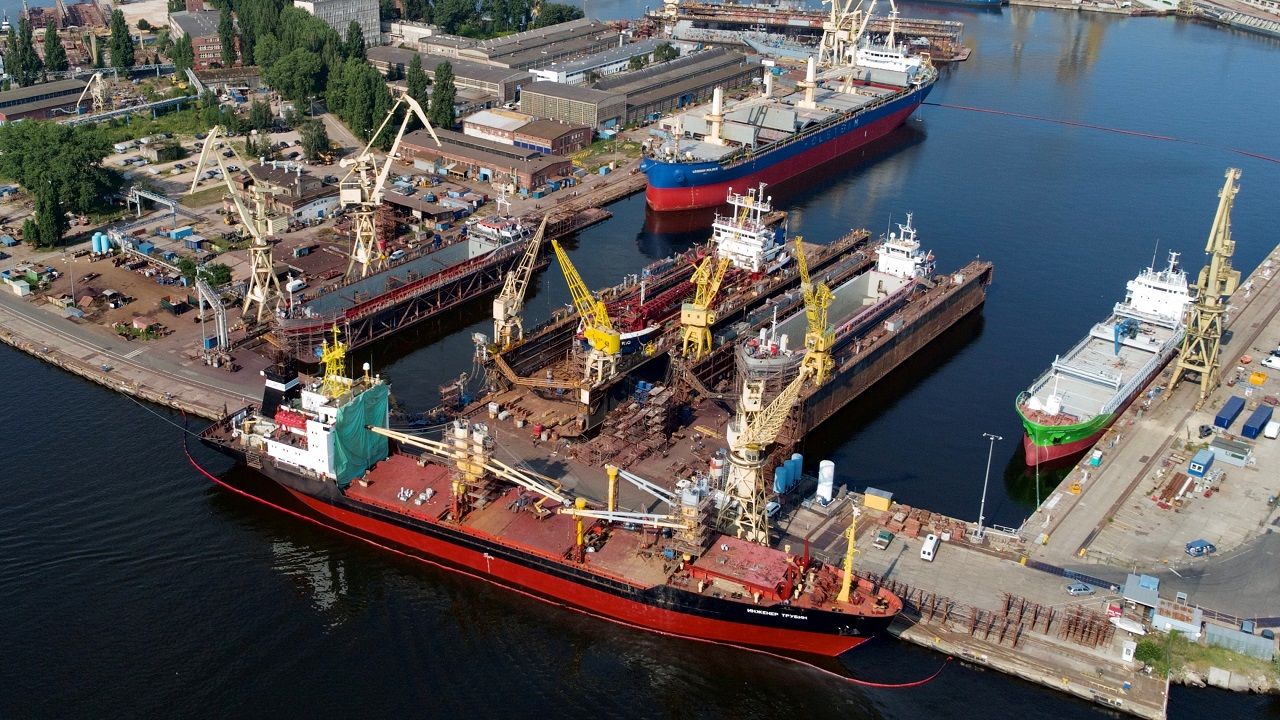 Gryfia Shipyard Chairman: "We are on straight" [INTERVIEW]
Date of publication: 29.09.2021
Krzysztof Zaremba, Chairman of the Board of Marine Ship Repair Yard Gryfia in Szczecin, talks about the last orders and the nearest plans.


Last Friday, the last of the four icebreakers joined the Wody Polskie fleet. This is one of the large projects that Gryfia has recently successfully completed. The cost of each of the units is approximately PLN 18 million. You are celebrating quite a success.
This contract was concluded by my predecessors, we have been carrying out this task for the last three years. It is worth noting that there were no delays, and icebreakers are basically multi-functional units. They can be used as tugs, rescue units, and they can also fight oil spills and, above all, ice jams. The largest is the head icebreaker, and the three remaining are liner ships.


The units built by Gryfia are already serving and collecting favorable reviews. Previously put into service were Puma, Narwal and Nerpa. The newest one is Manat.
In fact, these ships were highly appreciated by the crews. We handed over the first two last year. They left the shipyard on their own and sailed to Gdańsk by sea. We are very pleased with this contract.


And is Gryfia now planning to build more ships, or is she staying with repairs, which has always been her main task?
Of course, we can build, as we have just proven. Nevertheless, we see our place primarily in class renovations, reconstructions and modernizations. We have been appointed to these tasks, and we know how to do it very well. These are also the most profitable orders.


The shipyard has many customers, most of them foreign contractors. Is there a special order that Gryfia is the most proud of?
Recently, for our regular Norwegian customer, we have rebuilt the drive into a hybrid drive. We are very happy with this type of orders and we anticipate this tendency for the future. Orders for such services are dictated by, among others EU directives, environmental requirements. And Gryfia has already gained experience in converting the technology into a hybrid drive. We feel strong in this area.
Another quite popular order is, for example, replacement of ballast tanks. The point is not to mix organisms living, for example, in northern waters with those living in southern waters. Shipowners also order modifications and modernization of fuel systems.


You don't complain about the lack of orders.
Our very prestigious client is the Kawasaki concern. They transport new cars that come straight from factories to individual markets. Most of their northern ferries have been overhauled in Gryfia for years.
Among the recipients of our services is also Polska Żegluga Morska (Polsteam) and many others. We have a full schedule of orders from week to week, the docks are occupied, and if one is temporarily empty, it is only a matter of a maximum of one day.


Another great event for Gryfia is the construction of a floating dock by the Szczecin Wulkan shipyard. It is said that it will be the largest order in the company's history. What will this spectacular modernization change?
It will be the largest dock in the Baltic Sea, only in North Sea you'll find a bigger one, and there are only four such docks in the northern hemisphere. It will ensure our survival and competition for a good 30 years. An investment of a similar scale last took place 30 years ago, we are talking about dock number 5


Forecasts say that after the completion of this investment, Gryfia's revenues may increase by as much as half.
This is by far the largest project in the history of our company. The dock will be located at the Gdynia Quay, opposite the Szczecin Shipyard. The quay itself is to be extended with a 60-meter pier.


This dock measures 235.6 m in overall length, 213.1 m in supporting length, 47.3 m in external width and 38 m in internal width. The dock's load capacity is to be 27 000 tons.
Shipowners operate larger and larger ships, so bigger and bigger docks are needed. Such a dock increases the operational capabilities of the yard. And even if we have two smaller units, both can be docked in such a situation. There are several dozen small docks within the Baltic Sea. This shows how the situation will change.
After this investment, we will be a strong competition for repair shipyards from the West. I believe that after years of lagging behind, we manage to get out of the way. The policy of the previous managements led to a very difficult situation in the shipbuilding industry.


Gryfia now took a straight course. And there is a lot of hard work ahead of you to keep up the pace.
We control over 80 percent market in the region, we receive about 170 units annually, sales amount to PLN 160 million. These are very good parameters that we want to raise.
The repair yard does not need land, but quays and docks. So we got rid of unnecessary real estate and we are running a modernization program by renovating roads, warehouses and a social building.
This year - finally - we will record a positive result. For the first time in the history of the shipyard, we have introduced a transparent bonus system. We now want to constantly invest in new infrastructure and our employees, whose company employs over 500.
I would like to make it clear that in 2008-2015 the previous PO-PSL government pursued a policy of destroying the Polish shipbuilding industry. MSR Gryfia was also a victim of this policy. Fortunately, the current owner supports his business rather than destroys it.