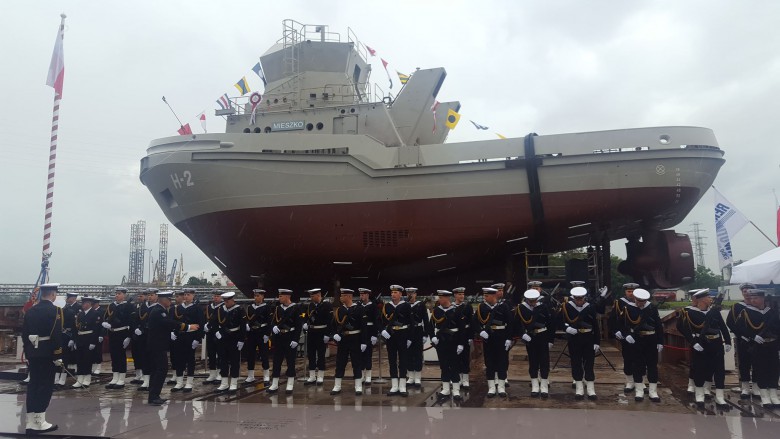 Date of publication: 11.07.2019
On Monday christening ceremony for tug "Mieszko" was held in shipyard Remontowa Shipbuilding. The vessel was built for Polish Navy. It's the third in a series of six units of this type which are being built in this shipyard. All vessels are expected to enter service by the end of 2020.

Magdalena Śniadecka was chosen as the "Mieszko" godmother. She is headmaster of the Vice-Admiral Józef Unruga's Primary School in Laski Wielkie. She said: "Today's event was really special, I was very surprised and happy to be the godmother of this vessel. I wish the crew of Mieszko safe returns from all the missions."

Tugboat was expected to be also launched on Monday, after the christening ceremony. Vessel was to be moved to the water by crane. Due to unfavorable weather (including wind), launching was postponed.

Tug "Mieszko" is another B 860 type vessel in the series of six built for the Polish Navy by the shipyard Remontowa Shipbuilding S.A.

Two other B 860 vessels were launched and christened in October 2018 and in March this year. Aleksandra Tesmer, promotion and advertising manager at Remontowa Shipbuilding, reported that company is in the process of equipping both tugs. These vessels received the names "Bolko" and "Gniewko". Their godmothers were the headmasters of two Polish schools, which patrons are persons who have provided great service to the Polish Navy.

Tesmer explained that the construction of two more B 860 tug boats is in progress at the shipyard. The sixth vessel will begin construction on Tuesday.

According to the shipyard, "B 860 type tugboats are intended both for performing logistical support tasks at sea and in ports, as well as for technical evacuation, rescue support, passenger transport and supply, neutralization of pollutants and hazardous materials".

Vessels have been designed and built to be operating even on the heavily iced waters. They can also be used for transporting general cargo with a total weight of up to 4 tons. Its towing winches have maximum pull of 35 tons.


Polish Navy signed a contract with Remontowa Shipbuilding for design and construction of six tug boats in June 2017. The contract have a value of PLN 283.4 million and was concluded as part of the project "technical protection and conducting rescue operations at sea under the code name Tugut". Laying keel ceremony for the first tug took place in January last year.