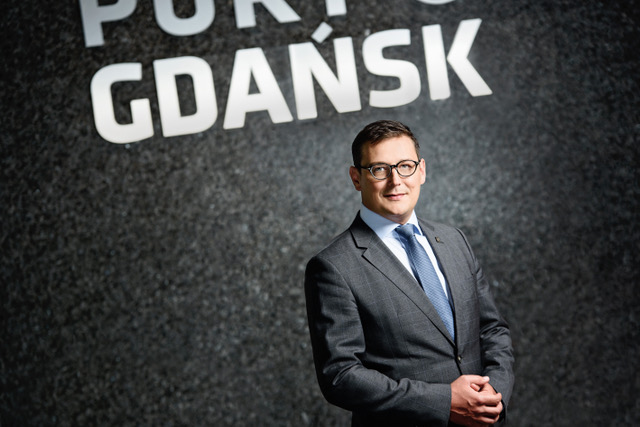 Our objective for this year is to be ranked third among the Baltic Sea ports
Date of publication: 10.05.2019
The recent years have been a time of prosperity at the Port of Gdansk. Record transshipments, record investments and specific plans for further development; chances of being ranked in the list of the ten largest ports in Europe and the three largest Baltic ports, and investments that have not yet been seen – we discussed all these topics with Łukasz Greinke, President of the Port of Gdansk Authority SA.

How do you assess the results of the Port of Gdansk in 2018?


In 2018 we achieved an absolute transshipment record in the history of the port. I must admit that the increase in volume of nearly 21 percent and the total of goods transshipped exceeding 49 million tonnes were a surprise even for us. We recorded the largest increases in transshipments of coal, fuels and general cargo. In case of fuels, of which we handled 15 million tonnes, the effects of our supply diversification policy are visible. We hope that this trend will continue, because our infrastructure is ready for it. We are very pleased with further increases in container reloading, which once again surprised us, with the total reaching almost 2 million TEUs. It is also important that in 2018 we served over 400 vessels more than the previous year, which only emphasizes how busy this time was at the port. We also achieved an excellent result in the transshipment of cars, with a total of 85,000 units handled, compared to only 14 thousand in 2016. Record transshipments were seen both in the deep-sea terminals located in the Outer Port and in most terminals at the Inner Port.

In order to achieve good results, apart from the appropriate economic situation on the market, it is necessary to invest in infrastructure. What has the investment process in the port been like over the past months?

I can safely say that, in the recent history of our port, there have never been such investments as those implemented last year. Last year, we spent more than 100 million PLN on investments. Our absolute priority until 2020 are projects co-financed with the CEF (Connecting Europe Facility) and we have been able to sign all the contracts for these projects. With EU funds, we are rebuilding the road and rail system at the back of the Outer Port. This investment will improve the access to the largest Gdansk terminals, including DCT Gdansk.

We are also conducting activities in the area of Sucharskiego Street, in cooperation with InvestGDA, from whom we purchased a 10-hectare plot of land. We will build a parking lot and a petrol station there.
As part of the CEF, we are also carrying out a number of investments in the Inner Port. We are deepening the fairway to 12 meters and rebuilding a total of 5 kilometers of quays: Nabrzeże Oliwskie, Nabrzeże OPP, Nabrzeże Wiślane, Nabrzeże Dworzec Drzewny, Nabrzeże BON and Nabrzeże Zbożowe. We have also connected the area of Nabrzeże Szczecińskie with Handlowa Street. We built a buffer parking lot and new fences in the area of Śnieżna and Handlowa Streets, and large, previously unused areas have been paved. We will also install new truck scales throughout the port. At the PGE terminal, we are clearing excess waste and hardening storage yards. Lately, the port has been changing at an unprecedented pace.

What is the current situation of Port of Gdansk Cargo Logistics SA?

We are still in a legal dispute related to the unsuccessful attempt by a Maltese investor at purchasing PGE, but we are not waiting for the final decision. We decided to restructure this company, just as we restructured the Port Authority. I think that you can already see the first effects - after a difficult 2017, PGE reloaded over 3.6 million tonnes of cargo in 2018. At the moment, I can assure you that the company is in a good situation and we are doing everything to maximize its efficiency.


What about your activity on foreign markets?

First of all, we want to make an impact on the world market. We are showing that we are the northern gate to Europe for goods transported from China. We have access to a large market - nearly 100 million consumers - so Gdańsk has the right to demand cargo handling from and to Poland, the Czech Republic and Slovakia, which is why last year we decided to open our own port office in Shanghai. The office has two basic functions. On the one hand, we are talking about our activity and making our product known, that is, areas, quays, etc. On the other hand, the office serves the contractors who are already with us, by giving them new opportunities to operate in Asian markets. We participate in the largest trade fairs in China, organize business meetings and visit Chinese companies. When it comes to the European market, we are planning to open trade offices in the Czech Republic and Slovakia. We also know how much there is to be done at our eastern border. Chinese warehouse centers have been established in Belarus, from where we have to start a direct rail connection to our port. We also actively participate in the largest European trade fairs and conferences.


What are your most important goals and tasks for the nearest future?

Our main goal for this year is to be ranked third among the Baltic ports and to join the group of the 10 largest European ports. Our main tasks for the coming years are the continuation of all CEF investment programs, and the development of the concepts of the Central Port and the "Wisła" program.



Thank you for the interview
Mateusz Kowalewski