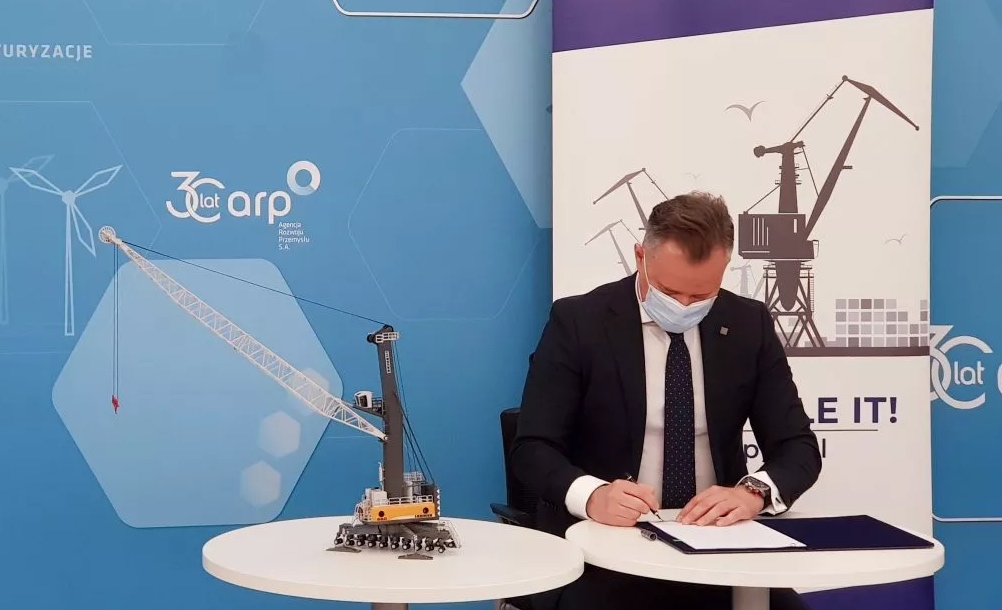 PGE S.A. invests to increase the material handling capacity at the Port of Gdańsk
Date of publication: 23.04.2021
Liebherr LHM 550 is a new crane, the purchase of which was financed by the Industrial Development Agency (ARP). It will soon arrive on the quays of the Gorniczy Basin at the Port of Gdańsk. This handling equipment was purchased by Port Gdański Eksploatacja S.A. (PGE), the largest universal cargo handling operator present on the quays of the inner part of the Port of Gdańsk and the fourth largest operator in terms of handling operations for the entire port area.

This modern crane can easily handle both containers and bulk cargo. It has a maximum lifting capacity of up to 125 tonnes and the maximum ship reach of 48 m. The support base measures 13.5 m.

PGE S.A. operates on an area of over 89 hectares. This is an exceptionally attractive area with significant investment potential. As part of a long-term lease agreement and operator contracts with the Port of Gdańsk Authority S.A., it carries out cargo handling on the quays located along both sides of the Martwa Wisła River – Wislane Quay (12.1 ha), Szczecinskie Quay (8.2 ha) and Gorniczy Basin quays (68.9 ha). Furthermore, within the scope of the operator's activities, the company is also present on WOC I and WOC II Quays (14.2 ha), as well as Oliwskie Quay (5.9 ha). The areas used as part of PGE S.A.'s activities are covered by the largest investment programme by the Port of Gdańsk Authority S.A. and co-financed from EU funds.

PGE's cargo handling operations focus on coal and coke, general cargo and wood, steel products, scrap metal, structures, machinery, cars and other vehicles, as well as fertilizers. In 2019 the company provided services to 559 ships, reloading a total of 3.2 million tonnes of cargo. In 2020 it recorded a 2% increase in cargo handling y/y, with a total of 3.75 million tonnes. The targets for the current year are just as ambitious.

Shares for sale
"We are pleased to see the investments of our contractors. We often emphasize that the port and contractors form a self-regulating system, because they must complement each other, including in terms of investment projects. Not only do their efforts increase the handling capacity of our operators, they also contribute to the competitiveness of the entire port. Our goal is to achieve synergy through the investment undertakings of Port of Gdańsk Authority S.A. and the projects of our contractors," explains Łukasz Greinke, President of the Port of Gdańsk.

Another step toward building PGE S.A.'s competitiveness comprises investments in port suprastructure. This is why the company has been investing actively recently. It purchased two Volvo L260H wheel loaders, a Liebherr LH40m long-arm excavator and a Loco-tractor 9C 160 Orion to improve safety in terms of manoeuvring and travel speed between the quays. The company has also modernised other reloading yards within the whole Gorniczy Basin area. This is where the Liebherr LHM550 will find its place. The crane is intended to operate on Rudowe and Dworzec Drzewny Quays. Thanks to this it will increase the material handling capacity in the area. With its higher load and discharge capacity, it will be possible to free up a dozen or so days a month, which means additional vessels can be processed.

"These activities are a response to the needs of our customers in terms of the quality and speed of service provided to vessels on the quayside, which in turn translates into higher operational capacity. It is important to exploit the current investment and operational trends to complete these tasks, which is what we intend doing in the near future," claims Radosław Stojek, President of PGE S.A.

In March 2021 Port of Gdańsk Authority S.A. began to seek an investor for PGE. The procedure commenced with an invitation to negotiate the sale of the full stake in the enterprise. Potential investors considering participation in the negotiation process should express their interest by 4 May 2021.
Finding an investor for these areas will enable even more dynamic development of the Inner Port, which, despite the pandemic, ended 2020 with an increase of over 15%.