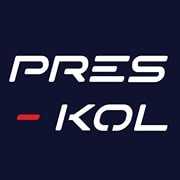 Pres – Kol Sp. z o.o.
Description
PRES-KOL YOUR PARTNER IN INDUSTRY
Pres-Kol was established in 2015 as a result of division of Inmet-Hydro. Since the beginning of our activity, we have focused on three branches of industry. For steel constructions, power hydraulics and production of specialized technological equipment.
We provide knowledge, experience and help. The high level of competence of each of our employees, as well as the continuous development of our technological background and infrastructure make us not afraid of new challenges.
• From the beginning, we are implementing a philosophy of timeliness and solidity.
• The highest quality, technology and commitment to customer needs is our standard.
• We are open to innovation, we do not scare us, we remain flexible.
• We know how important quality control is, so we provide it at every stage.
Our values are translated directly into the cooperation with the client - each project is unique to us and requires an individual approach. This also allows for continuous development and deepening of experience. We want to be a local leader in design, consultancy and contracting for global shipbuilding, steel construction and hydraulics.
We are constantly expanding our horizons and we are seeing new opportunities to translate this into a product and service offering.

Offer
• Design and manufacture of specialized equipment
We design and implement modern and cost-effective fixtures and equipment, including single and multi-component parts dedicated for shipbuilding, gas & oil and offshore installations.
• Steel structures
We provide technical consulting, engineering projects and execution of steel structures. We also provide special order services, according to the individual needs of our contractors. Our customers are both domestic and foreign shipyards.
• High-pressure hydraulics
We produce projects in the field of high-pressure hydraulic systems. We manufacture and modernize hydraulic equipment according to their practical application. We provide comprehensive service at highest possible level, repair work, maintenance and general projects.

CONTACT WITH US