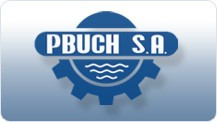 Przedsiębiorstwo Budowy Urządzeń Chłodniczych S.A.
Description
PBUCH S.A. since 1952 has been a leading supplier of the tailor made refrigeration and air-conditioning systems for marine and industrial applications and pressure tanks for wide variety of fluids and solids.
In scope of supply is included: technical design, manufacturing, testing and approval procedures, installation.
We offer new installations as well as repairs, modernization of existing installations, refrigerant replacement, services.

Our product range covers
• Shell and tube heat exchangers, condensers and evaporators,
• Heat exchangers of different designs, pressures and special applications
• Compressor units, condensing units and liquid chilling units
• Pressure vessels made of carbon, low-temperature and stainless steel with a diameter of up to 4.7m
- Receivers for refrigerants,
- Air receivers,
- Pressure tanks for carbon dioxide for fire extinguishing systems,
- VOC collection tanks;
- Tanks for oil and sewage;
- Tanks for Bulk Handling systems
• Fresh water modules
• Oil and liquid separators,
• Accessories, e.g. filter driers, level indicators, etc.,
• Welded structures and special receivers,
• Electrical equipment and control systems for our products;

PBUCH S.A. provides tailor made refrigeration systems and solutions for:
- Water chilling plants;
- Provision cooling systems;
- Air-conditioning systems;
- Industrial and commercial HVAC plants,
- Installation and repair services,
We install and repair refrigeration and air-conditioning systems on-board and on land. We make refrigeration equipment for cooling and freezing chambers and also refrigeration systems for industry.

Quality control

Important for the company's reputation is the high quality of it's production which is guaranteed by the following Classification Bodies: Det Norske Veritas (DNV), Lloyds' Register of Shipping (LRS), Germanischer Lloyd (GL), Russian Maritime Register of Shipping (RMRS), Polish Register of Shipping (PRS), ClassNK (NK), Registro Italiano Navale (RINA), Bureau Veritas (BV), American Bureau of Shipping (ABS), China Classification Society (CCS), UDT, and also ISO 9001:2000 system.
We offer pressure vessels designed, produced and welded in complete compliance with the current ASME code.

We have our own quality control department, X-ray laboratory and proofing department.

Advanced tests methodologies are used to meet and exceed customer specifications:
- pressure tests (leakproofness tests)
- X-Rays of welds
- measuring of coating thicknesses
- checking cleanness inside the pressure equipment
- penetration and visual tests
- magnetic and ultrasonic tests

Every aspect of our manufacturing system is subjected to a rigorous quality control system which we regard as critical to the continued success of Pbuch and the satisfaction of you , our customer.

Our expansion strategy
We put a lot of resources and effort into creating innovative products and solutions and diversify production towards more sophisticated products:
- large pressure vessels made of carbon and low-temperature steel for Bulk Handling Systems;
- air – conditioning units;
- stainless steel tanks;
- decompression chambers;
- domestic fresh-water modules;
- water resistors used for making load tests on ships generators for new vessels and ship overhauls;

With all these innovations PBUCH intends to continue expanding in the European and International markets.

We have a complete production chain in house including cutting machines, rollers, welding machines, assembly and machining shop and painting shop.

Our customers and the market create a continuous demand for the development of high-quality products. Years of experience in the refrigeration and pressure equipment fields together with the accumulated know-how of our staff, ensure that we deliver projects with faster and ever more successful results.

Offer
COOLING UNITS

HEAT EXCHANGERS

UNTYPICAL TANKS

LIQUID CHILLING UNITS

HYHORE UNITS

RECEIVERS FOR REFRIGERANTS

WATER RESISTOR

AUXILIARY DEVICES

CO-OPERATION SERVICES

CONTACT WITH US