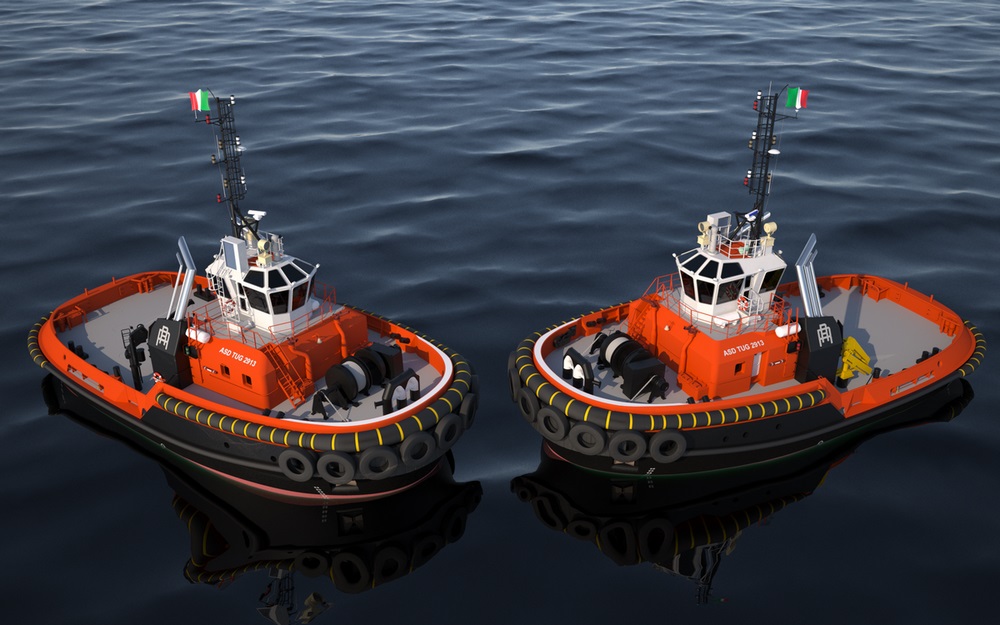 Rimorchiatori Riuniti orders Damen ASD Tugs 2913
Date of publication: 15.12.2015
Italian tug operator Rimorchiatori Riuniti has recently placed an order with the Damen Shipyards Group for two ASD Tugs 2913. Rimorchiatori Riuniti operates more than 100 vessels across a range of maritime sectors, including harbour towage and offshore. Amongst the company's fleet are a number of Damen vessels.

The most recent Damen vessel to join the Rimorchiatori Riuniti  fleet was an ASD Tug 2411, delivered to the client in September 2014. This was the company's third Damen vessel, making the ASD Tugs 2913 numbers four and five respectively. The first ASD 2913 will be delivered in 2016 and followed by the second in 2017.

The ASD 2913 is a heavily built tug with rigid foundations, extra plate thickness, brackets and fendering. The two vessels for Rimorchiatori Riuniti will be built at Damen Shipyards Galati, Damen's modern yard in Romania. Damen will outfit the tugs with a series of special characteristics for the client, in order to ensure versatility to satisfy offshore tasks when needed. Customised features include FiFi 1, escort notation, oil recovery and an aft winch. One of the two tugs will have some features which will enable the tug to operate in LNG terminals, featuring also the high performance render recovery winch built by Damen Marine Components.

Damen Regional Sales Manager for Italy Andrea Trevisan said of the order: "We are truly honoured to serve Rimorchiatori Riuniti again and for the preference given in this important order. For Damen it is a pleasure to work with this company, a company which has made history in the world of towage in Italy and the Mediterranean since 1922. We appreciate the  important in-house experience and the involvement of management, technical and operations staff of Rimorchiatori Riuniti throughout the project. They had some specific requirements which have been taken into account in the design of the two tugs, including additional Fresh Water and Fuel Oil capacity. It is what we call at Damen 'smart-customisation'."

The ASD 2913 is ideally suited to when a more compact tug is needed due to limited manoeuvring space in the harbour area. The reserve of stability needed for the important Bollard Pull of 80 tonnes offered by the design is provided by a large beam of 13 metres and a state-of-the-art skeg, all designed by Damen. The ASD 2913, despite the versatile length, offers generous deck spaces as well as comfortable MLC 2006 compliant accommodations for up to 10 crewmembers.

Alberto Dellepiane, Director of Rimorchiatori Riuniti, says the reasons the company chose Damen vessels were the high quality offered, the reliability and the fact Damen vessels maintain their value.

"Damen is able to guarantee the quality of its designs – and indeed the final product – thanks to our practice of standardisation. It means that we are able to deliver proven technology to the client every time. This order for Rimorchiatori Riuniti concludes a positive year for Damen in Italy; a total of five contracts have been awarded in the country and all for standard Damen vessels. This demonstrates how Damen seriously takes into account the requirements asked by the Italian Market," concludes Mr Trevisan.

***

Damen Shipyards Group operates 32 shipbuilding and repair yards, employing 9,000 people worldwide. Damen has delivered more than 5,000 vessels in more than 100 countries and delivers some 160 vessels annually to customers worldwide. Based on its unique, standardised ship-design concept Damen is able to guarantee consistent quality.

Damen's focus on standardisation, modular construction and keeping vessels in stock leads to short delivery times, low 'total cost of ownership', high resale values and reliable performance. Furthermore, Damen vessels are based on thorough R&D and proven technology.

Damen offers a wide range of products, including tugs, workboats, naval and patrol vessels, high speed craft, cargo vessels, dredgers, vessels for the offshore industry, ferries, pontoons and superyachts.

For nearly all vessel types Damen offers a broad range of services, including maintenance, spare parts delivery, training and the transfer of (shipbuilding) know-how. Damen also offers a variety of marine components, such as nozzles, rudders, anchors, anchor chains and steel works.

In addition to ship design and shipbuilding, Damen Shiprepair & Conversion has a worldwide network of 15 repair and conversion yards with dry docks ranging up to 420 x 80 metres. Conversion projects range from adapting vessels to today's requirements and regulations to the complete conversion of large offshore structures. DSC completes around 1,500 repair and maintenance jobs annually.