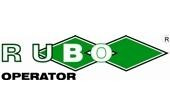 RUBO-OPERATOR Sp. z o.o.
Steel constructions , Machining facilities , Technical and special transport
Steel constructions :
Our Steel Constructions Department is manufacturing both the constructions for the shipbuilding industry and those intended for building and overhauling the building structures on shore. Due to the expertise of our Project Department we are able to realize the entire manufacturing process of building the steel constructions. Having been able to secure all the current needs of Gdynia Shipyard within the scope of ship equipment prefabrication and having built many overweight and overdimensional constructions for the shipbuilding industry we are confident to dispose of technical experience necessary to meet all the requirements of our customers.

Our product range does, among others, include:
Radar masts
Signaling masts
Aerial masts
Fore and after masts
Lifeboat davits
Liferafts davits
Auxiliary davits
Gantry cranes
Winches and windlasses
Foundations and fittings
Hatches, hatchcovers and manholes

Machining facilities :
We offer wide range of machining works to be performed either on our own material or that entrusted to us by our customers. These include:
turning
drilling and boring
milling, shaping and chiseling
grinding
For the detailed specification

Technical and special transport:

Our technical and special transport means secure the transport services throughout the entire shipbuilding process within Gdynia Shipyard. Furthermore, we are rendering transport services to other local shipyards by means of our forklifts and wheeled hoists for painting works. We are rendering hoisting services by means of our jennies of 45 tons SWL and carrying large-size cargo in the whole territory of Poland.
Our means of transport include:
Cars
Delivery trucks
Lorries
Wheeled loaders
Dump trucks and tippers
Wheeled cranes
Trucks
Fork- and sidelifts
Battery-electric trucks
Jennies
Trailers
Special vehicles.

CONTACT WITH US