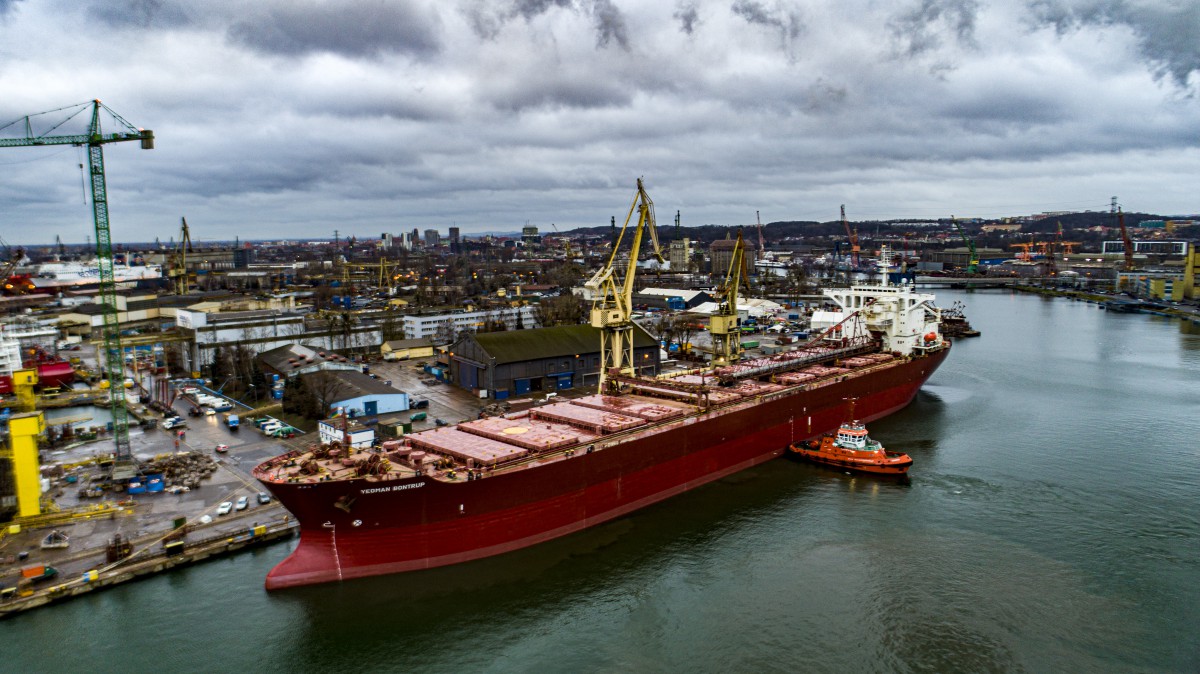 Date of publication: 18.02.2020
Yeoman Bontrup, one of the two largest self-unloading bulk carriers in the world, has undergone a three-week renovation at the Gdańsk Remontowa shipyard. The vessel, which is under SMT Shipping Poland technical management, underwent a standard scope of repairs and maintenance works.

The ship, moored at Gdańsk Remontowa shipyard for three weeks in January, is distinguished by its characteristic red hull and superstructure, as well as a 90-meter unloading boom placed in front of it on the axis of the ship.

As Przemysław Siekański, the captain of the ship Yeoman Bontrup, told us: "This self-unloading bulk carrier with a load capacity of nearly 100 thousand tons with a conveyer and boom system allows independent unloading of aggregate (stones) that we transport. We do not need any port equipment. We are self-sufficient and at the same time flexible because we can carry this cargo to virtually every port in the world. "

It is worth recalling that the unit has already called at the Tri-City ports in the past. A few years ago vessel arrived there with transport of aggregate for the construction of the Pomeranian Metropolitan Railway.


The January visit to the Remontowa shipyard is also not the first in the history of this ship. As Dariusz Stefaniak, Crewing Manager SMT Shipping Poland says: "This is another renovation of this unit at Remontowa shipyard. SMT Shipping has a long tradition of cooperation with Tri-City shipyards. Yeoman Bontrup was renovated for three weeks and we expect its sister unit, Yeoman Bridge to arrive there in February."

Yeoman Bontrup was built in 1991 at the Japanese shipyard Tsuneishi Tadotsu Faktory. It is 249.90 m long, 38.07 m wide and has a maximum draft of 15 m. It can reach a speed of 15 knots.

Superintendent Krzysztof Krzyżaniak told us about why this unit deserves to be called extraordinary: "Anyone who sees our unit from the outside may think that it is an ordinary bulk carrier, but in reality it is completely different. We have a 90m long discharge boom! Some units floating are much shorter than it. With its help, we are able to unload 6 thousand tons of stones per hour. Of course, this is not needed, the average unloading installment is about 3.5 thousand stones per hour. Out of curiosity I can mention that we also have three aggregates with which we are able to supply 2,500 homes. "

As Dariusz Stefaniak told us, the unit also had an episode in a movie: "One of the first scenes in the Polish movie "Wałęsa. A man of hope" was filmed on this ship during one of the renovations".

The SMT Shipping company is dynamically developing. It will soon take over three more units: Aruba, Adriatic and Baltic Pearl. As Stefaniak adds: "This involves the employment of more crews and seafarers, so we are constantly looking for and new people. At the moment we already operate over 50 ships and employ over 1600 seafarers. Everyone interested is invited to contact our SMT Shipping office. "