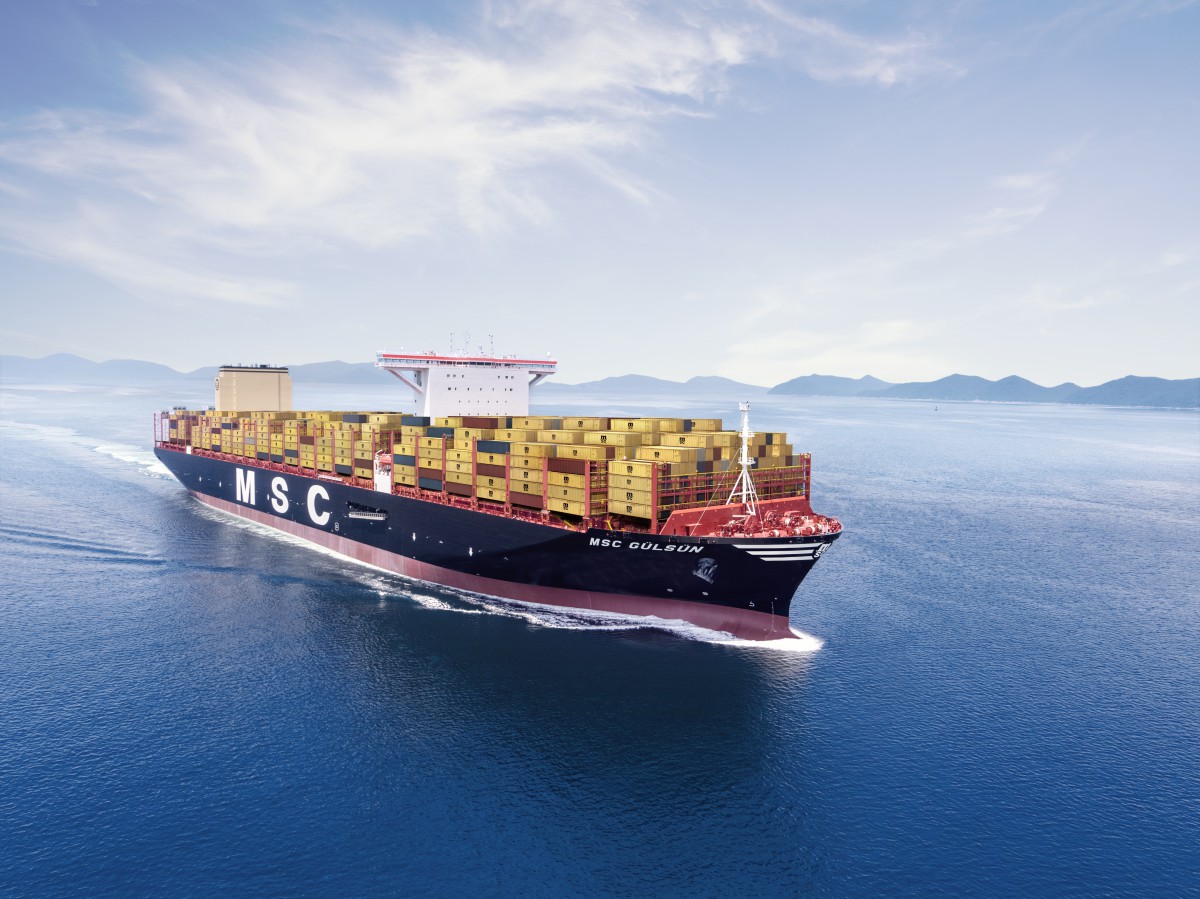 Date of publication: 21.08.2019
MSC Gülsün is on the way to the Port of Gdansk. The largest container ship in the world is expected to arrive at DCT Gdansk this Friday as part of the Silk / AE10 service. It will accommodate almost 24,000 20-foot containers on board, record number among such vessels. The ship will be visible from Kontenerowa Street.

MSC Gülsün has a 23,756 TEU capacity. In practice, this means that the ship can take on board, 8.35 million microwaves or 386 million pairs of shoes or 47 512 cars. To transport such a number of good you would need 14,072 trucks or 1,358 aircrafts or 44 train sets.

Currently, MSC Gülsün unloads containers at the Port of Bremerhaven. The ship's operator, Mediterranean Shipping Company, said on Monday that the ship had arrived in Europe after completing its maiden voyage from northern China. The first cruise began on July 8 at the Tianjin Port. Then vessel stopped later in Qingdao, Shanghai and at the Malaysian Tanjung Pelepas Port, where he broke the container handling record - he left the terminal with 19,574 TEU on board.

Spanish Algeciras was first European port which MSC Gülsün visited. In addition to Gdańsk, ship will call at Kaliningrad and Rotterdam.

MSC Gülsün is 399.9 m long and 61.5 m wide. It is the same size as four football fields. For comparison, the Empire State Building in New York is 381 m high, and the Paris Eiffel Tower measures 324 m. The containership is 33.2 m high and has 16 m maximum draft. It is equipped with a MAN D&T 11G95ME-C9.5 x 1 set engine (66.650 kW x 80.0 rpm). The ship's maximum speed is 21 knots. The unit was built this year at Samsung Heavy Industries (SHI) shipyard in Geoje, South Korea.

The container ship can take on board 2 024 refrigerated containers, which, according to MSC, accelerates trade in food, beverages, pharmaceuticals and other refrigerated products between Asia and Europe.

According to the carrier, the MSC Gülsün container ship can be called a green vessel. The ship's bow has been designed to increase energy efficiency by reducing hull resistance. The latest technology also minimizes wind resistance, which translates into lower fuel consumption. The unit is equipped with a hybrid exhaust purification system approved by IMO. It can be converted to low sulfur fuel, it is also adapted for conversion to LNG. Additionally, to ensure the safety of the crew and cargo, the ship has a double secured hull around the engine room. A specialized program has been installed on board, which allows the hull condition to be assessed in 3D. For even greater safety, the unit is equipped with a "two-tower" fire protection system with high-performance pumps.

MSC Gülsün is the first 23 000+ TEU class unit built for MSC Mediterranean Shipping Company. The world leader in transport and logistics has ordered a total of six such vessels that will come into operation in the years 2019-2020. Ships are being built at Samsung Heavy Industries shipyard in South Korea. In addition, five more vessels of this type for MSC are being built at Daewoo Shipbuilding and Marine Engineering (DSME) in South Korea.

According to MSC, MSC Gülsün and its sister ships are setting a new standard in container transport, in particular regarding ecology. According to the carrier, large ships emit less CO2 than other means of transport (airplanes, trains, trucks or barges) per one transported container, which allows companies transporting goods under MSC services between Asia and Europe to reduce their carbon footprint in their supply chain. The new class of container ships has been designed to protect the environment, performance, stability and security, as well as to meet new digital challenges. Thanks to fast transport and intelligent container marking system, the transport of goods is transparent, safe and reliable. This confirms MSC's commitment to providing the best services on the largest and busiest trade routes.

Thanks to the increased fuel economy and energy efficiency of the new container ships, MSC is well on its way to achieve ahead of time the international 2030 environmental policy goals set by the International Maritime Organization (IMO). The MSC fleet in 2015-2018 has already managed to provide a 13% improvement in emissions per ton of transported cargo - the carrier informed.