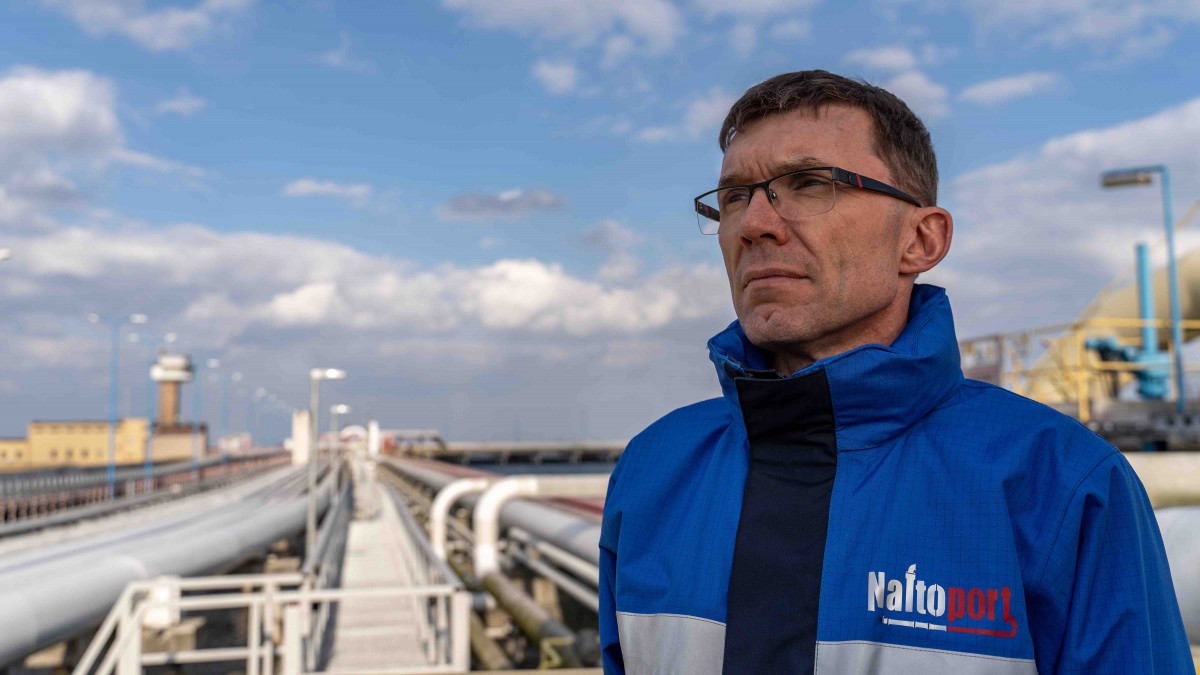 Date of publication: 14.06.2020
We intervied Andrzej Brzózka, the president of Naftoport, about record transhipments, the changing role of Naftoport in the field of crude oil supplies to the country and the passed test regarding Poland's energy security.

2019 was a record year for Naftoport. What contributed most to this great result?

The previous year was undoubtedly the best year in the history of Naftoport, both in terms of the transhipments and in terms of the results achieved. In 2019, we transhipped 16.8 million tons of crude oil and liquid fuels. It was a year of intensive work, but extremely interesting in operational terms.

It is worth noting that in 2019 we crossed the threshold of 50% of Naftoport's share in the scope of total crude oil supplies to Poland. Our terminal also has a 16% share in the transhipments of all Polish ports and almost 1/3 of the transhipments of the Port of Gdansk. This is certainly a historic year for Naftoport.

This is the result of our hard work, increased efficiency of the entire PERN supply network expanded thanks to numerous investments and the policy of diversifying the sources of raw material supplies to our country.

The second quarter of 2019 also proved to be a great test for Naftoport.

Yes, we played an important role in ensuring the country's energy security in the oil area. After the closure of the Druzhba pipeline, in the period from April 25 to June 9, caused by organic pollution, Naftoport has become the sole source of oil supplies to the country. The most challenging month was May, when we transhipped 2.2 million tons of crude oil, over 1 million more than in the corresponding period of 2018. In May, Naftoport welcomed 13 more tankers than in the same month last year. We shoved that our procedures and systems are excellent and we have confirmed that we are ready to fully supply Poland with raw materials.

Great results are also the result of Naftoport's changed role in energy suppliers to Poland?

In recent years, we transformed from a terminal that transships mostly raw materials from the East to true import terminal. We play an important role in crude logistics system, making Poland independent from supplies from the East pipeline system.

Today, to some extent, we also support sea supply of "REBCO" crude oil, however, overall, we noticed a very clear and steady increase in non-Russian oil transhipments. In 2013, the share in satisfying domestic demand for raw material from other directions was 7 percent, in 2019 this share already exceeded 30%. Together with a significant increase in transhipments during this period, this is a very clear trend. And Naftoport has a major share in this.

We are currently receiving deliveries from directions such as Saudi Arabia, Iraq, USA, Norway, Great Britain. Africa has become a new region from which oil transports come to us. In addition, we are constantly receiving 'Rozewie' crude oil from the Polish Baltic shelf deposits operated by Lotos Petrobaltic.

How do you assess the outlook for transhipments in the coming years?

I have reason to be optimistic. Our maximum transhipment potential in the area of oil equals to 36 million tons - this is, of course, dependent on many external factors.

Naftoport already has a lot of experience – we already transhipped 60 types of crude oil and different types of liquid fuels. We became an increasingly important link in supplies to the Polish transmission network managed by PERN, whose recipients are both Polish refineries, Orlen and Lotos, and refineries in Eastern Germany. In connection with the investments implemented by PERN, the transmission and storage potential of this oil logistics system is growing. The construction of further oil storage tanks is underway - at the Oil Terminal in Gdańsk and at the Gdańsk Warehouse Base. In total, our crude oil storage capacity will increase by almost 600,000 m3.

In addition, Port of Gdansk and the Naftoport terminal have good hydrographic conditions and port infrastructure. We can service the largest tankers entering the Baltic Sea and we can support up to five vessels at the same time. So I am convinced that our potential will be used more and more.