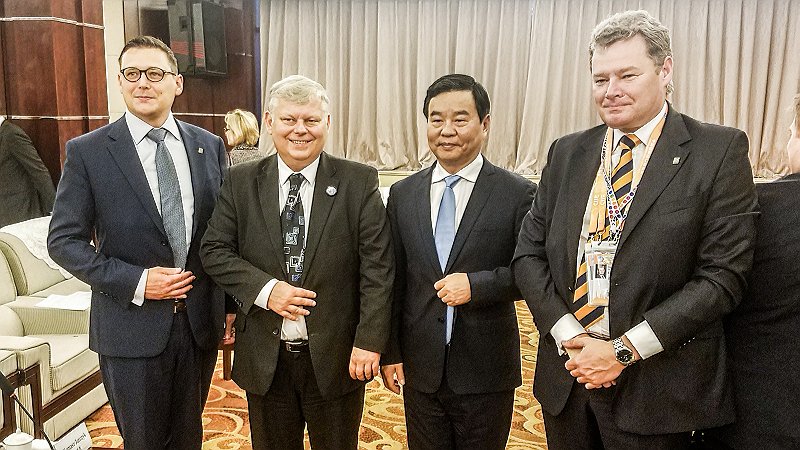 Date of publication: 23.11.2018
The Port of Gdansk's presence in China is becoming more and more noticeable. After the opening of the business office in Shanghai, representatives of the Port of Gdansk Authority were invited to sit down to talks by one of the Chinese provinces.

EnlargeHunan is a province situated in the middle reaches of the Yangtze, the longest river in China and one of the three longest in the world. It is there that the "Hunan-Central Eastern European Business Forum and B2B Procurement Fair" was held. It was organised by the Hunan authorities and the Vershold Group, a Polish company offering integrated solutions for commercial supply chains. During the event, Polish enterprises - which dominated at the Forum - presented the effects of the dynamically developing cooperation between them and Chinese companies in the field of foodstuffs and technologies.

EnlargeThe Forum was preceded by the Poland-Hunan VIP Meeting, which brought together the most important representatives of the authorities and the business world from both sides. The Chinese delegation was led by He Baoxiang, Deputy Governor of the Hunan Province. The Polish side was represented by the Head of the Prime Minister's Political Cabinet Marek Suski, who encouraged the Chinese to establish cooperation with the Port of Gdansk.

"We are the most rapidly developing port in Europe. We keep bringing it to the attention of Chinese entrepreneurs that the transport of goods via Gdansk is cheaper than via the Western ports," says Lukasz Greinke, President of the Board of the Port of Gdansk Authority.

The Asian market is one of the most important trade and business spaces for Gdansk's port. Developing trade relations and finding new business partners is one of the primary objectives of the PGA.

Enlarge"The meeting was very valuable content-wise. We can see tremendous willingness to cooperate on the Chinese part. We also care about effective business relations. Asian entrepreneurs emphasise that the percentage share of container transport passing through the Port of Gdansk is growing rapidly. The fact that they see this proves that Gdansk is an important partner for them," explains Mateusz Dawidowski, the Chief Representative of the Port of Gdansk in Asia.