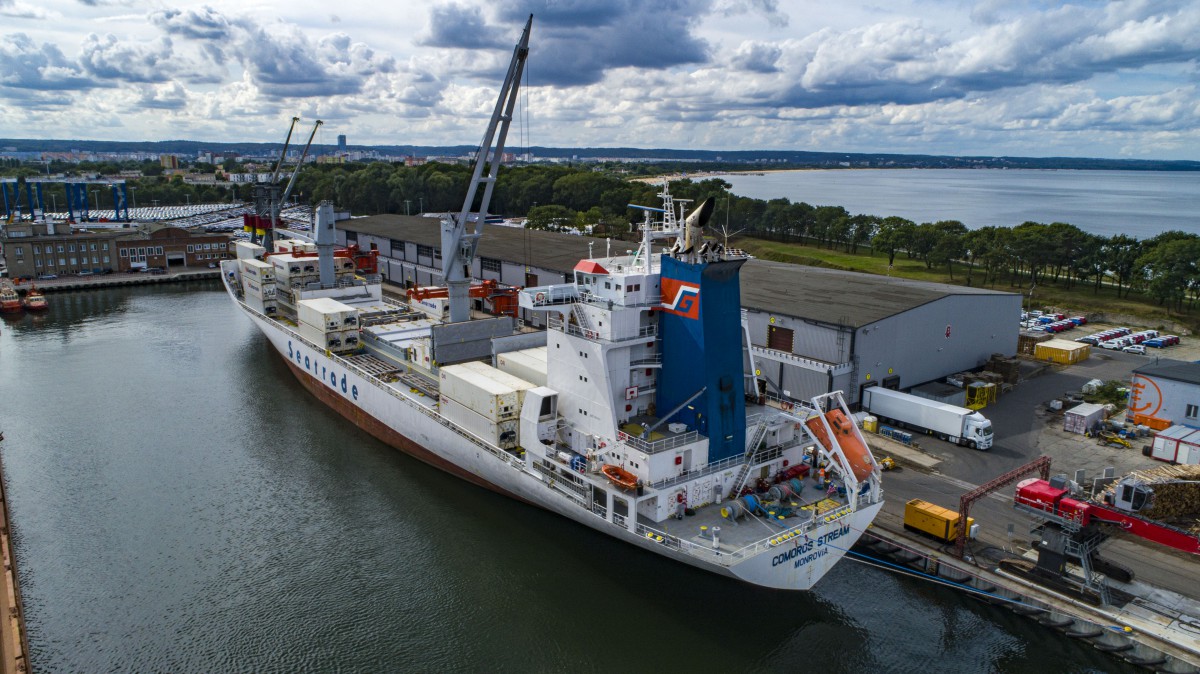 Date of publication: 20.08.2019
First ship transporting bananas called at Port of Gdansk as a part of new service. The Comoros Stream vessel brought 150,000 cartons of these fruits from Central America on Saturday night. This inaugurated new service with 4 thousands bananas arriving each week at Gdansk. Cargofruit is responsible for the transhipment operations at the Free Customs Area (WOC).

- Bananas will arrive at Cargofruit warehouse every Sunday this year, with the prospect of continuing transhipment of these fruits in 2020. Together with bananas, we will also receive single containers of pineapples - Laszlo Irsa, director of Cargofruit said.

He added that the fruit is transported at a temperature of about 14 ° C. They arrive at the port in cartons, and they are unloaded by conveyor belts and next loaded onto cars. From there, they go to special ripening rooms and then directly to customers.

The Comoros Stream ship with the first banana cargo arrived at the Port of Gdansk as part of the extended route of the ZODIAC Reefer Service. Carrier Seatrade launched it in January this year. The service initially connected Colombia, Costa Rica, Honduras and Guatemala with the ports of Great Britain, the Netherlands, France, Martinique and Guadeloupe. Currently, the extended route of the weekly connection from Central America to Europe runs through the following ports: Turbo (Colombia), Puerto Barrios (Guatemala), Puerto Cortés (Honduras) - seasonally, Moin (Costa Rica), Portsmouth (United Kingdom), Flushing (Netherlands), Gdańsk. On the way back from Poland to Central America, ships will stop at the ports of: Radicatel (France), Pointe-à-Pitre (Guadeloupe), Fort-de-France (Martinique), Turbo (Colombia), Puerto Barrios (Guatemala), Puerto Cortés (Honduras) - seasonally, Moin (Costa Rica).

The journey of bananas from Central America to Gdansk takes about 25 days. Fruits are transported in refrigerators. At the Port of Gdansk, Morska Agencja Gdynia supervises these ships. Seatrade reports that in the coming weeks the following vessels will be arriving at Gdańsk: Star Best, Hellas Reefer, Nederland Reefer, Italia Reefer, Star Service and again Comoros Stream. This ship is expected to arrive on September 29.

Comoros Stream is 155 m long, 24 m wide, has12,906 t load capacity and 11,382 deadweight. It has 4 holds with a total capacity of 15 917 m3, divided into 19 compartments and 8 temperature zones. The reefer has two cranes with a 40 t lift and two pallet cranes with an 8 t lift. The unit is equipped with a Hitachi B&W 8S50MC-C engine with 12 621 kW (17,148 hp), enabling it to reach a speed of 22.7 knots. Ship was built in 2000 at Kitanihon Shipbuilding Co in Hachinohe, Japan. Its managing owner is Triton Schiffahrts GmbH & Co. KG from Leer in Germany.

The transhipment of bananas at the Port of Gdansk was restarted due to commercial cooperation between Citronex, Port of Gdansk Authority and Cargofruit. Irsa announced in an interview with the portal GospodarkaMorska.pl that the new service is also a great opportunity to export goods from Poland to Central America.

- Broadly understood general cargo can be loaded into containers and ship holds. We encourage everyone to cooperate - says Irsa.

Cargofruit began operations in 1997 as a specialized transhipment and storage base intended for handling agri-food goods, mainly citrus fruits and bananas imported by sea, as well as general cargo delivered in containers to the Tri-City (Gdansk, Sopot, Gdynia) ports. The location of the company in the Port Free Gdańsk Customs Area gives them a number of customs privileges.

The company has a warehouse infrastructure with an area of ​​about 20 thousand m2 in the Port of Gdansk. It consists of 6 air-conditioned chambers of various areas (12,000 sq m in total), enabling the creation of optimal storage conditions, depending on the type and quantity of the goods. The temperature range is from +5 to + 15 ° C. Other 8,000 m2 of space is intended for the storage of general cargo that does not require a temperature regime.

Modern reloading stations enable Cargofruit to safely unload or load goods on land and sea transport. A railway siding that goes directly to the warehouse provides freight handling for rail transport.

The high quality of the company's services is confirmed by the implemented procedures of ISO 9001: 2000 and HACCP systems - says Cargofruit on the website.