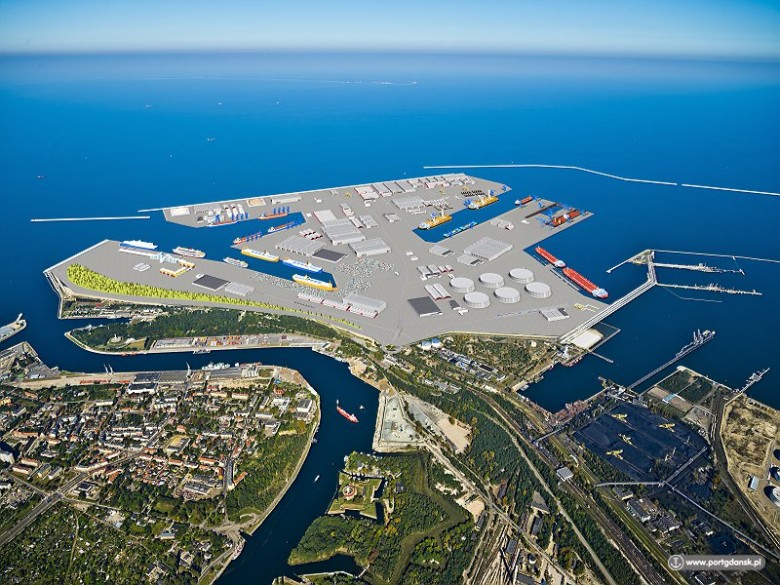 Date of publication: 10.11.2017
The government issued a decision on the construction of the Central Port in Gdansk, as declared by Prime Minister Beata Szydlo during the 2nd Meeting of Ministers of Transport of Central and Eastern European Countries and China. The 16+1 Forum, held in Warsaw on 25-26 October 2017, officially inaugurated the launch of the 16+1 Office for Maritime Affairs. The Port of Gdansk was one of the partners of the event.

EnlargeThe Polish government, a leader in the project of cooperation between the Ministers of Transport of the countries of Central and Eastern Europe and China, sees a great development opportunity for the region's economies in the intensification of this cooperation. Transport, particularly by sea, is crucial for the development of trade relations with China. Both the Polish economy and companies, including the Port of Gdansk, will benefit from the intensification of these mutual relations. This is why the government considers this issue a priority. "In the first half of 2017, 18.5 million tonnes of goods were transshipped in Gdansk only. (...) Further prospects are very promising. Due to the increase in the significance of the maritime economy, the Polish government decided to build the Central Port in Gdansk, including deepwater terminals making it possible to handle the largest ships able to enter the Baltic Sea," emphasised Prime Minister Beata Szydlo during her speech inaugurating the meeting. She also stressed that Central and Eastern Europe is a gateway to the European Union, through which all the products are transported via land from China to Western Europe, and from Europe to China. "Port infrastructure in our region may therefore be an interesting alternative to the ports of Western Europe," the Prime Minister said.

The Central Port was one of the most important topics of the discussions between representatives of the PGA and its foreign partners during the 16+1 Forum. As emphasised by Lukasz Greinke, President of the Board of the Port of Gdansk Authority, thanks to the government's support, the project is beginning to look even more realistic. "We are very happy with what the Prime Minister said. We would like to implement the project as soon as possible. Competition between the ports of the North Sea and the Baltic Sea is forcing us to act fast. We are competing not only for customers from Poland, but also from the Czech Republic, Slovakia or northern Ukraine. I am convinced that in 5 years, one or two terminals should already be operating as part of the Central Port. The Central Port is a great opportunity and we have to make the most of it," said Lukasz Greinke.

The 16+1 Office for Maritime Affairs brings together eleven Member States of the European Union (Bulgaria, Croatia, the Czech Republic, Estonia, Lithuania, Latvia, Poland, Romania, Slovakia, Hungary), five Balkan states (Albania, Bosnia and Herzegovina, Montenegro, Macedonia, Serbia), and China. The Ministry of Maritime Economy and Inland Navigation is a coordination of this cooperation.