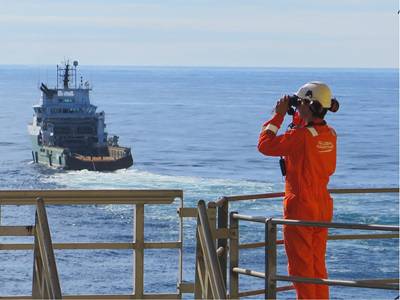 Date of publication: 11.02.2017
Global Maritime Consultancy & Engineering, a leading provider of offshore marine warranty, dynamic positioning and engineering services, has re-launched Eagle Lyon Pope (ELP), its ports and shipping, marine casualty investigation and loss adjusting division.

The move is in response to a growing demand for such services and will be headed by Peter Lyall, former head of Risk Insurance Services at Global Maritime. ELP will be based out of London with other offices in Hamburg, Abu Dhabi, Oslo, Houston and Singapore and will also be supported by Global Maritime's extensive resources including mariners, engineers and other professional personnel.

As well as its broad portfolio of services and expertise, a key differentiator for ELP will be its partnership with emergency response provider Northcott Global Solutions (NGS), leading to a 24-by-7, 365 days a year emergency and multi-lingual hotline for all customers and immediate responses to casualties and incidents wherever they occur in the world.

David Sutton, CEO of Global Maritime Consultancy & Engineering, continued: "When it comes to protection & indemnity services, marine casualty investigations, loss adjusting and the mitigation of risk for both ship owners and port operators, Eagle Lyon Pope is one of the most long standing brands in the industry."

He continues: "With Global Maritime's backing and investment, supported by many of the industry's best port & marine engineers, master mariners, naval architects and insurance professionals, we look forward to re-establishing ourselves as the leading provider of port consultancy, casualty investigation and adjusting services to the maritime sector."

Key Services ELP will provide will include:

• Ports & Shipping that will focus on ensuring that all shipping companies meet safe return to report requirements and regulations, with ELP's expertise covering vessel condition surveys, ship handling, and mooring analysis. For port operators, services will include port & terminal planning and operations, marine traffic assessments and the handling of unsafe port claims. Risk management will include pre-risk vessel, hull and machinery condition surveys and pre-risk condition surveys of ports and terminals, cargo handling equipment and facilities for P&I Clubs and insurers.

• Marine Casualty Investigations where ELP's team of marine engineers, master mariners, naval architects and insurance professionals will provide a global response service in investigating the cause, nature and extent of damage due to marine collisions, groundings, pollution and other incidents. The team will include dynamic positioning (DP) and mooring specialists as well as a broad range of engineers. Work examples include hull and machinery damage, protection & indemnity (P&I), damage surveys and investigations, and pre-towage inspections. ELP also has extensive experience in analysing shipping traffic data for event reconstructions.

• And Loss Adjusting, where ELP will provide a leading team of experienced loss adjusters that cover energy & marine claims, cargo claims schemes, damage to ports, terminals, handling equipment and stevedore's liability losses. Other areas ELP will serve will include claims in the construction, utilities and renewables sectors.

Global Maritime

Global Maritime specialises in marine warranty, dynamic positioning and engineering services in the offshore and marine sectors. Founded in 1979, headquartered in Stavanger and majority-owned by HitecVision, Global Maritime's services span the entire offshore project lifecycle from engineering & design, construction and third party verification through to marine warranty surveying, dynamic positioning, installation, risk management and decommissioning.