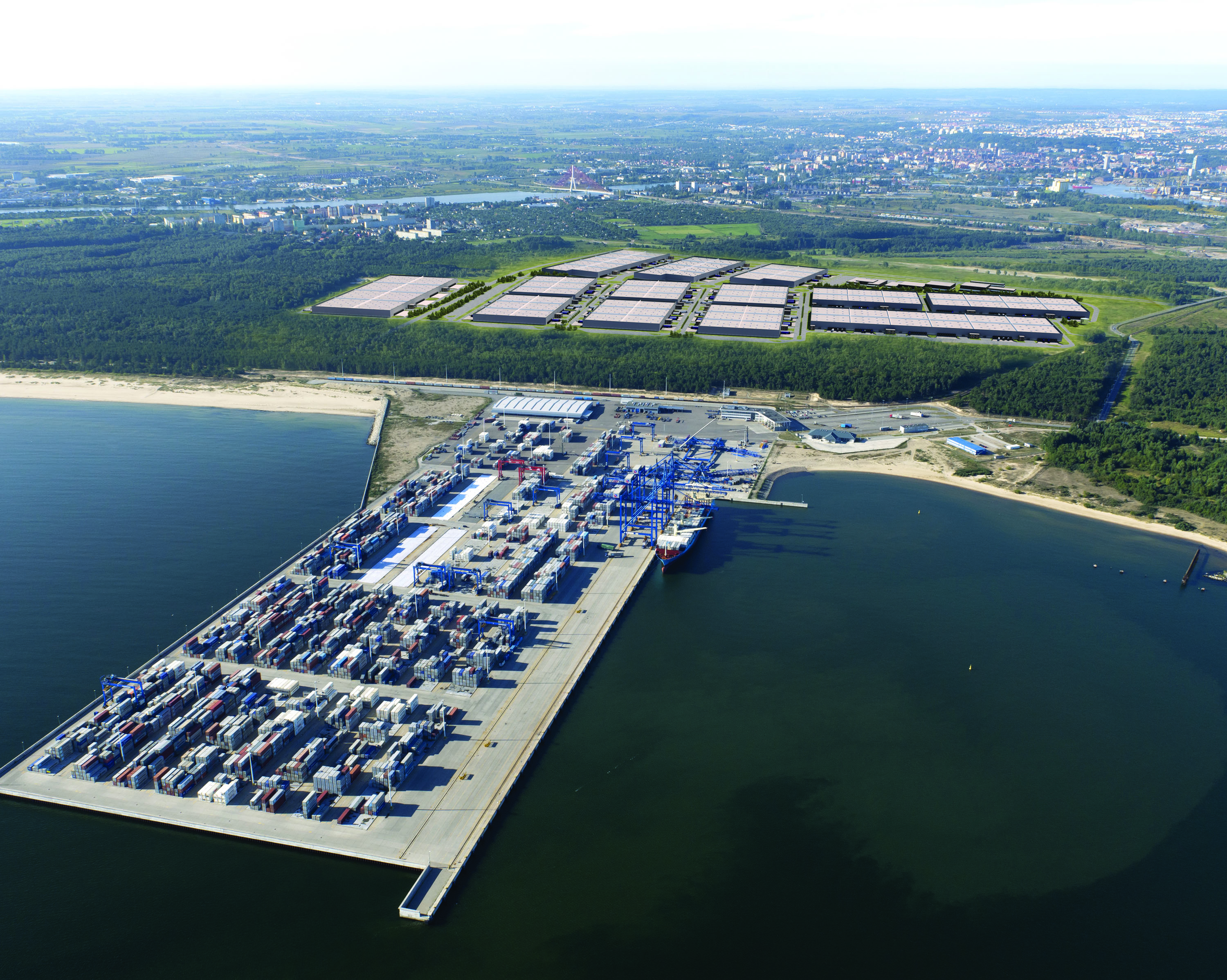 Date of publication: 13.01.2015
Goodman is developing a 24,930 sqm warehouse at the Pomeranian Logistics Centre (PLC) located near the Gdansk Deepwater Container Terminal (DCT) for a leading FMCG distributor. As part of the logistics centre, an additional 14,000 sqm of speculative space is also being built, which will be available this year.
The new facility will be used to store and distribute FMCG goods for a leading Polish brand. The project includes 23,105 sqm of warehouse space and 1,825 sqm of office space. The warehouse section will be made up of 2,741 sqm cold storage space and a 382 sqm freezer. Delivery of the warehouse is planned for the Q4 2015. The facility will be leased for a period of 10 years.
"The deal confirms the versatility of the Pomeranian Logistics Centre, its strategic location and exceptional infrastructure connections, which are ideal to meet complex logistics requirements. The logistics centre offers efficient distribution for goods acorss northern Poland and benefits from privledged access to the biggest container terminal in the Baltic region. Goodman's Pomeranian Logistics Centre is one of the most ambitious speculative developments in Poland and is part of our strategy to be present in key logistics regions of Poland," says Błażej Ciesielczak, Goodman Regional Director for Central and Eastern Europe.
To date, Goodman has built a 14,000 sqm warehouse at the Pomeranian Logistics Centre, which is fully leased by Kuehne + Nagel, Terramar, NRF Poland and NTA. In addition to the pre-let development under construction for the Polish FMCG brand, another 14,000 sqm warehouse is being built speculatively. After construction is complete, the combined area of the Pomeranian Logistics Centre will reach nearly 53,000 sqm.
JLL advised on the current transaction. "Our client was searching for a modern logistics facility to use as a distribution centre to markets in northern Poland. Goodman's Pomeranian Logistics Centre, a superbly located, high quality logistics park, is perfectly matched to our client's needs," says Tomasz Mika, Head of Industrial Department Poland at JLL.
Sustainibility solutions
During the construction of the new pre-let facility development at the Pomeranian Logistics Centre, great emphasis will be placed on implementing sustainibility solutions, which will help optimize the customer's operational costs. In particular, the warehouse will be equipped with thicker insulation on the roof above cooled areas and energy efficient LED lighting will be installed. The warehouse itself will be divided into lighting zones to minimise energy use. In the office area, light sensors will be installed to activate lighting only when necessary. A "Green Lease" clause will be signed with the customer, which includes a provision to reduce waste generation and consumption of energy and water.
Cornernstone speculative development
The Pomeranian Logistics Centre in Gdańsk is Goodman's premier development project in Poland. It provides the opportunity to develop up to 500,000 sqm of flexible logistics warehousing and production facilities with integrated office space. On completion the total value of the project is estimated to exceed €300 million.
Among the main advantages of the Pomeranian Logistics Centre is its proximity to the Gdańsk Deepwater Container Terminal, which has become an important regional port as a result of its ability to receive some of the world's largest ships. After the completion of the second quay, which is expected to be completed in 2016, Gdańsk Deepwater Container Terminal will double its handling capacity to reach 3 mln TEU annually.
The Pomeranian Logistics Centre's location provides a unique opportunity for port-centric logistics, allowing customers to combine their logistics and production activities with the services offered by the largest deepwater container terminal in the Baltic Sea.Being in the direct vicinity of the Deepwater Container Terminal also brings financial benefits for customers, including reduced re-loading, storage and transport costs. Other considerations include the possibility of establishing a duty-free zone and a special economic zone.
Goodman's Pomeranian Logistics Centre also enjoys excellent road access. The Sucharski Route and Gdansk's southern ring road connects the centre with the A1 motorway to southern Poland and S7 expressway to Warsaw and S6 to Szczecin, which continues further to Germany.
The Pomeranian Logistics Centre is just 23 km from the Lech Wałęsa Airport in Gdańsk, Poland's third largest airport, serving both domestic and international flights.