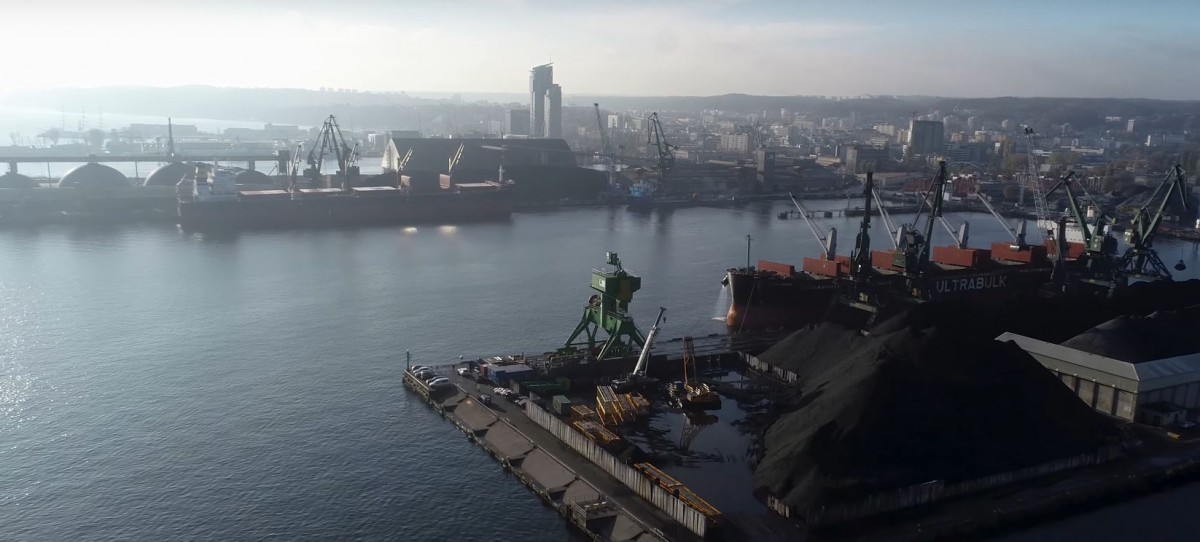 Date of publication: 30.01.2020
HES Gdynia Bulk Terminal can mark 2019 as a very successful year. After many investments from 2018, the company is not going to be complacent. It systematically implements necessary pro-ecological solutions and optimizes transshipment processes. HES Gdynia is one of the most innovative and dynamically developing transhipment terminals in Poland.

Transhipments in 2019

In 2019, slightly more than 6 million tonnes of bulk cargo was transhipped at HES Gdynia, of which 2.0 million tonnes were liquid bulk cargo, including 1.8 million tonnes of petroleum products and 0.2 million tonnes of fuels. In the case of dry bulk cargo, a total of about 4.0 million tons of goods were transhipped, including: 2.4 million tons of coal and coke, 1.6 million tons of agricultural products and 0.05 million tons of other dry bulk cargo. In order to carry out transhipments, the terminal serviced 262 ships, including 216 units from import and 46 from export.

Constant development

HES Gdynia Bulk Terminal sp.z.o.o. is actively developing through ongoing investments. On November 13 last year, the Gottwald multi-purpose crane, manufactured by the Finnish Konecranes concern, arrived at the terminal. It was equipped with two grippers: one with a capacity of 28 m3 dedicated for coal handling and the other with a capacity of 34.2 m3 intended for handling agro loads. The maximum load capacity is 124 tons. The working capacity of the device is about 1000 t/h, and the possibility of stacking the load is about 20 m. The weight of the crane itself is 485 tons.


At present the Ardelt Tukan gantry crane with a lifting capacity of 40 tons is currently installed at the terminal. The crane will be equipped with a hook tackle and two double-shell grabs dedicated to grain and coal goods. Importantly, its design solutions will have a significant impact on reducing uncontrolled dust emissions during transhipment work. The high level of automation and installed energy return modules will significantly save energy.

Another very important investment is a system consisting of Telestack belt conveyors for handling coal with a density of up to 1 t/m and a Meka hopper. The expected operating capacity of the system is about 1000 t/h.

Investments with care for the environment

HES Gdynia Bulk Terminal Sp. z o.o. carries out extensive activities aimed at maximum reduction of the company's environmental impact.

In 2018, the company purchased two fog aggregates for the production of a dust wall with 10,000-liter wheeled drums each and replaced crane grippers and buckets with larger ones to reduce the number of individual handling operations. In addition, test indicators were installed on the premises of the terminal to monitor the air quality of PM2.5 and PM10 particulate matter, and vehicle chassis washes were launched to eliminate dust transmission outside the terminal area.

HES Gdynia (i.e. the former MTMG - Gdynia Maritime Mass Terminal) acts as a universal terminal at the Port of Gdynia, providing 24-hour transhipment services, storage of dry bulk cargoes such as coal, coke, ore, cereals and feed, biomass, sugar, aggregate minerals, fertilizers, as well as transhipment of liquid bulk cargoes (including chemicals of classes 3, 6, 8 and 9 according to the IMDG code) as well as crude oil and petroleum products. HES Gdynia Bulk Terminal Sp. z o.o. is located at the main entrance to the port of Gdynia and has excellent connections with the road and rail communication system.