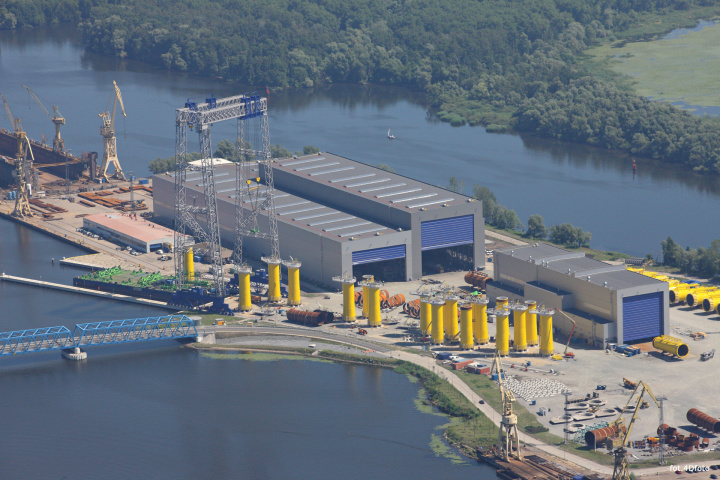 Date of publication: 10.10.2017
Multilateral negotiations concerning the future of the Szczecin-based ST3 Offshore factory, that have lasted since mid-August, have been just concluded. On October 3rd, 2017 shareholders signed notarial deeds on the strength of which MARS Closed-End Investment Fund (belonging to the Polish Armament Group) acquired 80 percent of the ST3 Offshore's shares. The company's contract has also been amended so that the MARS Fund has gained full operational control.
The involved parties – the Danish concern DONG Energy, the Belgian-Dutch company GeoSea, German-Swiss consortium of banks and insurance providers and ST3 Offshore shareholders – VTC and MARS Fund – have negotiated an agreement which means that ST3 Offshore can continue production and carry out the restructuring process. The resulting agreement does not mean that all the problems of the company have been automatically resolved. The plan will only be successful if the following conditions are met:

• ST3 will successfully complete the contract for Dong Energy and will receive new orders,

• the existing creditors will make an arrangement in the restructuring proceedings with the company under the supervision of the court

• all parties to the negotiations will meet their commitments.

Moreover, the acquisition of ST3 Offshore by MARS and amendments to the company's contract require registration in the competent court.

As a result of the negotiations, it was agreed that the involvement of the MARS Fund would not exceed 15% of the negotiated amount and would be spread over the time. It was possible to obtain such a result for the MARS Fund thanks to the gaining trust of the key clients of the Company by managers appointed by MARS FIND and thanks to the ability to build favorable coalitions during the negotiations. The Fund estimates that it will receive a return on its investment in two years, and the value of its shareholding will increase several times over this period. It is also important that, as a result of the transaction, the funds invested in the company in 2013-2016 will be protected against loss.

Ensuring the interests of MARS Group subsidiaries in a vicinity of or cooperating with ST3 Offshore: MSR Gryfia, Szczecin Industrial Park, and Energomontaż Północ-Gdynia was of utmost importance while undertaking the investment decision. It was also important to regain the ability to settle obligations towards local Szczecin subcontractors, whose activity is beneficial to MSR Gryfia and Szczecin Industrial Park.

Obtaining control over ST3 Offshore is also in the interest of the Polish Armaments Group. If such a decision is made, the company's infrastructure could be used for the production of "ORKA" submarines for the Polish Navy.  What is more, the acquisition of the majority shares in ST3 Offshore is in line with a business strategy of PGZ for the development and consolidation of maritime assets.