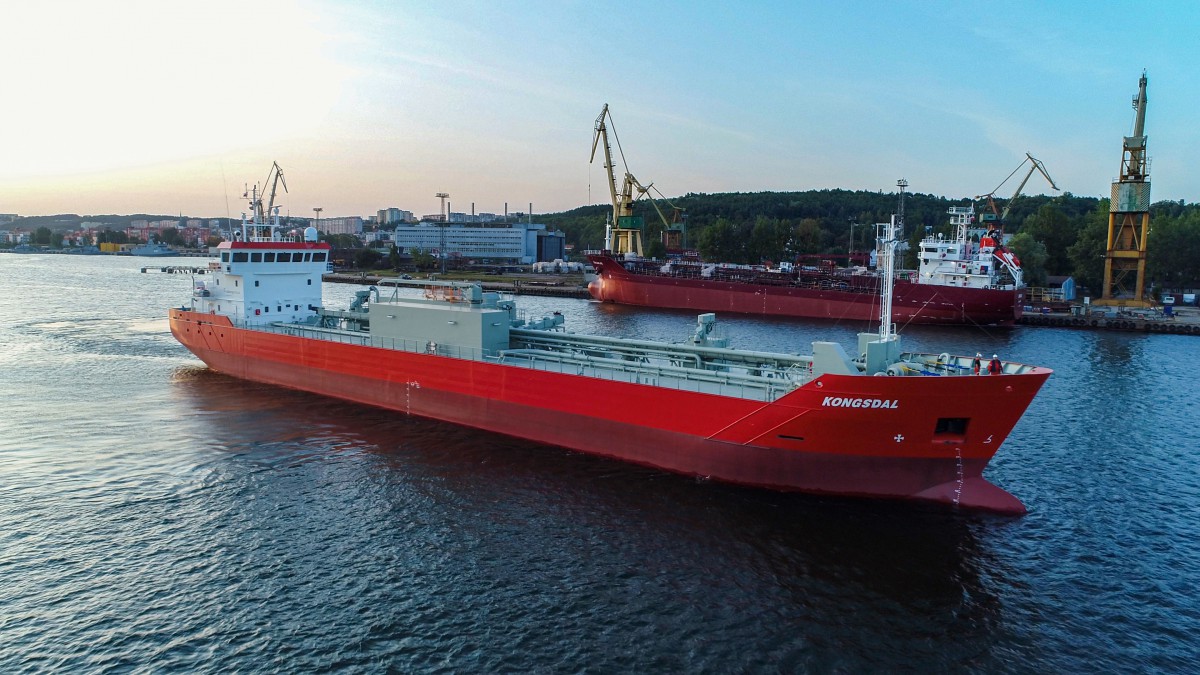 Date of publication: 04.09.2019
SMT Shipping develops a fleet of new ships. It concerns modern cement carriers Aalborg White, Kongsdal and Norden. The first two units transport cement to the Port of Gdynia, among others.

- In 2019, three more vessels entered or will enter service. In May it was Aalborg White, in August Kongsdal, and in November we are planning a sister for these two ships Norden - said Dariusz Stefaniak, crewing manager at SMT Shipping Poland in an interview with GospdoarkaMorska.pl.

Bodewes shipyard at Foxhole in the Netherlands built these modern cement carriers. The units are 89.97 m long, 12.60 m wide, 8.60 m high. They have 6.00 m draft, 2 627 GT and 4 200 t load capacity. The main propulsion of highly energy-efficient ships is the ABC 6DZC 1000Power engine with a capacity of 1,326 kW. Cement carriers have four holds with a capacity of approximately 4,215 m3 in total. Ships can cruise with a speed of about 12 knots. Pneumatic cement carriers work for Eureka Shipping, a joint venture of SMT Shipping with the CSL Group.

Aalborg White and Kongsdal vessels are moored at the Port of Gdynia - Kongsdal first appeared there on August 15 this year during a maiden voyage. The wharf is leased by Aalborg Portland belonging to the Italian Cement Group Cementir Holding S.p.A. It is the largest producer and exporter of white cement in the world. It has factories in Denmark, Egypt, Malaysia, China and the United States. Cement served through a specialized terminal in Gdynia is sold in Poland and abroad under the AALBORG WHITE® cement brand. It is a building material that gives the possibility of plastic forming of various surface structures and dyeing.

The dynamic growth of SMT Shipping

The SMT Shipping company is growing dynamically. At the end of 2017, the company carried 17 million tons of cargo and everything seems to indicate that this year this record will be broken. However, qualified staff is needed.

- The challenge is to get people. We offer work, almost immediately, for: motorists, sailors, welders, engine fitters, lathe operators, crane operators, cooks - lists Stefaniak.

People interested in employment in SMT Shipping Poland can apply to the company's headquarters in Sopot at ul. Parkowa 46 or visit the company's website.

SMT Shipping Poland is part of the international holding company SMT Shipping Cyprus, which was founded in 1990. A large part of the company's departments: technical, crewing, travel, project, purchasing and, above all, fleet management are located in the Polish branch of the company with headquarters in Sopot. Currently, over 1,500 seafarers work on 50 vessels belonging to SMT Shipping, including about 800 from Poland.