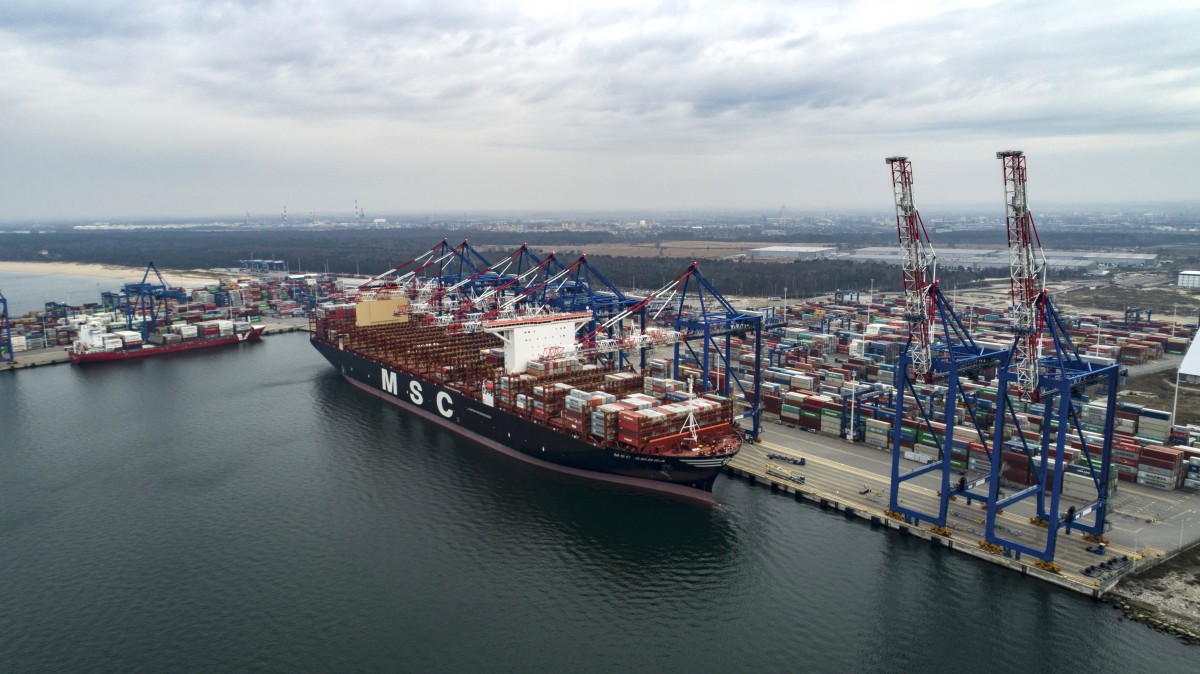 Date of publication: 15.03.2020
On Saturday, March 7, MSC Ambra entered Gdansk. One of the world's largest container ships has docked at the DCT terminal as part of its maiden voyage.

MSC Ambra was built last year at the Korean Samsung Heavy Industries shipyard. Its owned by the Mediterranean Shipping Company.

As part of its maiden voyage that began at the port of Xingang, the container ship has already visited Puerto la Cruz in Venezuela and Bremerhaven in Germany. He arrived to Gdańsk on Saturday, March 7, around 19:30.

MSC Ambra is one of a series of six ships ordered in April 2015 for USD 950 million. It is 400 m long, 61.5 m wide and 33.2 m high. It can load 23,756 20-foot containers on board, making it the largest vessel in the world in terms of capacity.

It is worth recalling that container ships of the same capacity regularly arrive in Gdansk. These are MSC Gulsun, MSC Samar, MSC Leni and MSC Mia.

To be able to more easily imagine how spectacular the capacity is, we can use practical examples.

The ship can take on board, e.g. 8.35 million microwaves, 386 million pairs of shoes or 47 512 cars. If one exchanged the journey of these goods from sea to another mode of transport, 14,072 trucks, 1,358 aircraft or 44 train sets would be needed.

The first 23 000+ TEU class vessel built for MSC Mediterranean Shipping Company was MSC Gülsün. A global leader in transport and logistics has ordered a total of six such units. They are being built at Samsung Heavy Industries shipyard in South Korea. In addition, five more vessels of this type for MSC are being built at the South Korean shipyard Daewoo Shipbuilding and Marine Engineering (DSME).

MSC reports that sister ships of this type set a new standard in container transport, in particular with regard to ecology. According to the carrier, large ships emit less CO2 than other means of transport (airplanes, trains, trucks or barges) per one transported container, which allows companies transporting goods under MSC services between Asia and Europe to reduce their carbon footprint in their supply chain. The new container ship class has been designed to protect the environment, performance, stability and security, as well as to meet digital challenges. Thanks to the fast transport and intelligent container marking system, the transport of goods is transparent, safe and reliable. This confirms MSC's commitment to providing the best services on the largest and busiest trade routes.

Thanks to the increased fuel economy and energy efficiency of the new container ships, MSC is well on track to achieve ahead of time the international 2030 environmental policy goals set by the International Maritime Organization (IMO). The MSC fleet in 2015-2018 has already managed to provide a 13% improvement in emissions per ton of transported cargo - the carrier said.