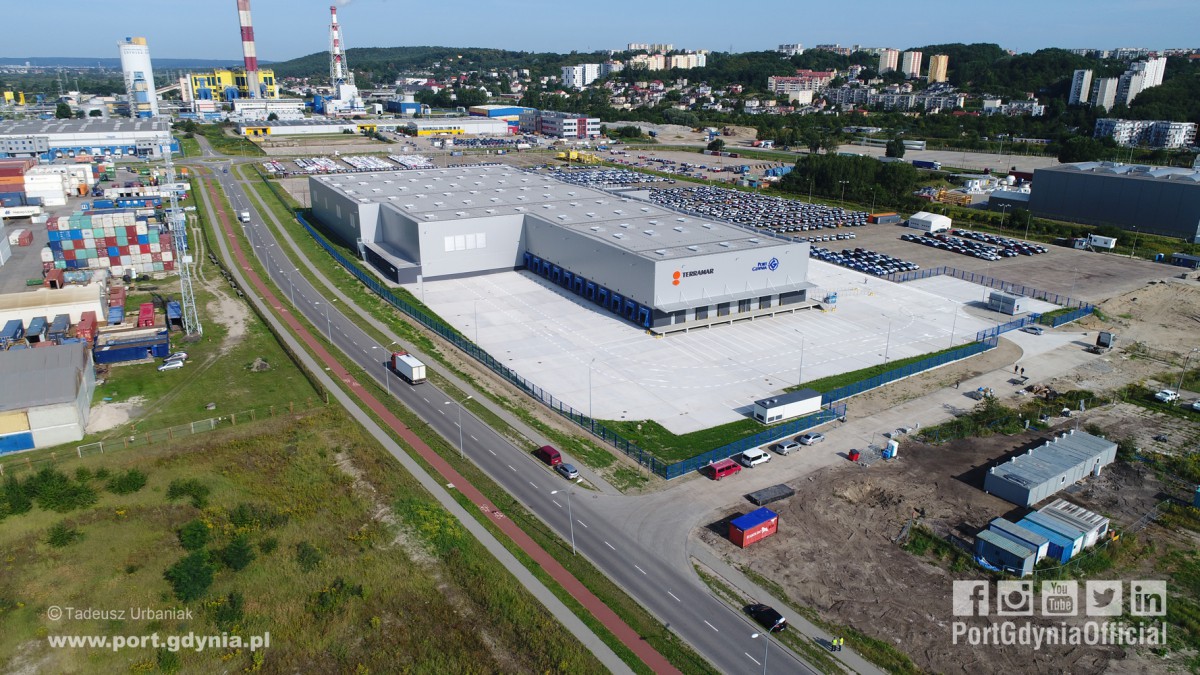 Date of publication: 27.08.2019
The modern high storage warehouse No. 1, which is the first element of the planned Logistics Center in the Port of Gdynia in Gdynia, has obtained a occupancy permit and will be handed over to the tenant in September. This is first of four warehouses of this type planned in this area of the Port of Gdynia.

As part of the PLN 53 million investment, a warehouse with a usable area of approximately 11,000 sq m was built along with technical and road infrastructure. The facility, with height of 10.5 m, is intended for storing highly processed general cargo in packages. Logistics services run here will be related to storage, acceptance, completion, packaging and issuing of stocks in the cross-docking system.

The building, divided into four storage chambers, has been adapted to the dimensions of pallet frame racks with ensuring the width of the working corridor for transport devices - lift trucks with retractable masts.

The roof structure of the building has been further strengthened for solar panels installation on its surface. The technical part is located outside the warehouse space in the form of a one-storey outbuilding with independent access. The new warehouse will monitored form inside and outside

We anticipate the completion of construction and commissioning of the new warehouse before September 30 due to efficient work. Currently, the investment is completed in 85 percent. All construction works have already been completed, installation and finishing works are being carried out as well as assembly of window and door joinery. The construction of concrete pavement for maneuvering squares is also underway, as well as network works for storm water drainage and sanitary sewage systems as well as the power grid.

- The construction of a warehouse at ul. Logistyczna is another step to create a new quality in the areas of the future Port Logistic Center of Gdynia - emphasizes Grzegorz Dyrmo, vice president of the Port of Gdynia Authority SA - Thanks to such investments, theGdynia port will be a suitable logistics partner for contractors from Poland and from all over Europe. There will also be a significant increase in the warehouse space at the Port Authority, to over 190,000 square meters.