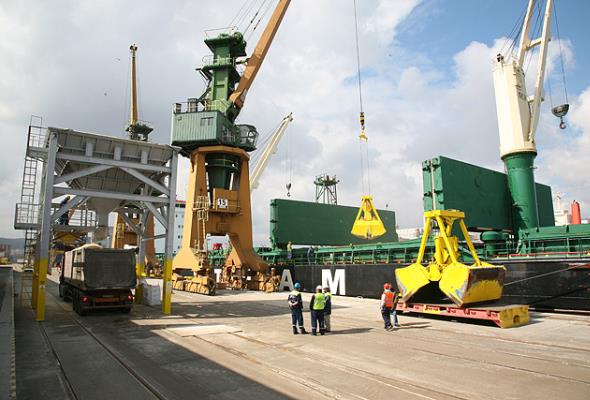 Date of publication: 09.02.2018
At the end of January OT Logistics Capital Group, the biggest port operator in Poland, started reloading granular urea at OT Port Gdynia for the company Polish Agro. The reloading takes place from the bulk carrier Mount Hope, the largest ship carrying granular urea that has entered OT Port Gdynia in the last few years.

Mount Hope, launched 2014, is a bulk carrier with load carrying capacity of up to 28,180 tons. The ship came to Gdynia from the Port of Arzew in Algeria, carrying almost 25.7 thousand tons of high quality granular urea. In Gdynia, at the Romanian Quay, over 10 thousand tons of granular urea will be reloaded. Most of the cargo will be put in 500 kg big bags. Then the ship will go to the Port of Szczecin.

Handling the largest in years ship carrying granular urea at OT Port Gdynia is the next step toward strengthening by OT Logistics Group its position in the field of fertiliser transportation services. Through enhancing its competence and carrying capacity, OT Logistics Group constantly builds its position as a leader in transportation of fertilizers and agro products.

"We are proud to be trusted by such a renowned company as Polish Agro with reloading and warehousing of goods so valuable and so commercially important for their sales network. This proves that OT Logistics Capital Group analyses the market and its development prospects related to chemicals and fertilizers properly. It is yet another stage of building our leadership in handling such cargo in Poland and the region. We constantly develop the range of our services, build a broad knowledge base on products and customer requirements and gain new experience, including challenges as demanding as handling the largest urea carrying ship in recent years," said Andrzej Staliński, Agro Segment Director at OT Logistics S.A.

The reloaded granular urea is consecutively passed on to Polish Agro's distribution network.

Since January 29th OT Port Gdynia team has carried out an intense process of unloading and putting goods into big bags, so that the unloading would proceed according to the agreed schedule despite adverse weather conditions such as strong gusty winds and low temperature, in particular in the first week of ship handling.

Polish Agro is an experienced and stable partner for consumers of means of agricultural production, effectively advising farmers and providing high quality products, available broadly and flexibly thanks to its well-developed logistics. This internal logistics is supported by reliable and strong partners such as OT Logistics Capital Group.

"We entrusted professionals from OT Logistics at port terminal in Gdynia with handling so large a ship. Our granular urea is premium goods which must be delivered to our customers meeting the highest safety standards in order to guarantee the quality of the product itself as well as keeping high customer service standards. We had no doubts that such a task can be taken on by specifically this logistics operator, with which we have been developing cooperation. I am sure our customers will soon appreciate Polish Agro's efforts related to high quality of goods and the effective storage and distribution logistics provided by OT Logistics Capital Group. This is a solution our competitors may be jealous of," said Mathias Eisert, President of the Management Board of Polish Agro Sp. z o.o.