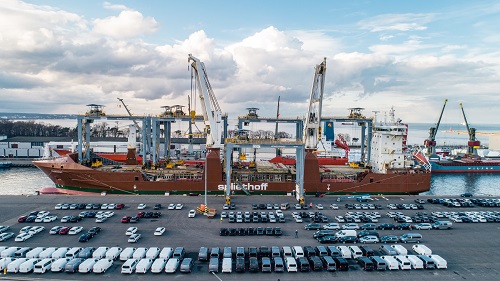 Date of publication: 31.03.2021
On Monday, March 15, the operation of loading 6 RTG cranes, which will be delivered from the Port of Gdansk to the Port of Dakar, was completed. The gantry cranes were assembled by El Professional for the DP World container terminal.

The cranes were loaded onto the deck of the Palmgracht ship owned by Spieliethoff (length 168m, width 26m, draft 7.5m). The Polish representative of the shipowner is the company Transfennica Polska from Gdynia. The ship is a multi-purpose, heavy general cargo cargo ship, which was built in 2010.

The loading operation was divided into individual stages. The first consisted of hooking individual gantries and putting them on the deck of the ship with the use of ship's cranes. The gantry was then unhooked and Konecranes operators placed them in well-defined positions where they were attached to the deck. After stowage, all elements exposed to damage were properly secured for transport.

The cranes are intended for the DP World container terminal in Dakar, Senegal. They will take part in typical reloading works at the container storage yards.

A single crane has dimensions of 12m x 30m x 26m and has a standard construction.

- Each crane weighs approximately 145 tons and is designed to carry standard containers weighing up to 41 tons. This delivery is characterized by very advanced equipment and fittings. All overhead cranes have been assembled from scratch in the Duty Free Zone at the Port of Gdansk, informs Daniel Lewkowicz, works manager at El Professional.

This is not the only such a large project implemented by El Professional recently. The company is planning further deliveries, incl. Long Beach project requiring the construction of 4 gantries, and gantries for the Port of Houston and the Lithuanian Klaipeda.

Przedsiębiorstwo Usługowo Handlowe "El Professional" Mariusz Maszota has been operating on the market since 1997. It is a partner of one of the world's largest producers of port lifting equipment. For 5 years he has been involved in the assembly of large-size steel structures for port cranes (RTG, RMG).