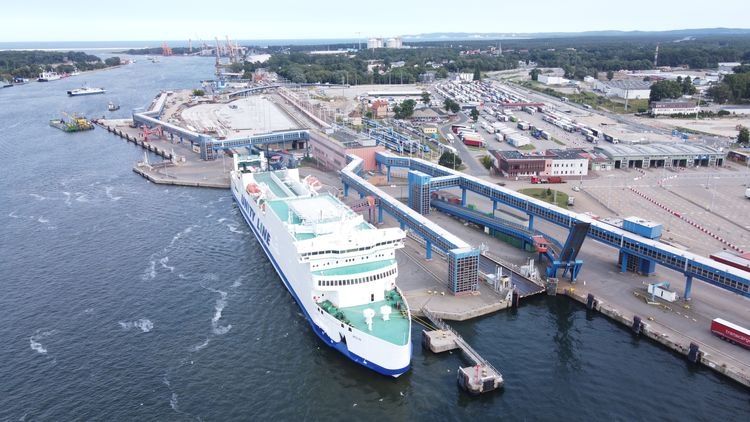 Date of publication: 21.10.2021
Adaptation of the ferry terminal to handle intermodal transport, i.e. using various means of transport - this is the task of modernization works at the ferry terminal in Świnoujście.

Work in the terminal has been in progress for two years. As reported by the investor, i.e. the Szczecin and Świnoujście Seaports Authority, there are no longer any old warehouses, a loading ramp and equipment at 5 and 6 quays, as well as the surface and foundations of old parking lots and 300-meter long reinforcement of the bottom.

However, a new quay will be built - its construction has already begun. For this purpose, 1050 metal piles were installed. Works on the quay slab are underway, including power and telecommunication works.

The elements of the new loading ramp and flyover are also ready. Its steel structure over the railway station in Świnoujście is equipped. There is also a parking yard for 170 trucks and a yard necessary to handle intermodal loads. According to the Management Board, road works are in progress, but also works related to railway tracks. The passenger sleeve is to be installed later this year.

The investment does not only include construction works. As part of it, the Szczecin and Świnoujście Seaports Authority will also make the necessary purchases of specialized equipment: container trucks, tractor units, industrial tablets, radiotelephones and equipped container platforms.

The entire investment should be completed next year. The final result will be the merger of the ferry berths No. 5 and 6 into one, with a 294-meter mooring line. The cost of the investment is PLN 185 million. It is financed with the participation of EU funds.