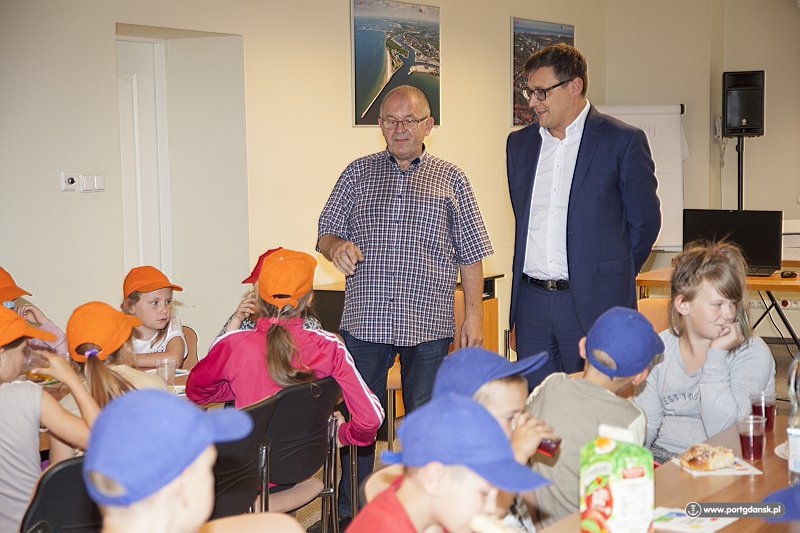 Date of publication: 24.07.2017
The "Pan Wladek" Social Assistance for Children Foundation was awarded the "Primus in Agendo" honorary badge of merit for its services to social policy. The distinction is an expression of recognition for people and institutions actively involved in undertakings in the labour market and for society.

The Port of Gdansk Authority SA would like to congratulate the Foundation on the award. "Pan Wladek does amazing things. The scale of assistance it provides is huge. We are proud that the creator of the Foundation comes from the Port of Gdansk," says Lukasz Greinke, president of PGA SA.

Wladyslaw Ornowski was an employee of the port for many years, he remains strongly connected with the company to this day. He established the Foundation together with his wife, Maria, over 20 years ago. They are involved in helping the most needy: the socially excluded, children from families with problems, single mothers, those who want to return to a normal life. They are actively supported by friends. The Foundation was one of the first organisations in the country to collect food in stores.

It cooperates with entrepreneurs, institutions and private persons providing those in Pan Wladek's care with the most essential items. "We distribute food, clothes, blankets, bedlinen, beds. Anything that may be needed in a house," explains Wladyslaw Ornowski.

They organise summer and winter camps for children from problem families. They also support senior citizens connected with the Port of Gdansk. They meet regularly and have the Christmas Eve supper together. The Foundation operates across the entire region. Pan Wladek's distinctive blue car has already travelled nearly half a million kilometres travelling to those in the Foundation's care. They work from the break of day till late at night. "The children's smiles are the best reward to me. Pure gratitude is the most beautiful thing," says Mr. Wladyslaw.

The Port of Gdansk and its subsidiaries, including Port Gdanski Eksploatacja and Rezerwa, also help the Foundation, and have been supporting Pan Wladek for years. "We help with organising transport, among other things. Our employees convert rooms for the children in schools and install beds on which Pan Wladek's children sleep, for example, during summer camps," says Patryk Felmet, president of P.U.P. Rezerwa. They also provide storage space for Pan Wladek. The Foundation uses it to store products that will later be distributed among the needy.

Why does the company help the Foundation? "I believe that each mature organisation should work not only for its employees, but also the entire local community. We also undertake other activities. For example, we repaired the pavement next to the Korczak House in Gdansk," explains president Felmet.

The Pan Wladek Foundation supports itself from donations of 1% of income tax. In order to support them, just enter their KRS number on your tax return statement: 0000065085.