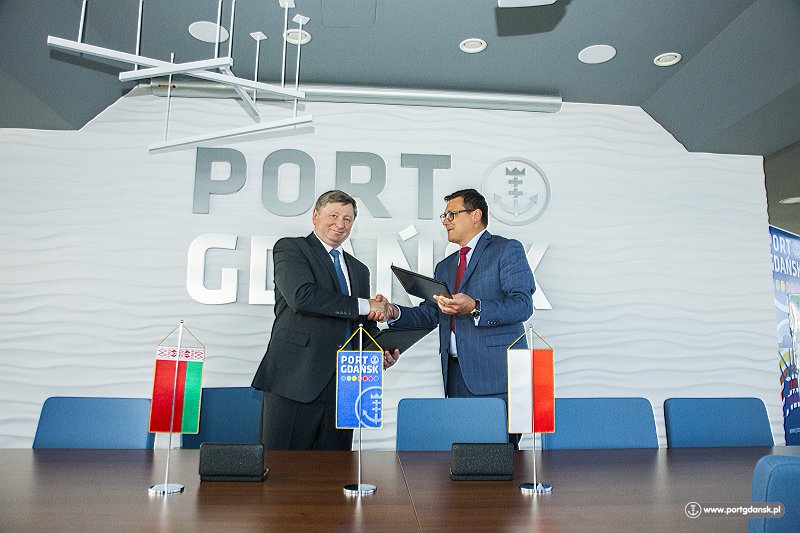 Date of publication: 27.03.2017
On 23 March 2017, the Port of Gdansk Authority played host to representatives of the Bremino Group - a Belarusian company initially founded with the aim of creating an internal logistics operator to handle large transit flows of goods in Belarus.

PGA SA and Bremino signed a letter of intent in which the companies declared the establishment of Polish-Belarusian cooperation. Its main purpose is the optimisation of the flow of cargo between the two countries with the use of the potential of the Port of Gdansk and the newly opened logistics centre in Bruzgi, Belarus. For the port, Bremino's visit to Gdansk is yet another step towards the implementation of the principles included in the "Development Strategy of the Port of Gdansk until 2027." The main intention is to develop the logistics and distribution functions of the port, but also to increase the Port of Gdansk's participation in serving its natural logistics base, which includes Belarus.

Bremino Group carries out large investment projects in logistics infrastructure in Belarus. It also offers customs and warehousing logistics and supply chain management services.

In December 2016, Bremino Group opened its first transport and logistics hub in Bruzgi near the Polish border. Its task will be to handle transit cargo from Europe via Poland to the East, via Belarus or the other way round.

The Group is planning further development of the frontier network of logistics centres and multimodal industrial and logistics parks. Bremino's aim is to create a universal platform connecting logistics with industry for the delivery, storage, distribution and production of goods intended for the market of the Commonwealth of Independent States.

The Bremino Group's plans for the immediate future include the establishment of another two logistics and distribution hubs, one located in Berestovitsa, again near the Polish-Belarusian border, and the other in Orsha near the Belarusian-Russian border.

As emphasised during the meeting with the Port of Gdansk Authority SA, by enhancing cooperation with seaports such as Gdansk, Klaipeda, Riga, Ventspils and Tallinn, Bremino intends to develop distribution to the market of the Commonwealth of Independent States in Belarus.

The distance between the Port of Gdansk and the Belarusian logistics centre is just 600 km, which makes it possible to efficiently transport cargo with the use of the potential of Gdansk and the hub in Bruzgi. Increasing the exchange of goods between the two countries is yet another element of the port's policy aimed at restoring the significance of the Port of Gdansk in the markets of the port's natural southern and eastern base.

Active participants of the talks with the Belarusians also included representatives of the Gdansk Cold Store and the DCT container terminal, who presented the potential of their terminals and prospects for the future development of Gdansk's logistics sphere after the meeting at the seat of the Port of Gdansk Authority.