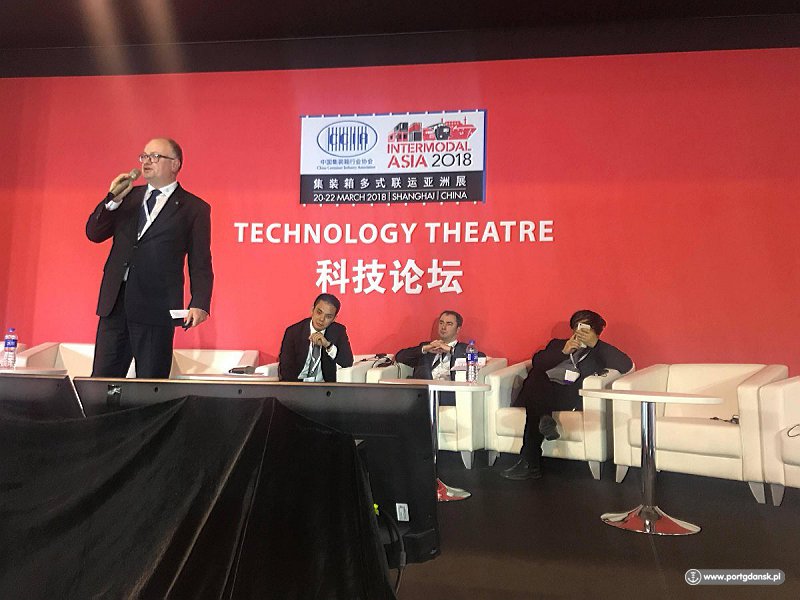 Date of publication: 29.03.2018
Cooperation with Asia is one of the priorities of the Port of Gdansk Authority. In order to mark its presence in the market more clearly and establish new business relationships, representatives of the Port took part in the Intermodal Asia 2018 trade fair in Shanghai.

Intermodal Asia combines a trade fair and a conference. During the March event, the most important representatives of the container and intermodal industries from all over the world met in Shanghai. In their meetings and debates, they focused on all the areas of intermodal transport and the logistics of road, sea, and railway transport. Intermodal Asia is one of the largest logistics trade fairs in China.

The several-days-long event is not just an opportunity to hold discussions with global specialists, but also a chance to discover innovative products and transport services. One of the elements of the conference was a presentation of the Port of Gdansk.

Enlarge"We presented information on the existing systems of electronic data exchange between the Customs Office and transshipment terminals. We also talked about our future plans related to integrating these systems into the Port Community System. And after 2019 - in accordance with the guidelines of the European Commission - it is to become the National Single Window pan-European system of electronic database exchange," explains Michal Stupak from the PGA's commercial department.

The PGA's visit to Shanghai was also an opportunity to establish business relationships with companies for which not only the Baltic region, but above all the Port of Gdansk is becoming a new transshipment window and a chance to reach the markets of Central and Eastern Europe.

Enlarge"China is a natural cooperation direction for the Port of Gdansk. It is important for us to strengthen these relationships, because Gdansk is the northern gateway to Europe for commodities from the Far East. We have to be present here, not just during important events, but also permanently," says Patryk Felmet, Development Director at the Port of Gdansk Authority, also responsible for marketing and international cooperation.

The PGA is planning to establish a field office in Shanghai in cooperation with the Polish Investment and Trade Agency. The Port's representative would remain in touch with representatives of Asian markets at all times. "If we want to focus on expanding our international relationships, establishing field offices is a must. We have to monitor what is happening in the world's largest markets on an ongoing basis," explains Patryk Felmet.