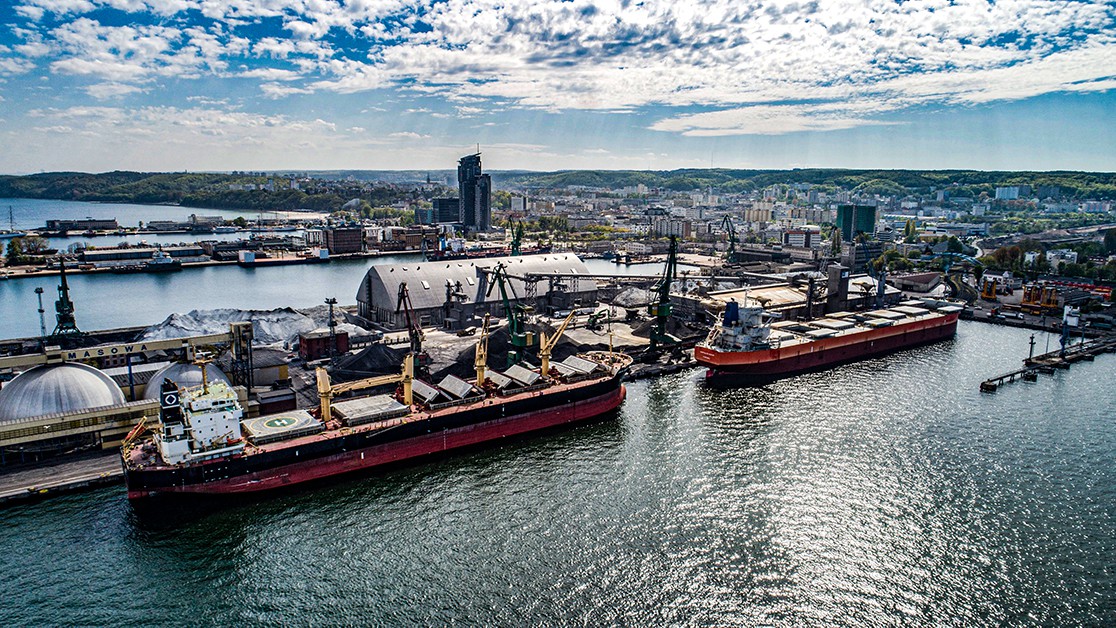 Date of publication: 19.05.2020
Despite an ongoing crisis caused by tge COVID-19 epideminc, the Port of Gdynia maintained an increase in transhipments in the first 4 months of the year. By the end of april, over 8,26 mln tonnes was transipped in Gdynia, witch gives a growth rate of 102,3% year-on-year.

Over 8,26 milion tonnes was transhipped in Port of Gdynia. Product groups with the biggest growth are bulk cargos. By the end of april 2,14 mln tonnes of grain were transhipped in Gdynia Port, which gives an impressive increase of over 222% YoY. Also in the group of other bulk the increase was 137,6%. The only decreases in bulk cargo this year are visible in cole and koke transhipments.

In the first 4 months, Gdynia managed to maintain liquid fuel transhipments at 98 percent. Slight decreases are also visible in general cargo (94.7%) and containers (91%).
The impact of economic crisis is increasingly visible in the regions largest ports. The port of Gdańsk is defending itself from the crisis with increased bulk cargo transhipments, although in the first quarter it recorded in cargo handling by 8,3% compared to the same period last year. Also in the Port of Hamburg, transshipments in the first quarter of 2020 amounted to 31.9 million tons (-7.9 percent). Container turnover reached 2.2 million TEU (-6.6 percent). In Hamburg, the volume of cargo in relation to the land base was the least affected by the decrease.
The upward trend at the Port of Gdynia is a continuation of the successes of 2019, which was the next in a row in which a record in transhipments was recorded. The total volume of transhipped goods exceeded 24 million tons. Also in the first quarter of 2020, the Port of Gdynia was the only Polish port to maintain an upward trend. Parallel to the record transshipments, a number of key investments are being carried out at the Port of Gdynia, including the preparation of the largest of them, i.e. the construction of the Outer Port.
Today, the Port of Gdynia is a huge construction site. In addition to a number of investments implemented by the Port of Gdynia Authority, such as the construction of the Public Ferry Terminal, reconstruction of quays and deepening of the port basins or widening of the port entrance to 140 m meters, as much as 115 km of tracks are currently being rebuilt at the port of Gdynia as part of the giant PKP PLK investment. The contract "Improving rail access to the seaport of Gdynia" amounts to more than PLN 1.8 billion.