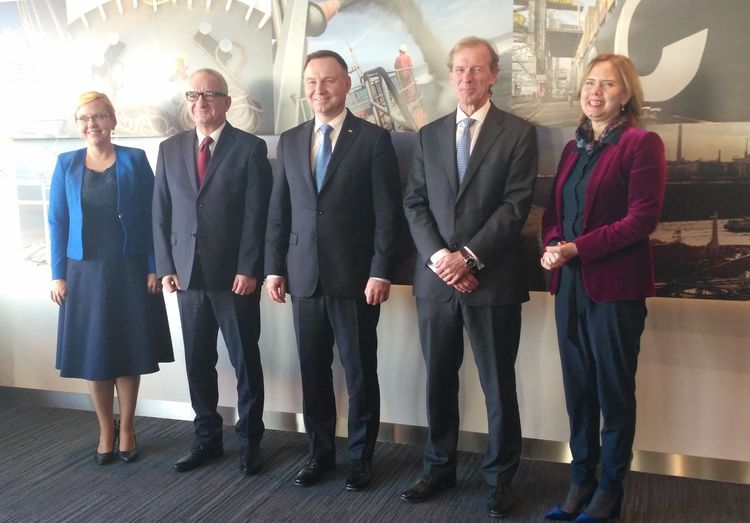 Date of publication: 04.11.2019
The Ports of Szczecin-Świnoujście, Poland, and the Port of Rotterdam, the Netherlands, have signed a Memorandum of Understanding (MOU) in Rotterdam. The document was singed in the presence of Andrzej Duda, the President of the Republic of Poland.

The cooperation primarily concerns inland shipping, including environmental issues, logistics solutions, promotion and the development of infrastructure in inland waterway ports. It also covers short-sea shipping and alternative supply chains to be developed between ports on the North Sea and the Baltic Sea, and the exchange of relevant experience and information.

Moreover, the signatories of the MOU discussed prospective projects for their future collaboration in such areas as cargo flows, port investment, the environment and digitalization of port procedures. The parties also discussed joint training on the integration of port communities.

The collaboration between the ports is designed to promote trade and sustainable development of port operations.

The Port of Rotterdam is the largest universal commercial seaport in Europe handling all types of cargo. It specializes in liquid cargo transhipment (oil and crude and mineral oil products), as well as containers and dry bulk. Every year, the port handles 14.5 m TEU and 100 m tons of oil transported by sea-going and inland vessels, 30 thou. and 120 thou. respectively.

The port of Rotterdam attracts calls of the largest ships in the world with the draught of up to 24 m. The port is not only a transit hub but it also operates as a goods processing centre.