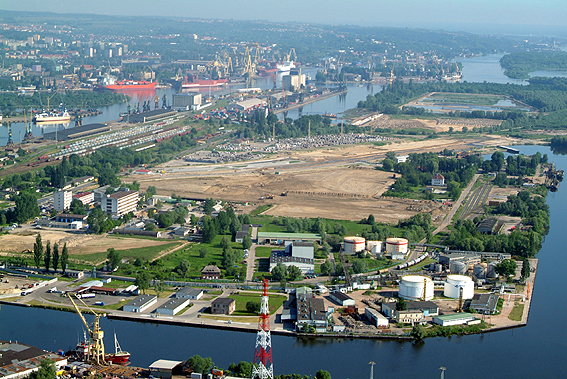 Date of publication: 23.02.2015
The Szczecin and Świnoujście Seaports Authority have summed up the year 2014. Excellent results were presented during a dedicated press conference held in the Willa Ogrody Restaurant in Szczecin on 20th February.

The ports of Szczecin and Świnoujście had a very good year. Both ports comprise a universal port complex with a well-balanced structure of cargo, which has been reflected in the operating profit of 2014. The volume of cargo handled increased comparing to 2013 by nearly 3% to reach 23.4 million tons.
Increase has been recorded in nearly all cargo categories, including containers +25.9% (78 439 thousand TEU), other bulk +12.6% (3.25 million t), break-bulk +10.1% (10.34 million t), timber +3.6% (17.4 thousand t), oil +3.1% (1.67 million t), and coal +1.6% (4.6 million t). At the same time, a minor decrease was noted in ore and grain. The company had also generated an excellent net profit exceeding PLN45 million.

The results are not only satisfactory but also very encouraging as regards effort made in developing the ports' handling capacity. The latter encompasses investment in ports co-funded from EU programmes. In 2007-2014 such investment exceeded PLN600 million and included modernisation of roads and railway lines completed in 2014 and building of the new Niemieckie Quay and extending the Zbożowe Quay to be completed in 2015. Also in 2015, the Świnoujście Ferry Terminal will expand by adding another ferry post. Moreover, this year in Świnoujście, an LNG terminal is expected to start operating. In both ports, new parking space will be developed for nearly 600 cars. The company has designated almost PLN1.3 billion for further investment in 2015-2022. The activities and economic situation in the global sector of sea transport bode very well for further dynamic increase in trade in the Szczecin-Świnoujście port complex in 2015. The Ports Authority received an award of the Minister of Economy for a series of investment projects and a local award of the 2014 Pearl of Business for a major economic development of the year.

From the point of view of the company, other important achievements of 2014 included the adoption of a new development strategy until 2027, buyout of employees shares, proposal to lease the Ewa silo, and instigation of legal proceedings regarding perpetual usufruct fees which resulted in reducing the fee to 0.3% (previously 3%).

It is worth emphasising that the Port of Szczecin is one of leaders in terms of improving handling process with the focus on eliminating bureaucratic barriers and introducing solutions and procedures aimed at shortening the time needed for cargo clearance formalities. The Port introduced a system of a One Stop Shop for controlling goods in the same time by all authorities concerned. The Port of Szczecin was the first in the country to introduce the Single Window model at its container terminal. According to that idea relevant inspection services, such as Customs Authority, Veterinary Inspection, Sanitary Inspection and Phytosanitary Inspection may publicise information about inspections performed.