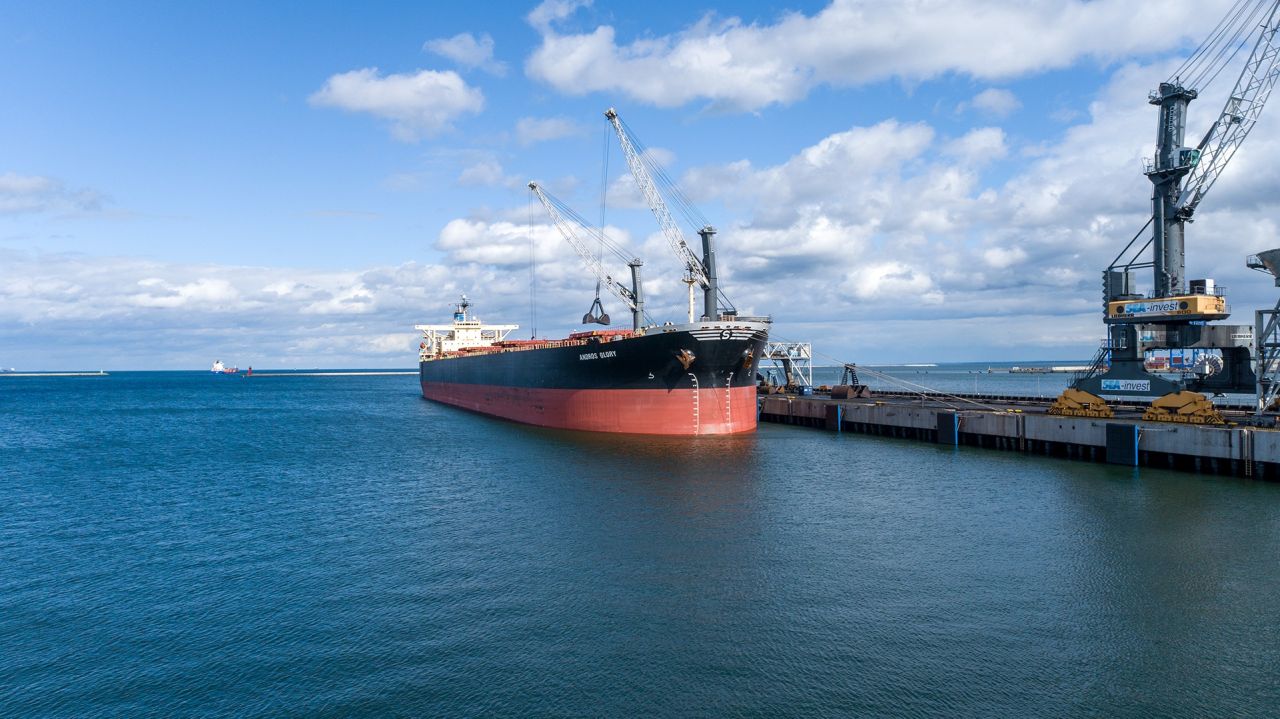 Date of publication: 17.08.2021
On August 16, 2021, another bulk carrier carrying coking coal - mv Andros Glory - arrived at the Port of Gdańsk. More than 90,000 tons of coal were brought on board for one of the Polish coking plants.
Why is coal imported to Poland, if Polish mines extract it in millions of tons? It is important, however, that Polish mines extracts hard coal, so-called energy coal - which dominates as fuel in domestic heating and power plants. Its specificity differs from that of coking coal. Coking coal from Mozambique, Australia or Canada is used directly in the production of coke, which, next to ore, is the most important raw material in the metallurgical, foundry and heating industries. At the moment, the import of this type of coal has become necessary for the entire European Union due to its insufficient availability on the European market.
The process of forwarding coking coal deliveries to one of the largest recipients in Poland has been implemented since August 27, 2014. On that day, a ship with a cargo of Australian coal in the amount of 74,031 tons was accepted at the Rudowy Pier in the Northern Port. It was the first of many ships operated by TSL Silesia Sp. z o.o, at the Gdansk bulk cargo terminal.
The reloading of coal between the ship's hold, yard and means of transport takes place at the Rudowy Pier in the Port of Gdańsk and is carried out by highly specialized brigades of Przedsiębiorstwo Przeładunkowo-Składowe Port Północ Sp. z o.o.
After unloading the ship and customs clearance - also carried out by the TSL Silesia customs agency - the coal is transported to a destination in the interior of the country in the period set by the delivery schedule. Depending on the customer's requirements, appropriate railway wagons or cars for loading are organized.
The effectiveness of the TSL Silesia crew in the area of the Northern Port in Gdańsk is illustrated by the amount of coal transhipped in individual years. For example - in the record year of 2019, the amount of raw material handled was about 1,914 million tonnes. A year earlier (2018), 1,602 million tonnes of coal were imported. The previous year 2020 was closed with deliveries in the amount of 1,115 million tonnes. By the end of July 2021, almost 907,000 tons had been transhipped.
According to the data, the import of coking coal is still high, and TSL Silesia, despite the pandemic and despite all difficulties, does not avoid forwarding challenges.