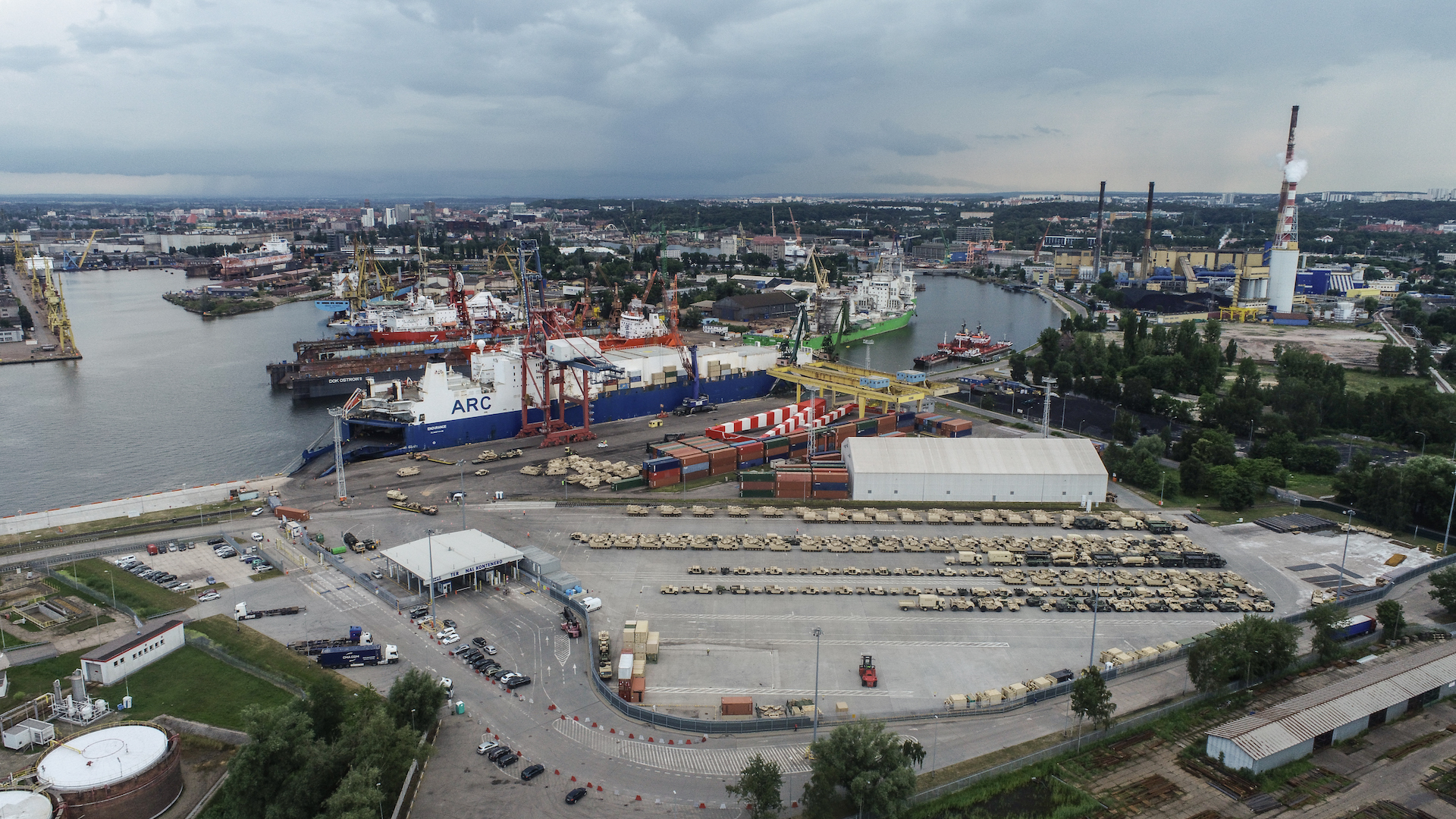 Date of publication: 08.07.2021
Gdansk -The 1st Armored Brigade Combat Team, 1st Infantry Division (1/1 ID), home stationed at Fort Riley, Kansas arrived in Port of Gdansk. On Monday, July 5th. The cargo arrived in Gdansk, aboard the American Roll on Roll Off Carrier (ARC) vessel MV ENDURANCE.

The discharge of 1/1 ID's equipment, which includes a mix of heavy tracked vehicles, trucks, trailers and containers was executed by American Roll-on Roll-off Carrier Group Inc. with cooperation of its local partner, BLG Logistics (BLG). ARC, in cooperation with BLG, have been awarded a 5-year stevedoring and related terminal services contract by the United States Transportation Command.

The next phase of the operations commenced this morning, July 8th when Port Gdansk welcomed the MV LIBERTY PEACE. The operation is a part of Atlantic Resolve exercises, supporting the United States' commitment to its NATO allies and partners.

From Texas to Gdansk

The first portion of 1/1 ID's equipment was shipped to Poland from the Port of Beaumont, Texas on ARC's MV ENDURANCE.

MV ENDURANCE arrived at the Gdansk Monday morning and operations completed Tuesday morning.
The second ship, MV LIBERTY PEACE, carrying another portion of 1/1 ID's equipment has arrived this morning.

Over the course of the next few weeks, all equipment that has arrived in Gdansk will be transported to training grounds in Torun, Trzebien and Drawsko Pomorskie.

Good cooperation with the US Army

This is not the first cooperation with leading American ro-ro carrier that provides transport services for the US Army. Also BLG Logistics already has great experience in similar operations with US troops, both in Gdansk and in Bremerhaven. The BLG Logistics group, to which BLG AutoTerminal belongs, has been involved in operations involving US troops for decades.

The last operation carried out with the participation of the US Army and BLG took place last year, in September. Almost 400 pieces of various types of American military equipment were unloaded at the Szczecinskie Quay.

- Port of Gdansk Authority S.A. completed the investment of reconstruction of Szczecinskie Quay and because of that, it is possible to moor a vessel with such big parameters - says Anna Drozd from Port of Gdansk.

MV Endurance is 264 meters long, almost 300 meters after the ramp is extended.

- This is another example of the excellent cooperation of the Port of Gdansk Authority S.A. and contractors operating in the port area. This project would not be possible without the cooperation of BLG Logistics.