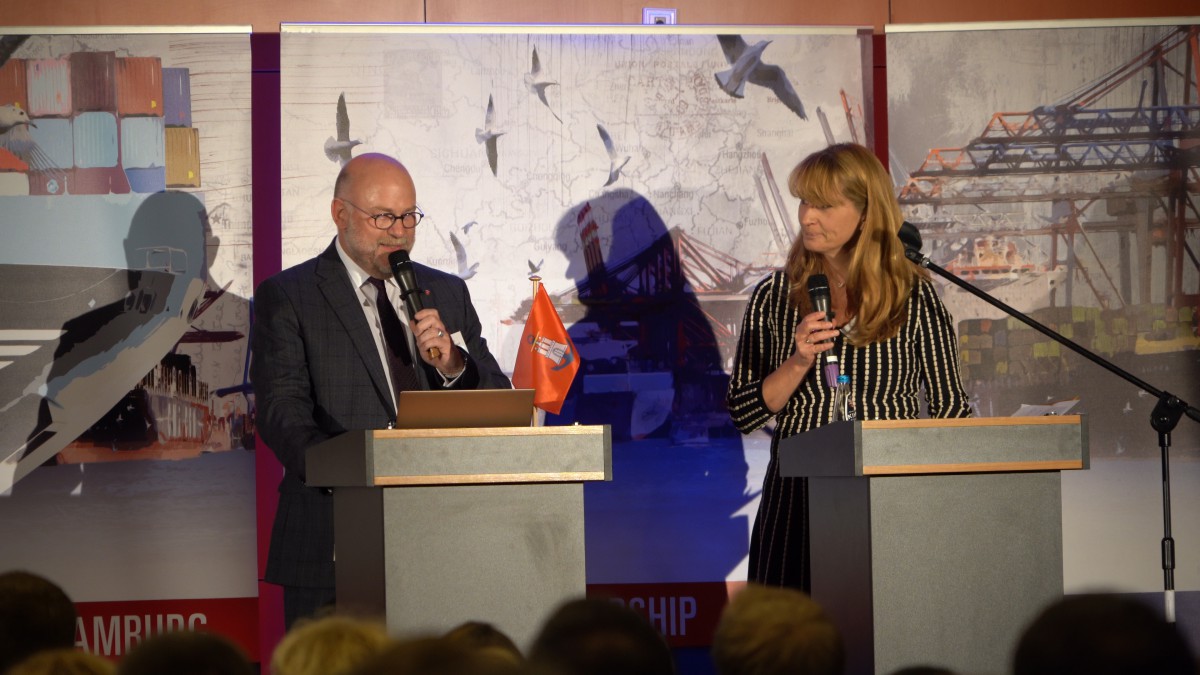 Date of publication: 20.09.2019
A day with the Port of Hamburg in Warsaw. Last Thursday, one of the largest European ports organized two meetings at the Mercure Warszawa Centrum for people connected with maritime transport. They were: "Port of Hamburg for Practitioners" and the traditional Hafenabend Port Evening. This year brought groundbreaking changes to the Hamburg port.

- We achieved very good results in the first half of this year. As a result of consolidations carried out by Hapag-Lloyd, we gained all American services from Bremerhaven. Thanks to this, we transshipped 0.5 million TEU more at the Port of Hamburg at the end of the year. But the most important for us is that we have increased the flow of goods with all our partners from around the world. After 17 years, we also received a decision thanks to which we can finally carry out work on the Elbe. We are widening the riverbed and building a special place so that large ships can pass each other without collision. We are also deepening the Elbe by a meter - said Axel Mattern, president of Hafen Hamburg Marketing.

At the "Port Hamburg for Practitioners" meeting, experts talked about problems related to maritime transport, including transport of dangerous goods, customs clearance and new solutions for forwarders. Cezary Ewertowski, vice president and co-owner of ADECON, a Polish logistics company that was a partner of this event, emphasized that maritime transport today must compete with rail transport.

- Therere a lot of challenges waiting for maritime industry. One example are consolidations that reduce the number of available services. It is limiting the offer and limiting the possibilities for customers. Another one is meeting more and more sophisticated ecology standards. And of course for the maritime industry to still remain in good financial results is currently the biggest challenge for me - said Cezary Ewertowski, vice president and co-owner of ADECON.

Michał Gurzyński and Wojciech Wiśniewski from ADECON, who has been cooperating with the Port of Hamburg for years, showed with details of advanced solutions in the field of hazardous materials logistics.

- All types of regulations created by various organizations strive for constant tightening, which should be understood, because it is a fight for our common security. We, due to cooperation with the automotive industry and the chemical industry, have the greatest contact with this when it comes to air shipments. Simply thinking, there is no way to deal with a problem quickly. When it's on board, you can't throw it away, you can't stop it, you can't throw it into the sea. We are not surprised at this point. The only thing we can do is help our clients comply with these new regulations - assured Wojciech Wiśniewski, DGSA and Branch Manager Wrocław ADECON.

- We are currently building a warehouse for the storage of hazardous materials of classes 3 and 8. In principle, it can be said that there is no such warehouse, at least within a radius of 200-250 from our location. This warehouse will not be of a purely constituent nature, we can also carry out short-term reloading operations. We also have the opportunity soon, I think it is a matter of 2-3 weeks, to offer our clients a bonded warehouse - said Michał Gurzyński, Managing Director ADECON.

Robert Sieg, operations director and co-founder of the ItsMyCargo startup, talked about selling logistics services in the digital age.

- Logistics is always people's business. When you transport cargo, you need trust and expertise above all. What is currently changing is the information flow channel. Some companies still use traditional methods such as e-mail, fax and telephone. Other companies that want to be more modern are building online stores and special software. As a result, they gain more and more accurate information that they can share with clients and business partners - said Robert Sieg.

Participants of the meeting could also learn about the news of HHLA, the largest terminal operator in Hamburg, which is a pioneer in the implementation of new technologies, and hear about ideas for the development of digital customs processes. Advice on customs clearance (HLS Eurocustoms24) and LCL shipments (SACO Shipping) were also presented, which became more attractive thanks to the launch of new transatlantic services from the Port of Hamburg.

Traditional Hafenabend Evening

The meeting with the Port of Hamburg was crowned with the traditional Hafenabend Port Evening. This is a networking meeting of companies from Poland and Hamburg, for which cooperation and personal relations with partners are of great importance. Hafenabend was opened by Axel Mattern, president of Hafen Hamburg Marketing.

- For us it is very important to be here, to have contact with customers. We meet every year at the port party connected with the conference. We organize such an event not only in Poland, but also in other countries, mainly in Europe - said Axel Mattern, president of Hafen Hamburg Marketing.

Hafenabend gathered many representatives of industries related to maritime transport, because the Port of Hamburg plays a significant role on the Polish market. Maciej Krzesiński, director of marketing and foreign cooperation at the Port of Gdynia Authority, emphasized the importance of cooperation between the two ports.

- Many ships that simply go further or sail to the Port of Hamburg also visit Gdynia. It can be said that this cooperation is very good. We hope that in the future, looking at the transhipments that are constantly developing in Gdynia, we will probably have another record. This cooperation, in short, will last - said Maciej Krzesiński, director of marketing and cooperation with abroad the Port of Gdynia Authority.