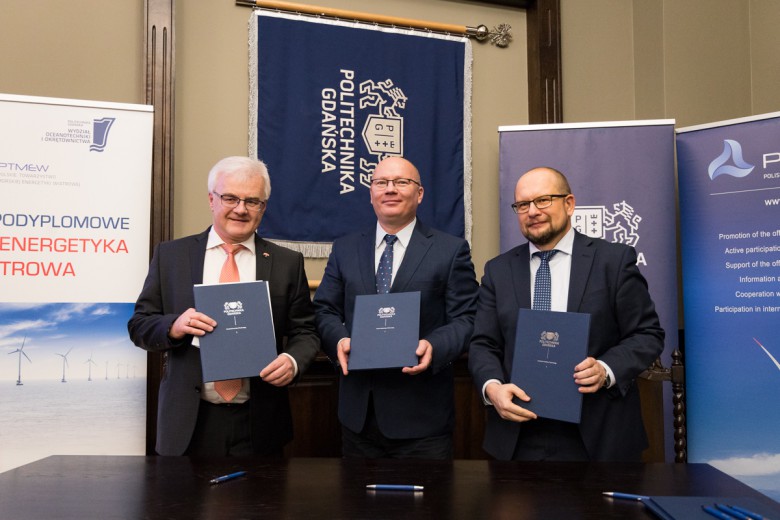 Date of publication: 08.11.2019
On November 8, 2019, the inauguration of the first edition of the "Offshore Wind Energy" Postgraduate Studies under the patronage of PTMEW at the Gdańsk University of Technology took place.

The ceremony was hosted by HE Rector PG, prof. Krzysztof Wilde. In addition, the ceremony was attended by the Vice-Rector for Education and Didactics of PG Dean of the Faculty of Ocean Engineering and Ship Technology, where the studies will be conducted.

The ceremony was held in the Senate Hall of the PG. In addition to students of studies, Honorary Guests, representing companies that are key participants of the offshore wind energy market in Poland and abroad, were invited to it, including PKN Orlen, GE Power, Equinor, Polenergia, TELE-Fonika Kable.

During the inauguration, letters of intent were signed for cooperation between PG, PTMEW and GE Rewewable Energy and the Polenergia - Equinor joint venture for the skills development program for the Polish offshore wind energy sector.

The Program of Studies is addressed to university graduates who want to get theoretical and practical knowledge on the implementation of offshore wind farm projects, in particularin the conditions of the Polish legal and regulatory environment.

After completing the two-semester Studies program, their students will gain a unique set of competences in our country, raising the level of their qualifications to build their professional future in the offshore wind sector in Poland, which is intensively developing in Poland.

Recruitment for the first edition of the Studies was launched in August this year. Limit for the students of the first edition was exhausted three days after starting the recruitment of candidates.