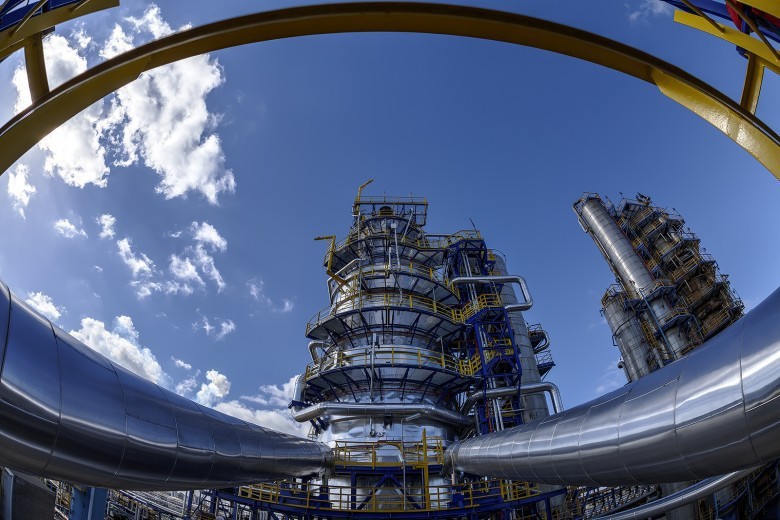 Date of publication: 29.05.2020
​PKN ORLEN is set to build a hydrogen hub in Włocławek by the end of 2021, ultimately producing up to 600 kg of purified hydrogen per hour. The project provides for the construction of a plant for the production of fuel-cell grade hydrogen, logistics infrastructure, and hydrogen refuelling stations. Initially, the fuel will be distributed primarily for use in public and freight transport. The Company has already signed several agreements with local governments as potential customers for the hydrogen.

'We are well aware of the challenges posed by the global trend of new mobility, so our strategy provides for constant development of alternative fuels and low-emission technologies. We are confident hydrogen will be an important transport fuel in the future, so we are ramping up our work in this field. Our goal is to strengthen our leadership position in the demanding hydrogen market. Slated for completion next year and sited in Włocławek, the project will be a milestone enabling us to successfully compete with the biggest players in the region. As a next step, we plan to build a similar hub at PKN ORLEN's refinery in Płock. A hydrogen purification plant is also being built at our biorefinery in Trzebinia,' said Daniel Obajtek, President of the PKN ORLEN Management Board.

The Company will announce a tender procedure for the hydrogen hub, to be sited at the ANWIL plant in Włocławek, by the end of August. Initially, the plant will run at a capacity of ca. 170 kg per hour, but its modular design will allow it to flexibly increase production in line with growth in demand. The feedstock that will undergo purification at the Włocławek plant is produced in an environmentally friendly process of brine electrolysis as a by-product of chlorine extraction and so far has been used by the ammonia unit. The choice of a hydrogen purification method is being analysed with the project's technical adviser. The project will comprise a hydrogen purification plant, infrastructure for loading the fuel on rail tank cars and trucks, trailers, a hydrogen fuel supply system, and two refuelling stations.

Initially, the hydrogen undergoing purification at the Włocławek site will be distributed primarily for use in public and freight transport, including rail transport. The Company has already signed letters of intent on collaboration in advancing hydrogen-powered public transport services with the Metropolitan Association of Upper Silesia and Dąbrowa Basin, Krakowski Holding Komunalny, Miejskie Przedsiębiorstwo Komunikacyjne of Kraków, and the City of Płock. Further agreements are being negotiated with other municipalities. Also, the Company has signed a letter of intent with PESA Bydgoszcz to develop a hydrogen-powered locomotive, to be used by PKN ORLEN for logistics purposes.

As the market expands, the hydrogen fuel will also be used in passenger cars and coaches. In the long term, the Company intends to supply its hydrogen for applications in ships and ferries and for stationary applications, such as heating. The hydrogen could also be sold to third parties for resale in other markets, for instance food or metallurgical industries.

In addition to the hydrogen hub in Włocławek and a similar project planned in Płock, the Company is also developing hydrogen technologies at its ORLEN Południe biorefinery in Trzebinia, where first fuel-cell grade hydrogen is to be produced in 2021.
Motorists can already refuel hydrogen-powered passenger cars at two ORLEN stations in Germany, with three such stations to be launched in the Czech Republic in June 2021.

'A hydrogen-powered public transport network has a real impact on return on investment in charging stations, supporting the nascent yet very promising hydrogen-powered private transport market, which also falls within the scope of PKN ORLEN's strategic capex projects. In its initial development phase, the hydrogen technology will be used primarily in public and freight transport. Therefore, we have forged partnerships with local governments and transport companies in order to gain a strong foothold in the market, while maintaining the ability to develop the technology independently. In cities of northern and western Europe, projects testing hydrogen-fuelled vehicles in public transport service are being extended, and low-emission buses are becoming an integral part of local public infrastructure. We are headed in the right direction,' noted Józef Węgrecki, Member of the PKN ORLEN Management Board, Operations.

Investment in infrastructure for hydrogen-fuelled transport fits into the European strategy of sustainable development and is a response to the EU's environmental target of 30% reduction in greenhouse gas emissions by 2030 (compared with 2005). In common with electromobility and next generation biofuels, hydrogen has been hailed as a fuel of the future that can provide a real tool to meet the EU's environmental targets.

For technology and economic reasons, the public and freight transport sectors are seen as having the greatest hydrogen mobility potential. A hydrogen-powered bus has a range of about 350–450 km and can run all day on one fill that only takes about 10 minutes. Replacing a diesel-powered city bus with a hydrogen-fuelled one can prevent the emission of 800 tonnes of carbon dioxide into the air over the average life span of a bus, which is estimated at around 12 years. Moreover, a bus running on hydrogen is about 20% quieter than one powered by a traditional engine.