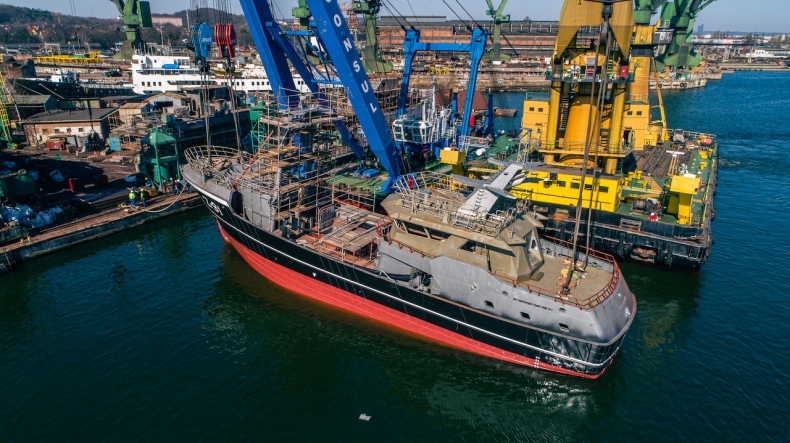 Date of publication: 20.04.2021
The partially equipped hull of a fishing vessel for the Damen Maaskant shipyard was launched at Safe shipyard in Gdańsk. In the first week of May, the vessel will be towed to the Netherlands for final equipment and then will be handed to the final customer.

The launching operation took place in two stages. First, the unit was slid onto a steel floating pontoon by means of hydraulic cylinders. Elpo was responsible for this part of the operation. Then, the launch was carried out with the help of two largest floating cranes in Poland - the Maja crane belonging to the Polish Ship Rescue and the Conrad Consul crane belonging to the Marine Projects shipyard.

- The launched unit is Beam Trawler BT3808. This is the first of two sister hulls ordered by Damen with the number YN629. We are planning to launch the second, with the number YN 630, in May - informs Andrzej Łuczak from the Safe shipyard.

The ship is 37.95 m long and 8.5 m wide. The technical documentation was prepared and delivered by Damen. The working documentation was prepared by the Safe design office.

The ship's hull is partially equipped with piping systems and a complete propulsion system. The ship's plating and tanks are painted. The ship is built under the supervision of the BV classification society.

Safe Co LTD was established in 1995. The shipyard is active in Poland and abroad. It cooperates with contractors from France, Germany, the Netherlands, Norway, Denmark and Iceland. It deals with construction of fully equipped ships, hulls, steel bridge structures, as well as structures for the offshore, chemical and petrochemical industries.