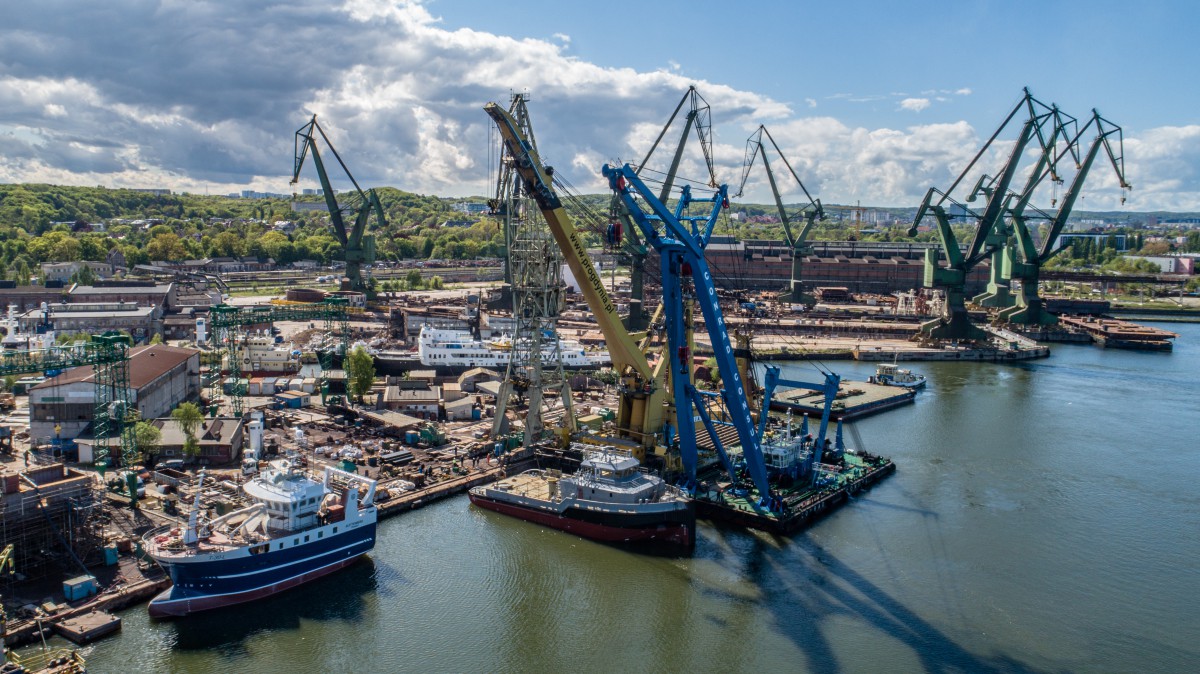 Date of publication: 21.05.2020
On May 20, the partially equipped tug of the Shoalbuster series was launched in the Safe shipyard in Gdańsk. It was ordered by the Dutch shipyard Damen Hardinxveld.

Two floating cranes were used to launch the tug boat: Conrad Consul and Maja. The vessel was first pushed onto the barkopontoon. Then both cranes lifted her and lowered her into the water. Conrad Consul is the largest floating crane in Poland. It belongs to Gdańsk Marine Shipyard. The crane is 44.82 m long, 21 m wide and has 2 m draft. Its lateral height is 3.7 m, and the maximum load capacity is 400 tons. Maja belongs to the Polish Ship Rescue. The floating crane is 55.49 m long, 25.02 m wide and 2.85 m draft. His arm rotates 360 °, the main hook has a lifting capacity of 330 t, and the auxiliary hook - 100 t.

The Shoalbuster 3514 tug boat with construction number YN 571798 will be named Brutus. It was ordered by the Dutch shipyard Damen Hardinxveld, under the supervision of the classification society Bureau Veritas. The working documentation was prepared by the Safe design office on the basis of technical documentation received from Damen shipyard.

As we read on the Damen website: "Shoalbuster 3514 SD will be one of the largest and most sophisticated vessels in our offer, while meeting the requirements of IMO Tier 3. A versatile unit with a length of 35 meters and a width of 14 meters with a draft of 2.7 m (at full tank capacity) and 2.4 m (at 50%), will be able to operate in waters inaccessible to ships of similar size. With a towing capacity of over 60 T, it will be at the same time a powerful and effective tool for towing."

Vessels will contain 12 cabins for 6-7 permanent crew members and 13-14 additional employees.

In early June, Brutus will be towed to Damen Shipyards Hardinxveld, where final equipment and commissioning tests will take place.

The ship will be operated by Dutch company Herman Senior b.v., an operator of tugs and specialized units dedicated to the offshore industry. As commented by Jack van Dodewaard, Managing Director of Herman Sr.: "The new unit will increase our range of services and provide our customers with greater flexibility. By purchasing a ship with such a low draft, we will fill the market gap. At the same time, Brutus will be very economical in terms of fuel consumption. "

Safe Co LTD was founded in 1995. The company operates actively in Poland and abroad, mainly in France and Germany. It deals with, among others shipbuilding, steel bridge structures, as well as structures for the offshore, chemical and petrochemical industries.