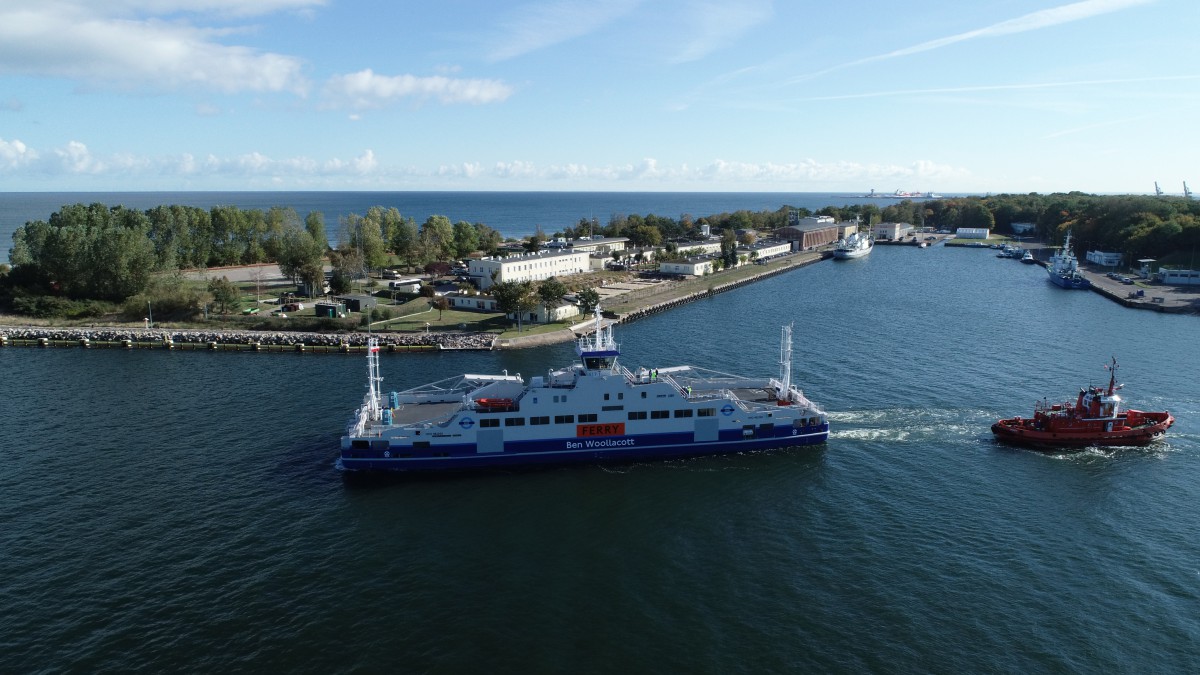 Date of publication: 07.10.2018
Ben Woollacott on sea trials. This is the first of two hybrid passenger-car ferries from the Remontowa Shipbuilding shipyard currently undergoing tests on the Gulf of Gdansk. Both vessels are built for the British shipowner Transport for London. They will be the most ecological ships sailing on the Thames.

Ferries are 62.30 m long and 18.80 m wide. They will take on board 150 passengers and 45 passenger cars. On the cargo deck there is also a special area for cyclists, separated from the pedestrian zones.

Lower operating costs of ferries will be ensured by an environmentally friendly hybrid drive. It will be equipped with two power generators with diesel engines. Under normal conditions only one of them will work, and the peak demand for power will be filled with electricity from the battery.

Power generators will be equipped with exhaust after-treatment systems: SCR (Selective Catalytic Reduction) catalysts and DPF (Diesel Particulate Filter).

The ships will be equipped with four azimuth propulsors driven by vertical electric motors with permanent magnets. The propulsion systems will also have special protection in the event of damage to a part of the system.

The ferries bear the names of the legendary figures: Ben Woollacott (tragically dead sailor) and Dame Vera Lynn (British vocalist, during the Second World War one of the main stage artists). They will run between Woolwich and North Woolwich districts.

The technical design of the units was prepared by the Norwegian design office LMG Marin, while the working documentation was provided by the Marine Repair & Consulting Remontowa office, belonging to the Remontowa Holding. The ships will meet the requirements of the Maritime & Coastguard Agency government agency and the Lloyds Register of Shipping classifier.

Ferries for Londoners are to be ready at the beginning of the fourth quarter of this year.