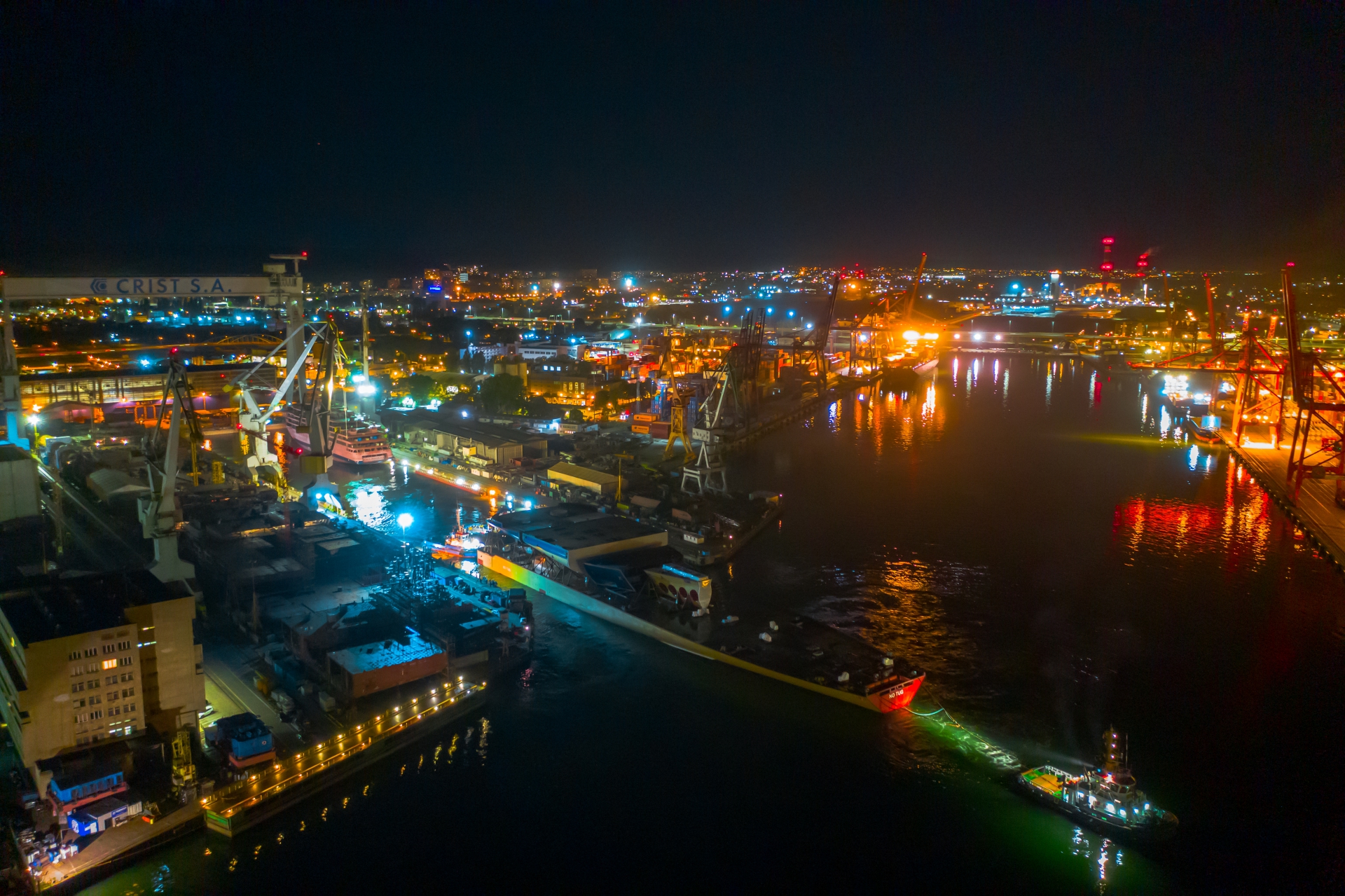 Date of publication: 22.09.2020
Yesterday, a fully equipped 172-meter long floating block set off for France, containing part of the midship with part of the gym and four additional blocks. The L34 project implemented by CRIST is an element of the constant cooperation of the CRIST shipyard with the French shipbuilding company Chantiers de l'Atlantique, in the construction of fully equipped blocks for the largest passenger ships in the world.

The L34 project includes one of the largest blocks of a passenger ship that has been built in Poland. The dimensions of the floating block made in our shipyard are 172 m long and 40 m wide. The block will be installed in the EDGE vessel, the final operator of which will be the Celebrity Cruise shipowner.

The unit consist of 9,000 tons of hull structure, 46 km of pipelines. The scope of works performed by the shipyard includes comprehensive equipment, 170 meters of technical rooms filled with devices, pipelines and other ship systems such as electrics, ventilation and fire extinguishing systems. The CRIST shipyard has practically equipped these blocks to a turnkey basis, the shipowner is left to connect the blocks with other blocks and connect cables to the devices.

- The unit was made with a huge effort of the entire CRIST team, and it is worth emphasizing that it is the most difficult of the passenger ship blocks that has been built in our shipyard. It required tremendous work from all departments, subcontractors, the classification society and the shipowner's inspectors. We need to thank everyone involved in the project - says Łukasz Topa, Project Manager, CRIST S.A.

The vessel will be delivered to France at the end of September. More passenger ship blocks are under construction for the French market.