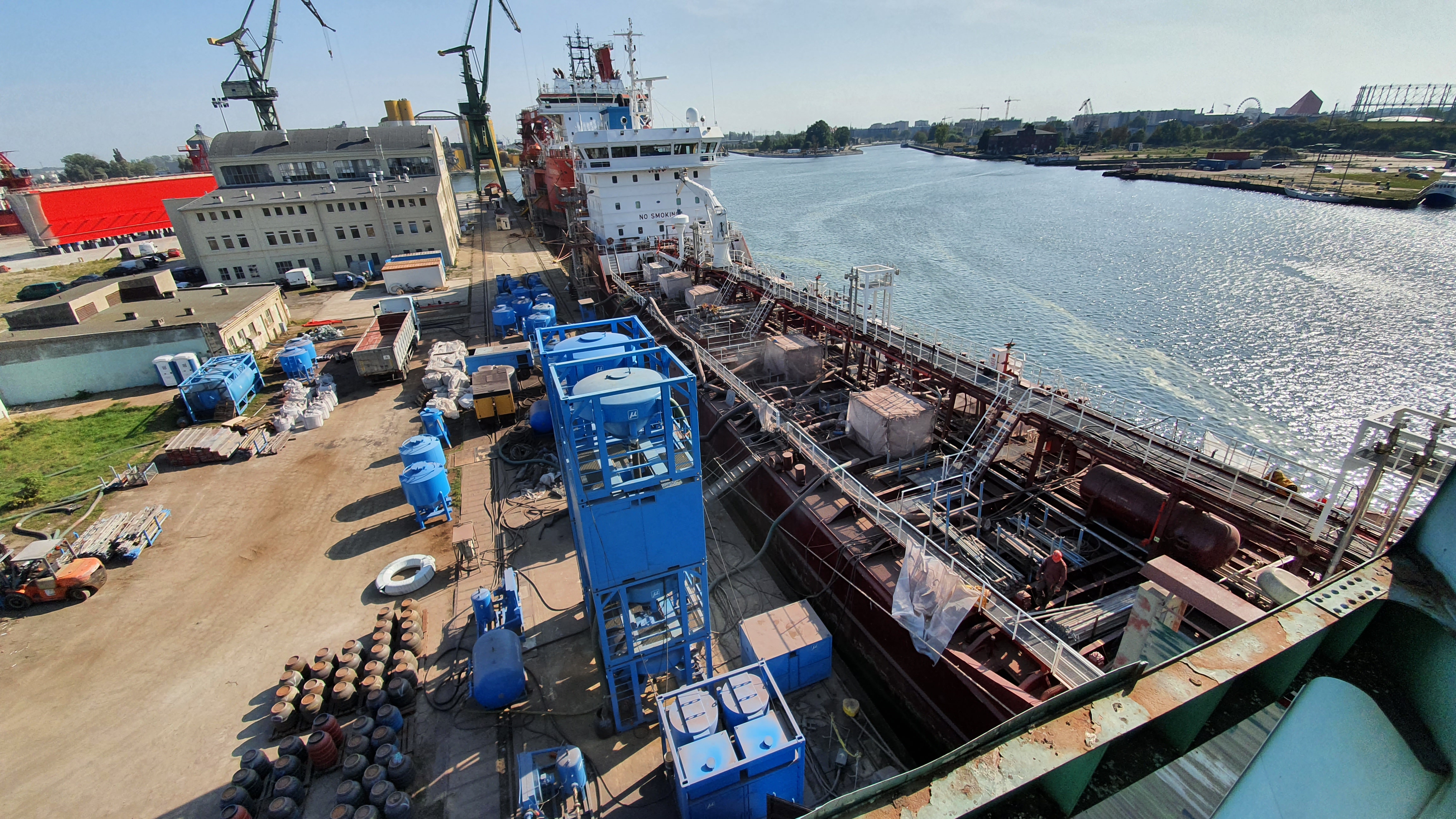 Date of publication: 23.09.2020
At the "Trawlerowe Quay" on the premises of PSSE Media Operator, the company Muehlhan Polska Sp. z o.o. is carrying out maintenance and painting works on cargo tanks on the M / T Oraholm (chemical tanker).

The works are being performed in 16 cargo tanks - a total of approx. 5,000 m2 of paint coating. The works consist in changing the existing paint system to the system of Chemco International Ltd.

The scope of maintenance and painting works inside the cargo tanks includes:
- Construction of scaffolding inside the cargo tanks;
- Ultra High Pressure 2200 bar washing;
- High Pressure 350 bar washing + degreasing;
- Protection of stainless steel elements in the cargo tanks and abrasive shot blasting up to class SA 2.5 (with 4-tier recycling eco- friendly system shot blasting towers for abrasive)
- Painting in three layers: 2x 500um Chemco RB 364 and 1x100um Chemco RB 300TC;

The works are carried out by Muehlhan Polska Sp. z o.o,. directly at the request of the owner of the unit, for the company: Rederiet M.H. Simonsen ApS from Denmark.

The works began on September 9th and will last until the middle of next month (October) - a total of about 36 days.

The ORAHOLM tanker, registered with IMO number: 9336696, MMSI: 220442000, was built in 2006 and currently sails under the flag of Denmark.


It is another ship from the fleet of the shipowner Rederiet M.H. Simonsen ApS from Denmark, on which the company Muehlhan Polska Sp. z o.o. performs repairs of cargo tanks (at the turn of June and August 2020, cargo tanks were repaired on the SILVER KENNA ship).