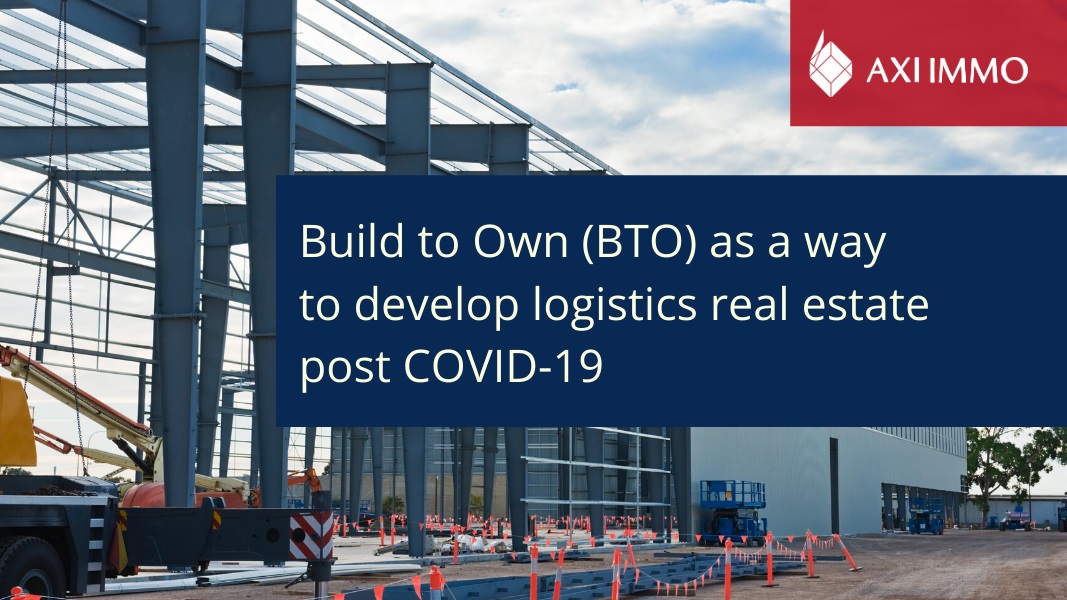 Date of publication: 22.05.2020
The Covid-19 pandemic caused chaos across the global economy. Within the commercial real estate market, logistics has weathered this storm better than other sectors, allowing planning of new developments to gradually resume following price corrections. Changes in financing conditions for real estate development may alter the new supply structure, with a likely increase in demand for BTO (build to own) and BTS (build to suit) development projects and a decline in speculative schemes.

The BTO concept is not new to the Polish market – it has been known as a good solution for clients interested in dedicated schemes, especially outside of the most popular logistics markets. Such schemes are built for the client to own. The developer delivers the project but also takes on responsibilities beyond those normally assumed by a general contractor. Here the developer is responsible for the entire planning process, for fulfilling all the necessary administrative procedures and finally for delivering the completed property.

Tightening financing conditions for real estate development may influence the structure of new supply on the warehouse market. Pre-Covid-19, banks typically approved loan applications for new developments with a 70-80% LTS (loan to value) ratio. This has allowed completion of a high number of speculative schemes, which were typically successfully let out in a short space of time. Developers' market experience allowed them to correctly predict what type of logistics space in which location will be in demand in the future. This encouraged banks to grant them loans, with the expectation that the planned scheme will be fully let ahead of completion, allowing them to receive loan repayments.

The LTV ratio has since decreased to 50%, which is expected to limit speculative development in favour of more secure BTS projects as these guarantee a 100% occupation rate. However, future occupiers have to consider what the best form of investing in their real estate is over a 10-year time horizon - a leased tailor-made BTS or BTO, which is constructed for sole occupation and ownership.

Both options have a number of advantages and both are designed to suit individual needs of their sole occupiers. BTO schemes can be developed on land that belongs to the developer, on the occupier's own plot or on a plot selected according to the rules of Poland's Special Economic Zones. Meanwhile BTS schemes can also be built as part of existing or planned logistics and industrial parks that belong to the developer.

Hence it is sometimes the case that BTO schemes are built in less popular locations outside of the main logistics markets. This is often due to the client's objective to secure access to skilled workers and to be able to offer them a relatively short and convenient commute.

The difference between BTS and BTO also stems from different ways in which costs are incurred by an occupier. Obviously, a company that develops its own warehouse doesn't pay rent, but only the costs associated with running the property. The owner decides how the scheme is managed and he/she takes care of its maintenance. If the property is located on the occupier's own land, space for future expansion can be easily secured. Meanwhile, in case of the BTS formula the occupier has an option to sub-let the building, which can be a form of financial cushion and can allow a degree of flexibility. Including such an option involves agreeing to a longer lease term – between 10 and 15 years.

- Historically, BTS transactions accounted for around 20-30% of total take-up. At the end of Q1 2020, this share reached as much as 36%. BTS solutions can be chosen by all types of occupiers, from logistics operators, food retailers and FMCG companies to clothing and production companies. Developers active on the Polish market have the experience to deliver even the most complex tailor-made logistics space. Apart from close cooperation with the largest developers, we also have good relationships with smaller, local players which are capable of delivering high quality warehouse space in less popular logistics locations in Poland – says Anna Głowacz, Head of Industrial & Logistics Agency at AXI IMMO.

- We expect an increase in demand for space developed in a BTO formula. Clients as owners of warehouses will have more freedom to decide how to use their properties in these new market conditions. Moreover, by using their own capital to develop their warehouse they won't need to apply for a banking loan. Developing a property through a BTO formula does not exclude the option to lease the building in the future – in case of a change of strategy, the owner can decide to sell the building to a financial institution through a sale and leaseback transaction whereby he or she becomes a tenant in that same building. This solution allows companies to free capital that they have tied up in their real estate and re-invest it into their business – says Marek Kosielski, BTS Director at AXI IMMO.

Specialised advisory firms can undoubtedly help ensure a more smooth running of the entire development process and maximise financial benefits for the client. They can take over the fulfilment of administrative procedures, e.g. acquiring necessary permits, environmental approvals, or change of use of land. Additionally, they would typically supervise the process at every stage, including the design phase (with regards to the building and the surrounding area) or what's particularly important – choosing the developer that will be tasked with delivering the warehouse. Through the tender process the client may select a developer that will take over the complete management of the development project including negotiations with energy and other facility providers and coordinating the work of the general contractor. Alternatively, the client can only use the tender to choose the general contractor. Choosing the developer may be a better choice due to their greater experience and their lower costs of materials as a result of their established relationships with sub-contractors. Finally, an advisory firm will ensure both the budget and schedule are adhered to through close oversight and management of the development process.