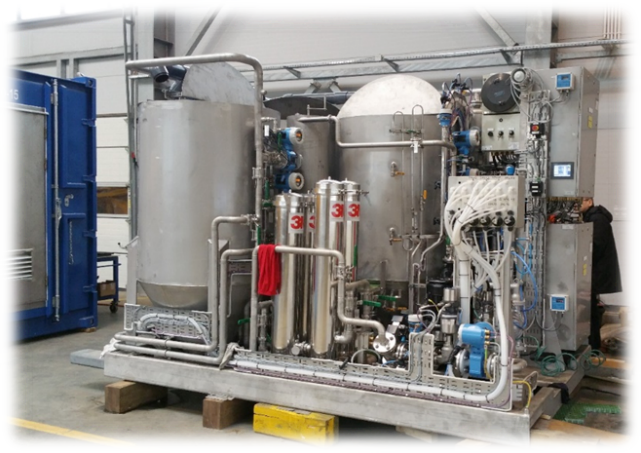 Date of publication: 05.08.2021
Since 30 years we have been developing our qualifications, capabilities and our machine park in Cemet Ltd. in order to meet or exceed the requirements of our Customers - which change over time, but always remain high - and deliver complex steel machinery – regardless of its purpose and destination – for ships, rigs, plants, aeroplane assembly facilities, Aluminium smelting mills or casting plants.

Such a wide range of products and Customers certainly comes with challenges, but at the same time offers greater stability and tremendous satisfaction stemming from the various projects we deliver. A wide offer makes specialization and production cost optimization difficult – but at the same time allows for high flexibility and quick adaptation to the changing market conditions.

Usually we win orders for short product series - and it is not uncommon for us to undertake prototype projects as well. This leads to many challenges when planning the production technology, where we need to predict potential issues, plan for possible deformations stemming from welding heat input, make appropriate machining allowances and execute the whole production process well – not through a lifecycle of product improvement iterations – but already for the first delivery batch or even unit.

On the other hand, a diverse Customer base and a wide skillset enable us to win more orders – even if one or two industry branches are affected by recession – as is currently the case. Despite all the considerable disturbances in the Company activities caused by the COVID-19 pandemic and the decline of orders related to cruise vessel shipbuilding, ship modernisations or aeroplane part assembly, the varied technical capabilities and wide Customer base allow us to look to the future with optimism.

In spite the new challenges and uncertain winds, our 30 year old vessel traverses the turbulent waters of the dynamic markets with a proudly raised flag!



Such a varied production offer did not appear overnight however. We have travelled a long road to achieve the current development level, qualifications of our personnel and technical equipment - which enable us to manufacture complex products.

Our history started in 1990, when Cemet Ltd. was founded as a joint-venture company with Finnish capital. From the very beginning Cemet had strong ties with the maritime industry. Our initial focus was the manufacturing of ship engine parts with our Finnish Partner. In the following years our capabilities and production program have expanded. We have developed our welding processes, as well as corrosion protection technologies and mechanical machining capabilities. Another welding hall was erected, as well as a blasting chamber and paint shop.

In 2012 we have erected a modern, clean hall, equipped with two overhead cranes, 16 ton each, dedicated for final assembly and testing of ready machinery and equipment.




Last year our production capability was further expanded trough the addition of a separate hall -dedicated to the production of stainless steel parts and constructions.

An important milestone in the company history was the start of cooperation with a French engineering company, who designed and ordered installations for float glass annealing and continuous steel galvanizing - for glass and steel mills across Europe. Such installations consisted of many modules forming a technology line 130m long.



After the year 2000, Cemet has started the production of skids and vessels with hydraulic work and installation of equipment (pumps, heat exchangers, valves and such). Some of this equipment is used for extraction of Hydrogen from water trough the electrolysis process. Following the European energy priorities, we hope to develop and expend this type of production again.

Throughout many years we have been manufacturing for a Finish Customer the hulls of multi-purpose flat-bottom boats for regulation of river and swamp areas. These steel boats manufactured in Cemet were outfitted in Finland with Diesel engines, cabins, control and functional equipment – and shipped worldwide.


In 2004 Cemet has begun the production for the offshore industry.




Machines for drillships and drilling rigs support the automation of the logistics of transporting, storage and handling of drill pipes. The scope of Cemet deliveries includes such machines, complete with hydraulic and electric installations, tested and ready for operation in harsh sea conditions.

The next step in the development of Cemet portfolio was the start of production for subsea companies.




Where our products include steel frames, foundations, supports, as well as interface connection panels – used in the construction of subsea installations for oil and gas extraction – assembled by our Customers directly on the sea bed.




Other interesting projects in our portfolio include container modules - used on ships or rigs for treatment of sludge and water - removal of drilling residues, oils and other contaminations – so that the freshly cleaned water can be released into the sea - rather then require transportation to shore for treatment.



In the last years, garbage incinerators for passenger ships in different sizes and heat outputs became one of our main products – as well as their accompanying equipment, particularly garbage silos - responsible for gathering, crushing and compacting of waste.

We also manufacture exhaust ducts for NOx reduction systems on passenger ships, which undergo modernizations to reduce emissions. Ducts are usually manufactured using demanding acidproof materials, such as Super Duplex and SMO 254.




For Aluminum metallurgy plants we manufacture complex machinery, equipped with drives, gearboxes and hydraulic cylinders - responsible for handling of casting tables and anodes.




Our highly technologically demanding products include vacuum chambers – with different shapes and sizes. Their welding seams require high precision and their tightness is tested using a Helium detector.




Cemet also delivers vacuum-proof sections of magnetic shielding tunnel of a particle collider, built in the International Research Institute in Russia. The tunnel consists of hundreds of stainless steel sections connected using consist flanges.




Our current portfolio ends with various equipment – internal transport trolleys, lifting beams, rotators, assembly jigs and aids - used for transportation and assembly of jet engines, turbines, gearboxes and various other aeroplane parts.




In summary, the needs and expectations of each Customer are different and at Cemet Ltd. we do respect every job. We particularly value the opportunity to work on complex production projects, which include mechanical assembly, hydraulic and electric installation and final testing.

Our main asset is our personnel – highly qualified and with long experience. In our line of work the practical approach combined with technological knowledge resulting in the ability to correctly plan a production process is particularly valuable. Additionally, we proactively respond to the requests of our Customers, we are flexible and open for new projects. We appreciate the opportunity to develop and enrich our production capabilities and do not shy away from challenges.

Our hope is that the significant supply chain disturbances, which can be observed with increasing frequency since the last year, will increase the risk aversion of some Customers related to placement of production orders in distant locations. The could be a chance for European production companies to improve their order portfolios and catch new wind in their sails.

Thirty years have passed and it is only the beginning…